What makes a bookstore great for writers? There's the usual stuff all readers want, like nicely organized shelves, a pleasant browsing atmosphere, and if possible, a coffee shop.
But as a writer, I also want the bookstore to be the hub of a literary community. That means I favor bookstores with a knowledgeable staff that reads and recommends books, that carries books and chapbooks and zines put together by locals, that hosts regular readings that introduce me to new writers — from the very famous to the locally beloved to the unknown indie.
So — Here's a list of my 11 favorite local bookstores, just in time for Small Business Saturday on Nov. 26, when many of these bookstores will be hosting readings with local authors, fun special events, and deals and sales. Check out the list and pick one to visit next week:
____
Skylight Books, Los Feliz.
Wondering if the latest celebrated novelist is coming to town on book tour? If she is, chances are, she'll read at Skylight — like Zadie Smith will be doing in January. That event costs $25 (the price includes a copy of the book!), but most of Skylight's events are free — and for local authors. My own book launch will happen there on April 5!
This welcoming spot hosts a couple monthly book clubs and has a super-friendly staff whose recommended books are highlighted with little personal notes right on the shelves. Become a regular and sign up for the Friends with Benefits program to save money all year.
Skylight Books. 1818 N. Vermont Ave., Los Angeles.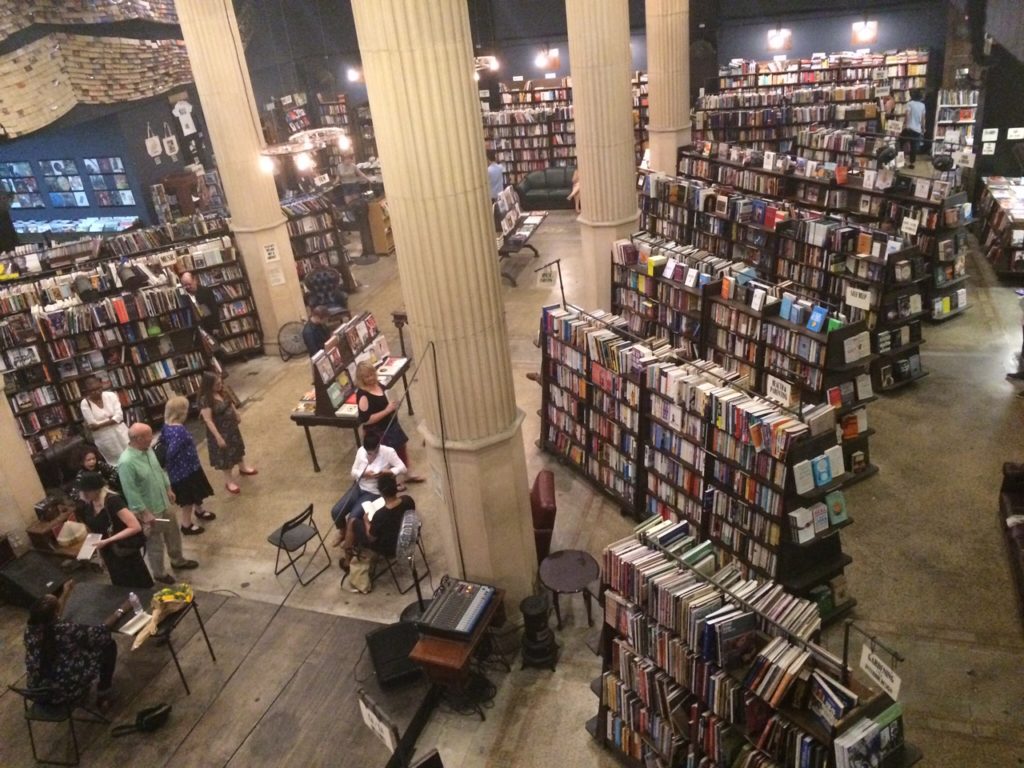 The Last Bookstore, Downtown LA.
California's largest used and new book and record store sells new and used books — as well as vinyl records and graphic novels — on two gigantic floors with arches and tunnels constructed from old books. This spot too hosts a lot of readings, as well as storytelling acts Read Harder Book Club, and other unique events. Earlier: The Last Bookstore: A Literary labyrinth in downtown LA.
The Last Bookstore. 453 S Spring St., Los Angeles.
Vroman's Bookstore, Pasadena.
If this bookstore were closer to me, I'd hang out there all the time. Alas, it's all the way in Pasadena — so I only make it out a few times a year. But Vroman's is a grand center of the local literary community. The spacious bookstore spans three floors, hosts readings many days of the week, and is home to a bunch of different book clubs.
Vroman's Bookstore, 695 E. Colorado Blvd. Pasadena.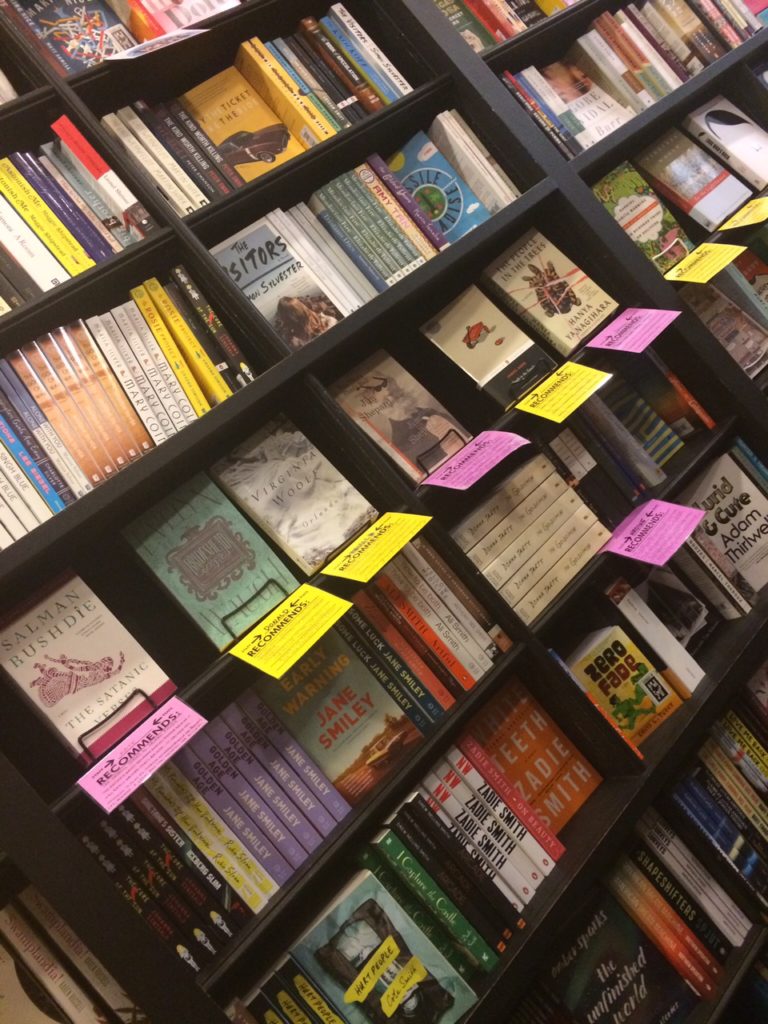 Book Soup, West Hollywood.
This bookstore's a popular place for local literary types, with a big magazine rack out front, floor-to-ceiling bookcases with handwritten staff recommendations, and readings scheduled most days of the week. Sign up for Book Soup's email list to hear about future events. If you've got a KCRW fringe benefits card, you can get 10% off your book purchases. Earlier: Book Soup: A Literary spot on Sunset Strip.
Book Soup. 8818 Sunset Blvd. West Hollywood.
Chevalier's Books, Larchmont.
This cozy bookstore on Larchmont is a local gem, sometimes collaborating with nearby businesses for fun events — like a Colm Tóibín reading with a whiskey tasting from Larchmont Village Wine, Spirits & Cheese, happening Dec. 6. But the best known events here are part of the bookstore's All Lit Up series hosted by local writer Rich Ferguson, when writers read, musicians play, and open mic participants perform on the fly.
Chevalier's Books, 126 N. Larchmont Blvd., Los Angeles.
DIESEL, A Bookstore, Brentwood.
Located in the West Side Country Mart, this pretty bookstore hosts lots of publications parties for local authors, usually drawing a well-heeled Brentwood-y crowd. A monthly Diane Leslie's Book Group event lets you discuss a popular new book (latest two were Sweetbitter and Little Nothing) with the author herself in attendance — for $20 plus a book purchase.
DIESEL, A Bookstore, 225 26th St. Santa Monica.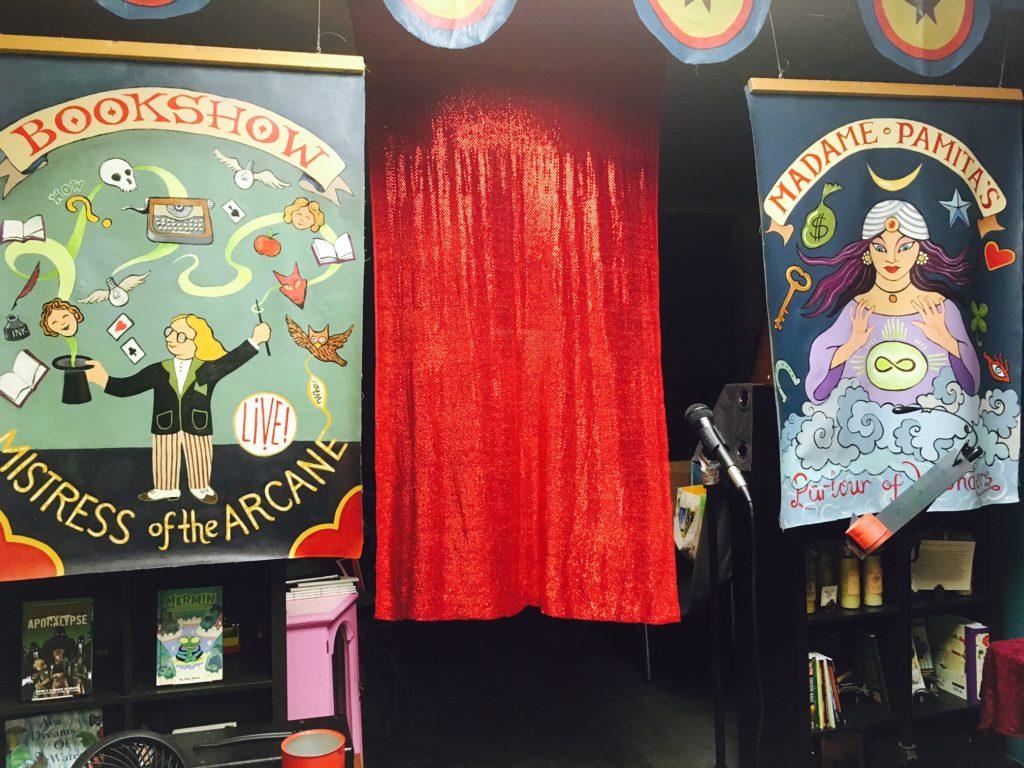 Book Show, Highland Park.
If you long for an indie bookstore with that fiercely unique vibe, pop in to Book Show. The collection of new and used books are an eclectic, community-oriented mix. Many are written by local authors. Even my own chapbooks are on the shelves! The place hosts a regular lineup of events. There are readings, of course, but also open mics and other performances. Workshops range from screenplay writing and ghost hunting! Earlier: Book Show: A Carnivalesque bookstore in Highland Park.
Book Show. 5503 N. Figueroa St., Los Angeles.
Beyond Baroque, Venice.
Honestly, Beyond Baroque's bookstore's kind of hard to shop at, since it's basically only open at odd hours on the weekends. However, this literary arts center is the place to go for poetry readings. There are also monthly open mics, free writing workshops (these draw a usually small and very eclectic crowd) and other community events at its little dark theater.
Beyond Baroque. 681 N. Venice Blvd., Venice.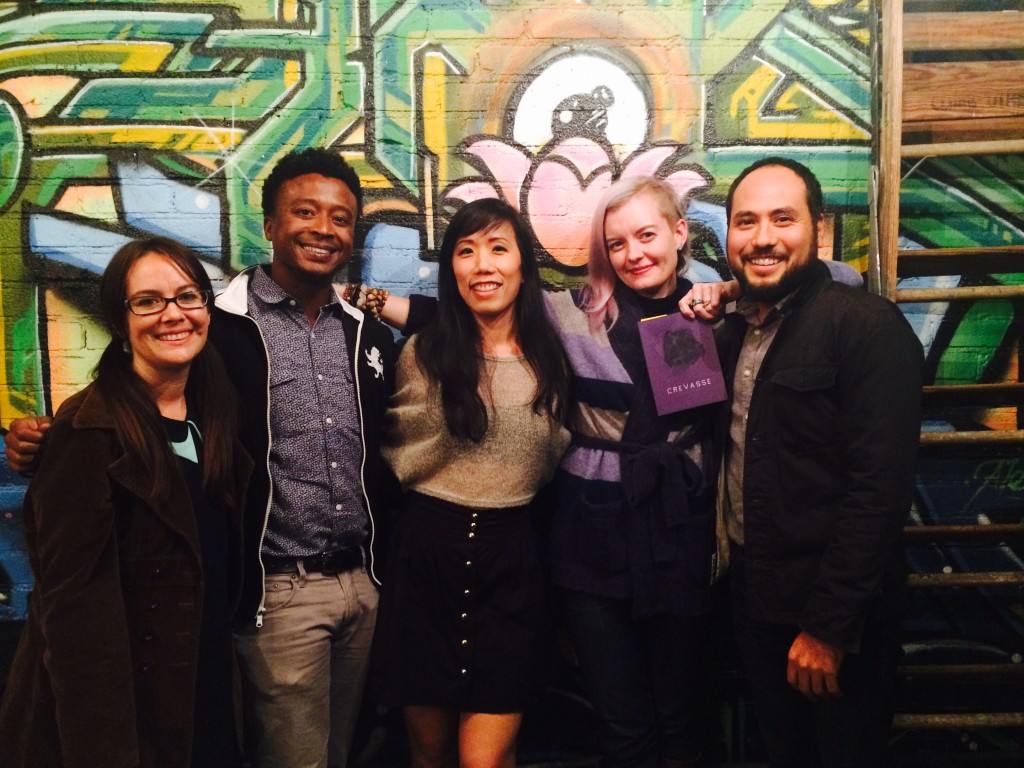 Stories Books & Cafe, Echo Park.
Some bookstores readings feature wine, but if you like to browse through books with a beer in hand, Stories is the place to go. This nice neighborhood bookstore has an equally nice cafe with green juice from Juice Served Here, avocado toast, mattes, and beer and wine. There's a lovely sunny patio out back where you can write and read — or take in a reading or concert or comedy show, depending on what's on the calendar (The photo above is from a Kaya Press reading at Stories that I participated in). Plus, Stories is right next to 826 LA, so you can stop by for a drink after a Roar Shack reading.
Stories Books & Cafe, 1716 W. Sunset Blvd., Los Angeles.
The Pop-Hop, Highland Park.
I discovered this boutique bookstore via the Sumarr Reading Series, which holds occasional events in this sunny little space. The shelves here are highly curated. You'll find small press books, lit zines, gently read novels looking for new homes, and other knickknacks.
The Pop-Hop, 5002 York Blvd, Los Angeles
Flintridge Bookstore & Coffee House, La Cañada Flintridge.
This big, multi-story bookstore has much the same feel as Vroman's — except it is even farther away and thus not a frequent destination for me. In fact, I've only been there once, when I read for a Los Angeles Review event. But the place holds a good number of community events — including monthly readings for the poetry journal Rattle — and features a great reading space for authors.
Flintridge Bookstore & Coffeehouse. 1010 Foothill Blvd., La Cañada Flintridge.
_____
Left out of this list are bookstores I've heard are great like Gatsby Books in Long Beach and Pages in Manhattan Beach — simply because they're far away from me and I haven't visited them.
I've also excluded bookstores with a narrow focus (e.g. children, travel) — as well as used bookstores, for the most part, though Los Angeles is home to many I love. Just in walking distance from me are Alias Books and SideShow Books, a handful of thrift shops that always seem to have hardcover copies of Jonathan Franzen's Freedom on sale for three bucks, and a nice woman with a table piled with used books at the West LA Farmers Market on Sundays.
Are there other LA bookstores writers should know about? Let me know in the comments —