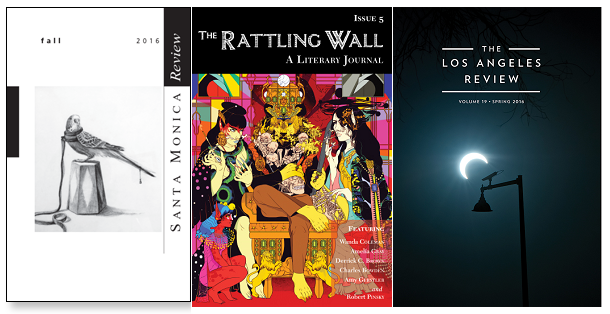 Get to know your local literary journals, and you'll get to know your local literary community. Literary journals not only publish the work of local writers, but also hold readings where you can meet the readers, authors, and editors — as well as offer opportunities to get involved. Here are fourteen literary journals for Angelenos to watch:
Faultline. Published by UC Irvine's English department since 1992, Faultline comes out annually, thanks to the MFA students who put it together. A sizable percentage of the contributors are local, though the journal features writers from all over. One bummer about this journal is that it still seems stuck in 1992; to get a copy, you actually have to mail a check to UCI.
Santa Monica Review. Founded by Jim Krusoe back in 1988, this well-established and respected literary magazine published some of Aimee Bender's earliest works. The all-fiction print zine is published twice a year out of Santa Monica College. More: An interview with Santa Monica Review's Andrew Tonkovich.
Los Angeles Review. Once a biannual print journal, LAR launched a new online format in 2017, becoming a weekly online journal with a best-of annual print edition. Its goal to publish "the voice of Los Angeles, and the voice of the nation." LAR is published by Red Hen Press; sign up for the press' email list to find out about launch readings for each issue.
Rattle. Based in Studio City, this all-poetry print journal prides itself in getting almost all its work from its slush pile. Rattle holds poetry readings every second Sunday Rattle at the Flintridge Bookstore & Coffeehouse.
Joyland: The West. The web lit zine Joyland divvies up its sections by city or region, with different editors dedicated to each spot. Read The West section for stories about LA or by LA writers or both. This is an especially good zine for discovering new writers.
Sublevel. CalArts's longtime lit magazine Black Clock folded, but in its place a newer, even edgier literary magazine launched. Sublevel is "devoted to the nexus of literature, poetics, art, criticism, philosophy, culture, & politics." In addition to (mostly experimental) writing, the zine includes conversations and art. The main issues go up online, but Sublevel also publishes a supplementary print edition — called B-Sides.
Angels Flight Literary West. Founded just a few years ago, this online zine seeks specifically to "explore uncharted stories of Los Angeles and beyond." AFLW occasionally calls for contributions for timely special issues and hosts literary salons.
Exposition Review. Until a few years ago, University of Southern California offered a Master of Professional Writing Program with its own print lit journal, Southern California Review. That program's now defunct, but its spirit lives on via the alums of the MPW program who founded Exposition Review, an online lit zine very involved with the local lit community. Visit its lively blog.
Westwind. Produced by the English department at UCLA for over 50 years now, Westwind publishes online issues in the fall and winter, along with an annual print issue in the spring. The journal has a strong focus on UCLA specifically and the LA-area more broadly. Submissions are open only to "UCLA students, faculty, alumni, and members of the greater Los Angeles community."
Lunch Ticket This biannual online lit journal's put together by the MFA community at Antioch University Los Angeles and has a special focus on social justice. More: Lunch Ticket interviewed me about Cake Time.
Ghost Town. The national literary magazine of the MFA program at California State University San Bernardino, Ghost Town publishes a couple online issues a year — combined into print annuals.
Prism Review. The literary journal at University of La Verne, Prism Review is put together by undergraduate creative writing students under the leadership of novelist Sean Bernard, the review's faculty advisor. The journal publishes poetry and fiction — and holds an annual contest in both genres (I judged fiction for the 2018 contest).
The Ear. This newly-resurrected lit zine out of Irvine Valley College seeks to publish "some of the best work in Orange County."
Muse. This print annual literary journal of Riverside City College is involved with many local events both on and off campus.
____
This list is far from exhaustive. I've excluded many lit zines that may have a base or editors in LA but aren't particularly L.A. focused — e.g. The Nervous Breakdown, 7×7, The Offing, and Drunk Monkeys. But if there are other literary journals I should know about, please do let me know in the comments!
Lastly, I have to mention Los Angeles Review of Books. LARB is an online daily and a print quarterly that was created "in part as a response to the disappearance of the traditional newspaper book review supplement." Read it for great book reviews and thought provoking essays.
Originally posted 9/26/16; Last updated 1/1/18