Looking for a writing community in Los Angeles? One great way to find it is by becoming a regular at a local reading series. New Angelenos sometimes have trouble doing that though — because it can actually take some time to find out about these reading series!
So — I've put a list of my favorite reading series together. Just to be clear, there are lots more readings that happen in town that aren't on this list. For one, many indie bookstores, writing programs, and literary journals in the area also host their own series. Plus, lots of one-off events happen everywhere from tiny coffee shops to the Dorothy Chandler Pavilion. And there are other reading series I haven't included on this list, sometimes because they're more private, salon-type events, other times because I simply don't know about them yet.
Thus: Here's my far-from-exhaustive list, going from the cozier, more local community based series on to the bigger venues with bigger names.
___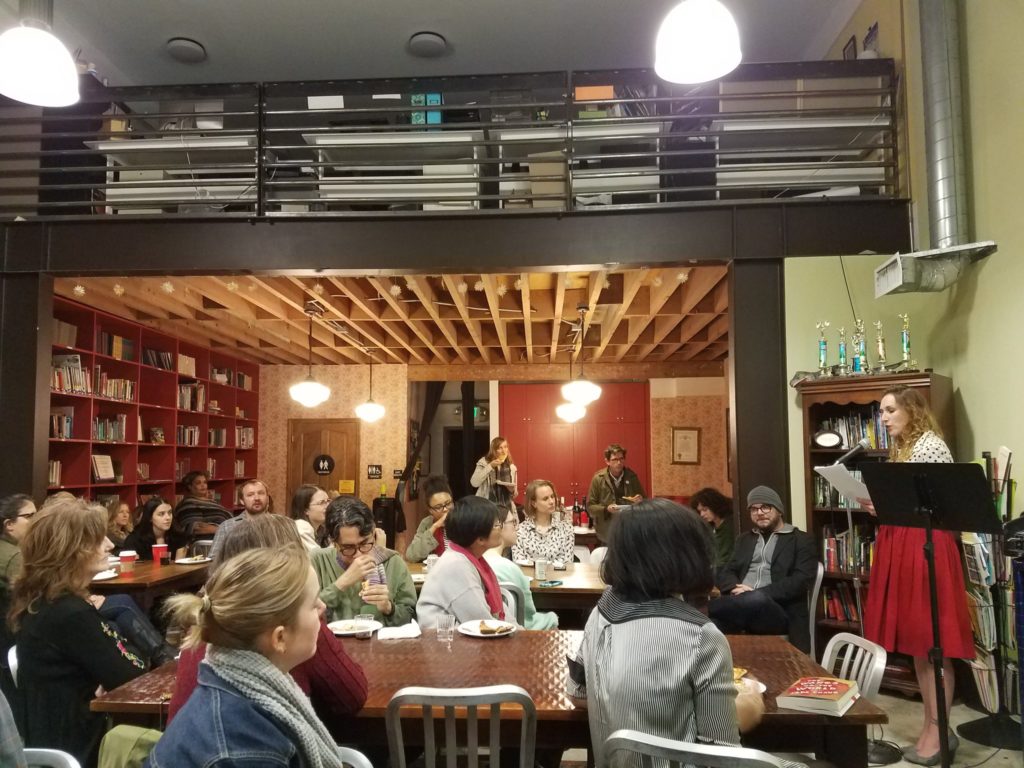 Hot Dish Reading Series
This one's a favorite of do-gooder bookish foodies. Organized by local writers Summer Block and J Ryan Stradal, Hot Dish brings together yummy eats with literary readings — to raise money for the educational nonprofit 826 LA.
The last Hot Dish of 2016 happened earlier this month, with a pizza-and-cookies theme — the cookies baked by volunteer-attendees who wanted to contribute to the cause. There was also wine and a half dozen great readings broken up with an intermission so people could eat and drink more! I especially enjoyed Sara Finnerty's essay on hunger, in which she talked about Roxane Gay's forthcoming book Hunger — the reading made funnier by the fact that Roxane Gay happened to be in the audience. Cost: $6, all of which goes to support 826LA.
Dirty Laundry Lit
Founded by Natasha Deon, Dirty Laundry Lit brings a good crowd to The Virgil every few months. There's a DJ, a lively host, and a half dozen or so mostly local writers — plus drinks for sale at the bar. The website isn't always updated; check Facebook for the latest events. Cost: $10.
Library Girl
Created by Susan Hayden, Library Girl events feature a handful of mostly-local readers plus a musical act. The first event of 2017 will be a celebration of Los Angeles In The 1970s: Weird Scenes Inside The Goldmine, a recently-published anthology edited by David Kukoff. Go for the literature and music — and complimentary snacks and dessert. Cost: $10, all of which is donated to Ruskin Group Theatre. More: Library Girl: A Santa Monica reading series with sugar and soul.
Hitched
This quarterly reading series is unique in that it features pairs of writers — "as a way of celebrating the relationships we build as writers that are integral to our success and the successes of those around us." Local poet Xochitl Julisa-Bermejo organizes these events at Holy Grounds Coffee & Tea. Her website isn't always updated; check Facebook for the latest events. Free.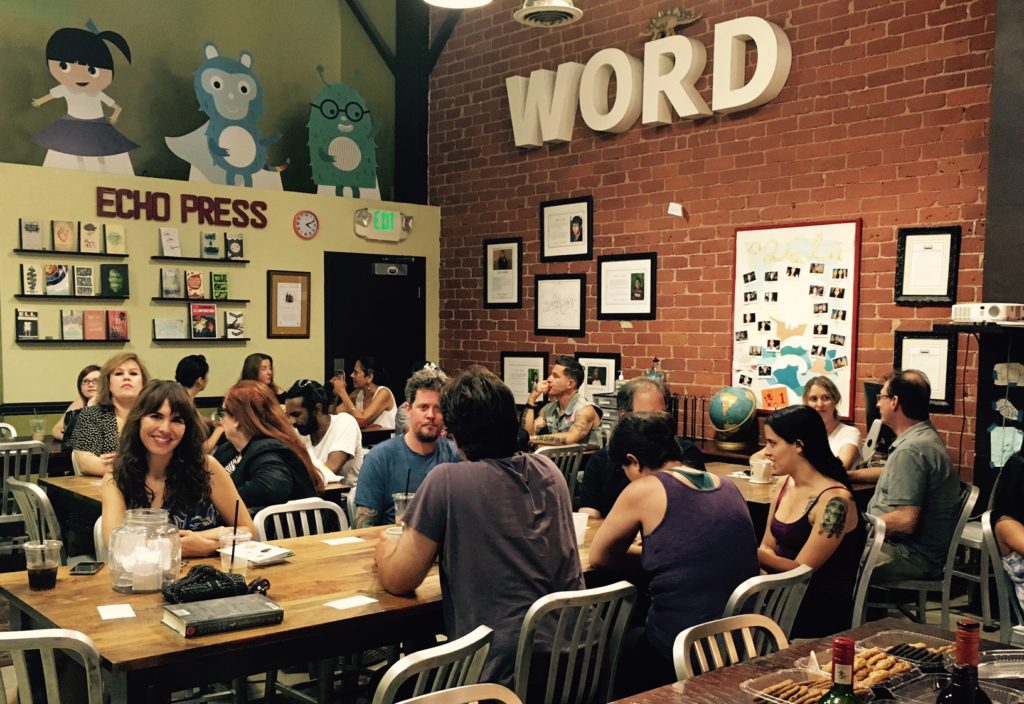 Roar Shack
Organized and hosted by local writer David Rocklin, these monthly readings in Echo Park each feature short readings by a handful of mostly-local authors, punched up with a musical performance and a little healthy writing competition called Livewrite. Contact David to get on the events email list — or to submit your own work to be considered for a reading spot. More: Roar Shack: A Monthly Echo Park reading series with music and a Livewrite.
Vermin on the Mount
Organized and hosted by Jim Ruland, Vermin on the Mount readings happen once every couple months at Book Show in Highland Park. Each event features short readings by a handful of eclectic writers — some on book tour, some local. Plus, there's a raffle with free prizes for attendees, ranging from books by featured authors to Vermin T-shirts. Contact Jim to submit your own work to be considered for a reading spot. More: Vermin on the Mount: An irreverent reading series in LA and San Diego.
Griffith Park Storytelling Series
Enjoy L.A.'s gorgeous weather by going to the park — to hear a handful of local writers then mingle over snacks. Hosted by Anne-Marie Kinney and Sara Finnerty, this occasional reading series will inspire to hike more and write more. Free.
New Short Fiction Series
Actors and writers unite at this long-running spoken word series. Every second Sunday of the month, actors read stories by west coast authors, giving the tales a performative flair. Most events happen at The Federal Bar in North Hollywood, but occasionally the readings roam around. My favorite was when my grad school friend Bryan Hurt's story was read by Ryan Klamen at the Annenberg Beach House; Helen Hunt was in the audience, and came up afterwards to compliment them. The series is hosted by Sally Shore. Cost: $10-$20.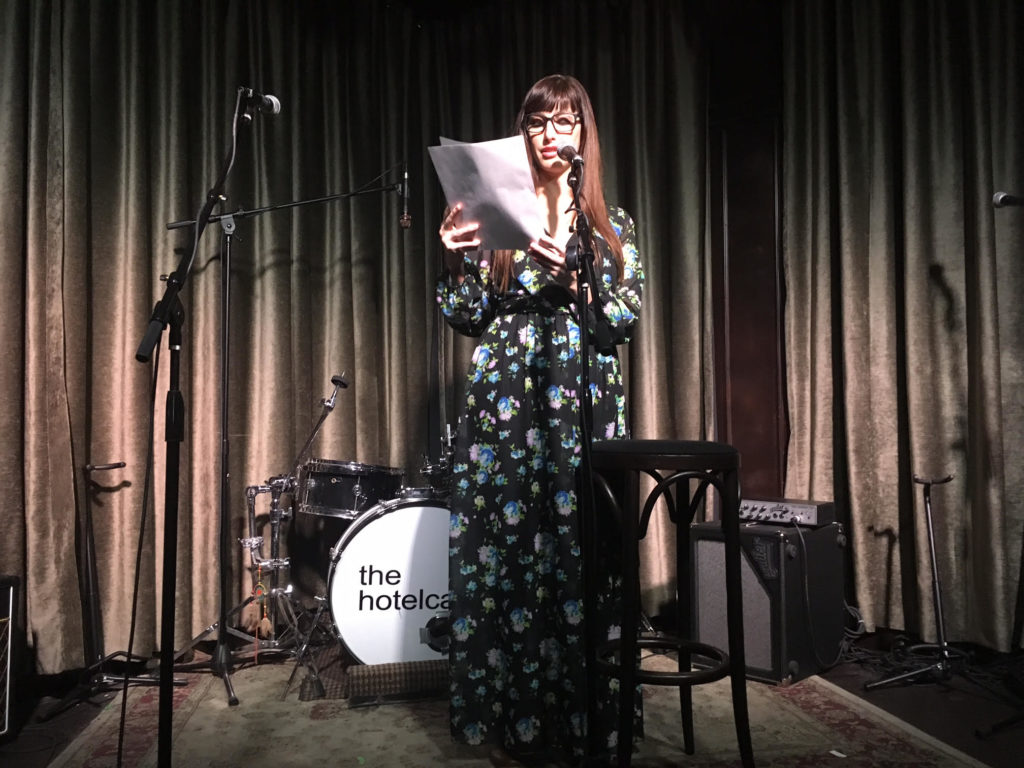 Tongue and Groove
Tongue & Groove takes over Hotel Cafe one Sunday a month, each evening event featuring a handful of writers reading fiction, poetry, personal essays, and spoken word. Organized by Conrad Romo, this reading series is now in its 13 year. Attendees queue up at Hollywood and Cahuenga, then enter the darkened space to buy drinks and chat before sitting down at one of the tables or couches to take in the show. In keeping with the spirit of the place, a musical act also performs. Cost: $7. More: Tongue & Groove: A Monthly literary variety show at Hotel Cafe
Sumarr Reading Series
Organized by Diana Arterian, Sumarr readings happen once every couple months, featuring a handful of mostly local readers plus a musical guest. It all happens at a cute little book store called The Pop-Hop in Highland Park. I read for this series earlier this year. Free.
Hammer Museum readings
UCLA's contemporary museum brings to campus a great lineup of writers . Held in the spacious annex, the readings often draw a hundred or so people and usually also feature a conversation with a UCLA professor and a Q&A with the audience, followed by a book signing.
The crowd will include a mix of book lovers and UCLA students — many, I suspect, strongly encouraged by their professors to attend. My favorite reading here was by Dana Spiotta, who talked about her early days working with Gordon Lish with great humor! I'm looking forward to Rachel Cusk's reading Jan 31 — as well as my grad school friend Amaranth Borsuk's Jan 19. Extra bonus: There's always complimentary coffee, tea, and cookies. Free.
Aloud Lecture Series
The Los Angeles Public Library holds this fantastic series at the pretty downtown library, in an amphitheater that seats several hundred. Events range from a featured reading with a big name novelist to multi-author discussions of major socio-political issues (e.g. The Pursuit of War Criminals from Nuremberg to the War on Terror).
Because of the events' popularity, free reservations are required (paying library members get first dibs) — and often "sell" out, though you'll likely get in if you just show up because a lot of these free ticket holders end up not showing up. Don't count on that though: I got in the standby line for a George Saunders reading once but was turned away; my friend and I ended up eating our sorrows at Mas Malo then returning to queue up for the book signing. Coming up are an event with Barry Yourgrau and Aimee Bender (whom I interviewed here!) on Jan 12 — and a reading with the latest Man Booker prizewinner Paul Beatty on Valentine's Day. Free, with reservations.
____
Are there other public reading series I should have included in this list? Let me know in the comments —
Hot Dish photo by Lauren Eggert-Crowe