If your Korean mother was like my Korean mother, you grew up eating lots of fresh veggie dishes made from scratch — with a shitload of MSG sprinkled in for flavor. Seriously, MSG was my mother's favorite seasoning. Eating the stuff now makes me feel instantly ill and irritable — which perhaps explains why I was an angry little girl!
I still love Korean food though — and while many mom and pop Korean places still love MSG as much as my mother did, many health-conscious places are embracing Korean flavors sans the questionable ingredients. Here are five places where you can enjoy clean, healthy Korean-ish food, just like mama never made.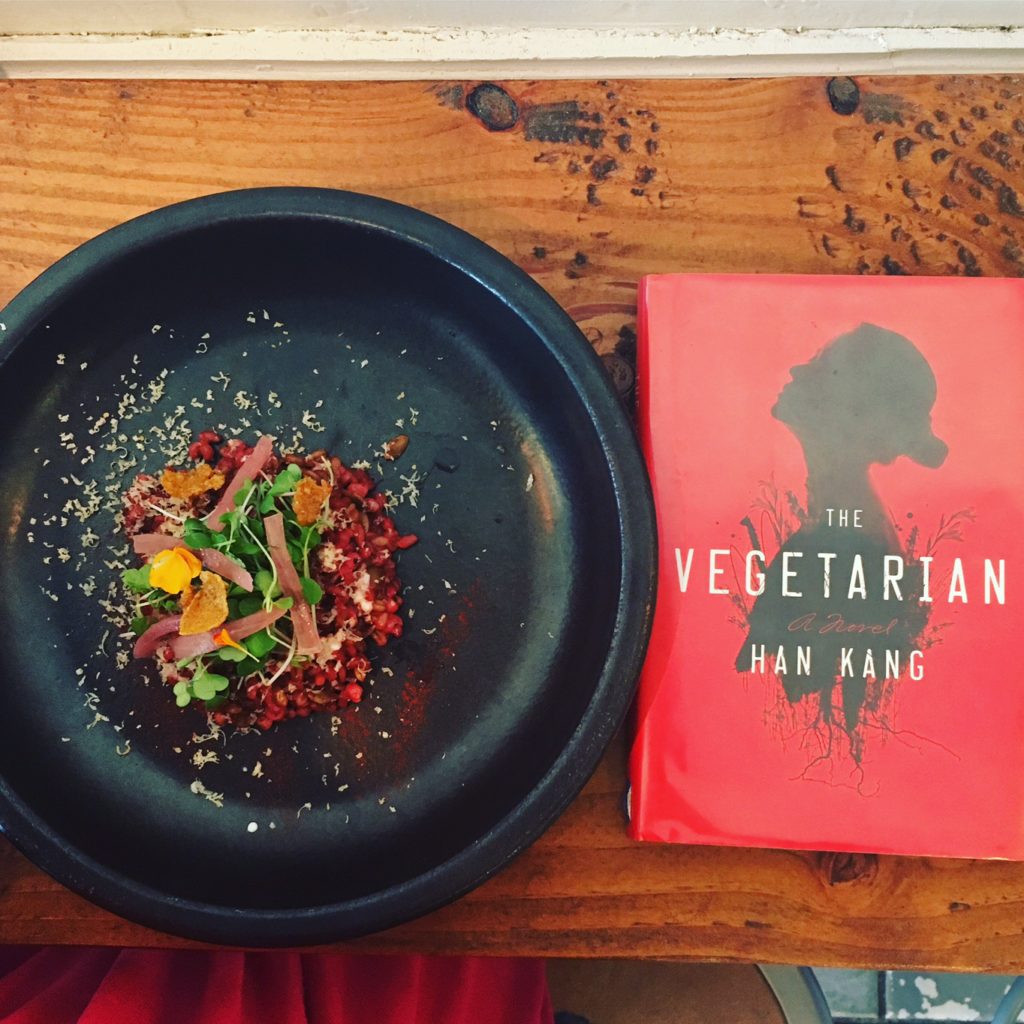 Baroo. 5706 Santa Monica Blvd, Los Angeles.
I'd describe Baroo as a healthy avant garde Korean restaurant. You know, the kind of place with a celebrated chef, pineapple fermented kimchi, local organic ingredients, and lots of vegetarian and gluten free options — housed in a tiny, signless spot in a rundown strip mall.
I got the Noorok (recommended by Jonathan Gold): Job's tears, kamut & farro, roasted koji beet, kombu dashi, toasted seeds, macadamia nuts, finger lime and rose onion pickle. Delicious, inventive, and not quite a full meal — Baroo's the kind of place where you need to order a few different dishes for the full experience.
Book pairing: The Vegetarian by Han Kang
"It's your body, you can treat it however you please. The only area where you're free to do just as you like."
*
The Vegetarian shows interesting connections between women's rights and eating disorders — a young girl physically abused by her father later becomes anorexic, gaining control over the one part of life where she can exert some agency. A fascinating and disturbing book that delves into real sociopolitical concerns that still plague Korea (and the US) today.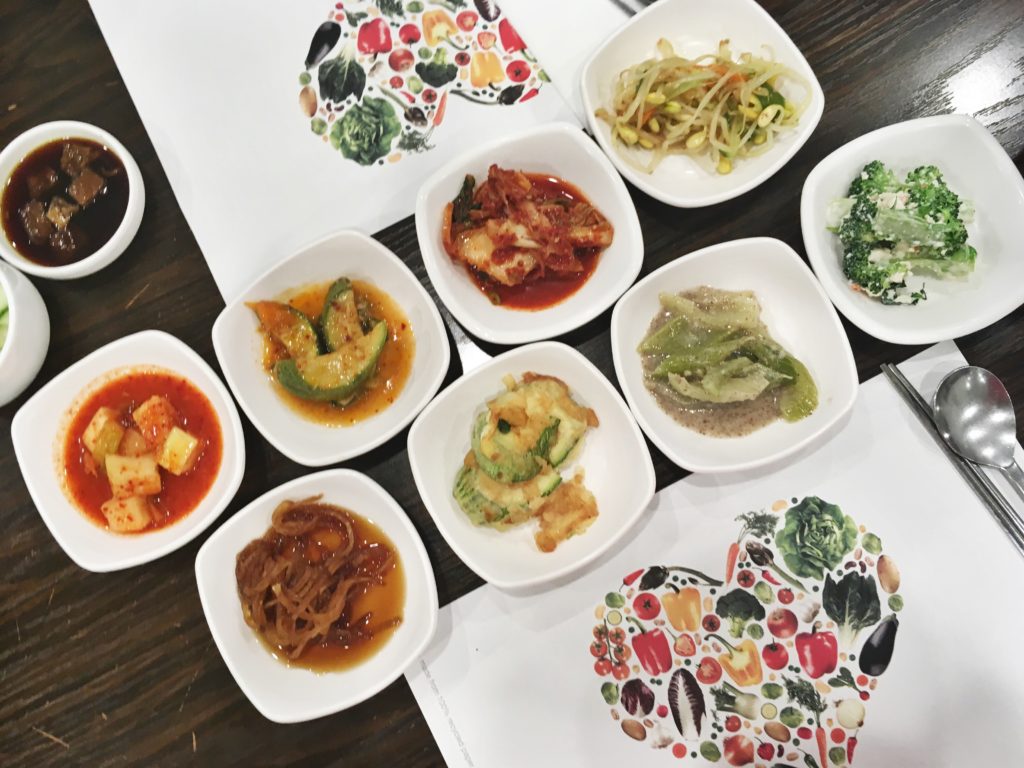 Healthy Zone Jook Hyang. 3177 W Olympic Blvd., Los Angeles.
This is a real hole-in-the-wall mom-and-pop Korean shop that proudly shuns MSG and is focused on health!
You get the full Korean restaurant experience here, with all the free bachan (side dishes) and corn tea. The place's specialty is jook — rice porridge — but also offers a full menu of health-conscious Korean dishes including ginseng chicken soup and organic ox-knee soup.
I was craving something spicy and went for the spicy stir-fried squid, which came with a choice of white or brown rice. Best meal ever — though I want to return soon to actually try the jook.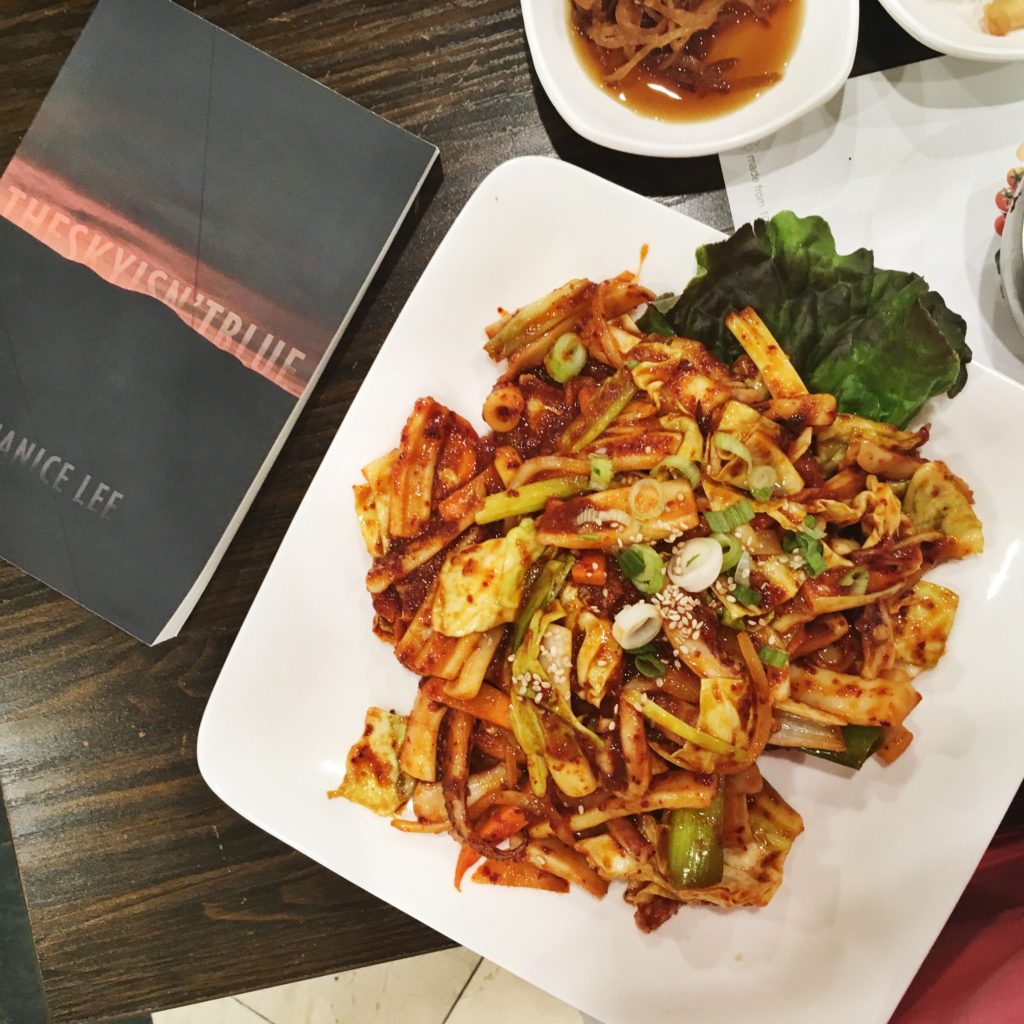 Book pairing: The Sky Isn't Blue by Janice Lee
"If there ever was a city in which every inhabitant could tailor their existence and experience of that city completely, it is LA. Your LA is very different from my LA. My LA from a few years ago is different from my LA today."
This poetic, evocative work by Korean-American writer Janice Lee will make you nostalgic for the Los Angeles you're in now, the Los Angeles you want the city to be, and the Los Angeles that never was.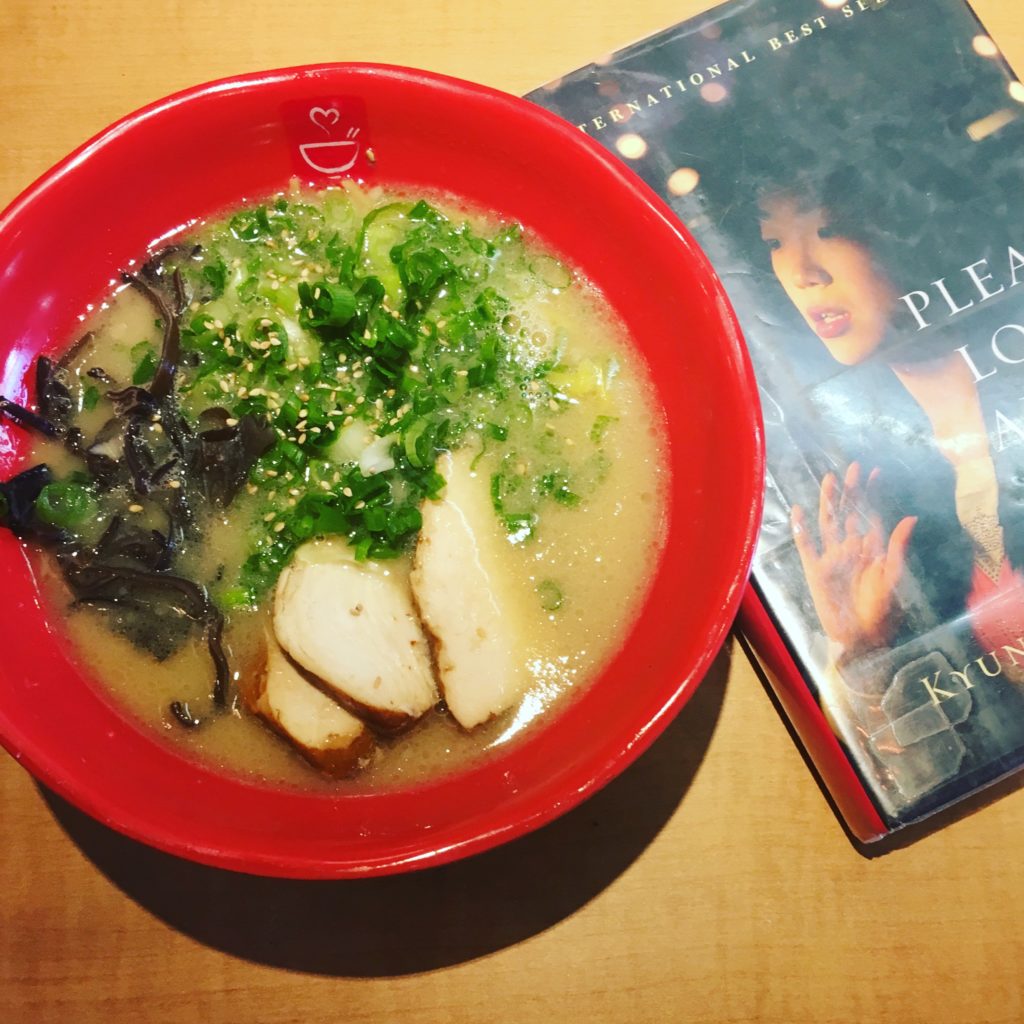 Tatsu Ramen. Two locations on Sawtelle and Melrose, Los Angeles.
I realize this is a Japanese place, but Koreans eat a lot of ramen too! Love ramen but hate gluten? Tatsu Ramen gives you a Japanese rice noodle option. This is an order from an iPad then take a seat kind of place, so if you love ramen but hate human interaction, this is also the place for you —
The good news: My gluten-free Old Skool Ramen — made with a Tonkotsu broth and topped with chicken, green onions, and wood-ear mushrooms — was delicious! I couldn't even tell the noodles were gluten-free — though to be fair it's been so long since I've had glutenous ramen that I'm not sure I can totally remember the taste and texture.
The bad news: Tatsu has the highest markup I've ever seen for going gluten free. These special noodles will cost you an extra $6.
Book pairing: Please Take Care of Mom by Kyung-Sook Shin
"Ramen was the best thing back then! It was something you ate in secret so you wouldn't have to share it!"
*
Please Look After Mom begins when the aging mom of a family gets lost in a subway station — and the family members start a frantic search to find her while remembering all the ways the mom sacrificed to care for them yet was largely taken for granted and ignored herself. The book is a page turner even though its structure depends on quiet reminiscences. The memories are at once universal — all the ways we take the people in our lives for granted until they're gone — and culture and time specific — the history of war and poverty in Korea alongside the gender expectation that women, especially mothers, be subservient, care taking, self-sacrificing.
Overall I enjoyed and learned a lot from this book, even as I found myself getting anxious about the ways the novel in some ways glorifies female sacrifice and suffering.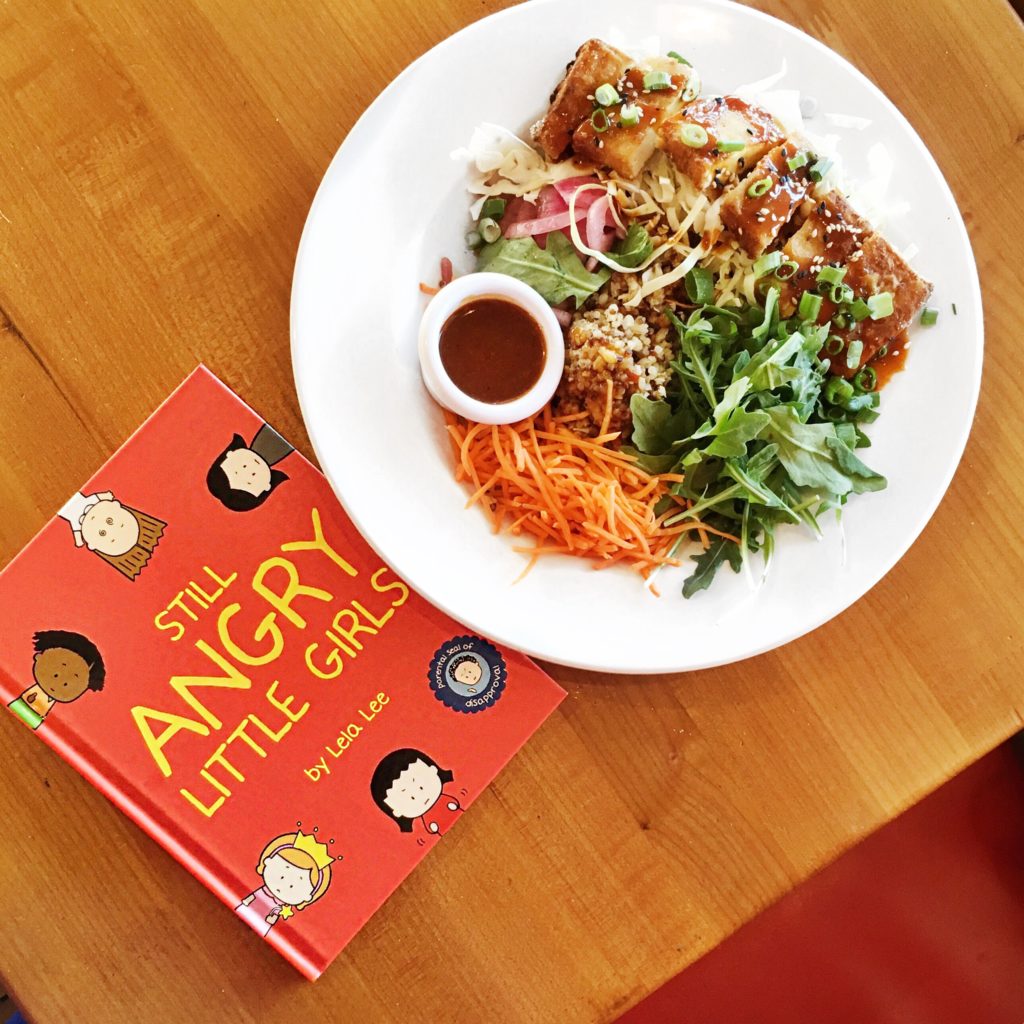 Veggie Grill. Locations all over Los Angeles.
No, this place is not a Korean restaurant — but they have a Seoul Bowl, made with gluten free organic crispy tofu, supergrain and rice mix, carrots, house-pickled red onions, cabbage, arugula, scallions, sesame seeds and gochujang sauce. The result? Well, the gochujang is really too sweet and runny, the arugula is something I just don't associate with Seoul, and where is the kimchi?! That said, for fast Korean-Cali fusion, the Seoul Bowl's pretty satisfying and comforting.
Book pairing: Still Angry Little Girls by Lela Lee.
I love this comic book series because the girls are so cute and so angry! Plus Angry Little Girls touches on issues of race and culture in sly, funny ways. It's a fast, entertaining read —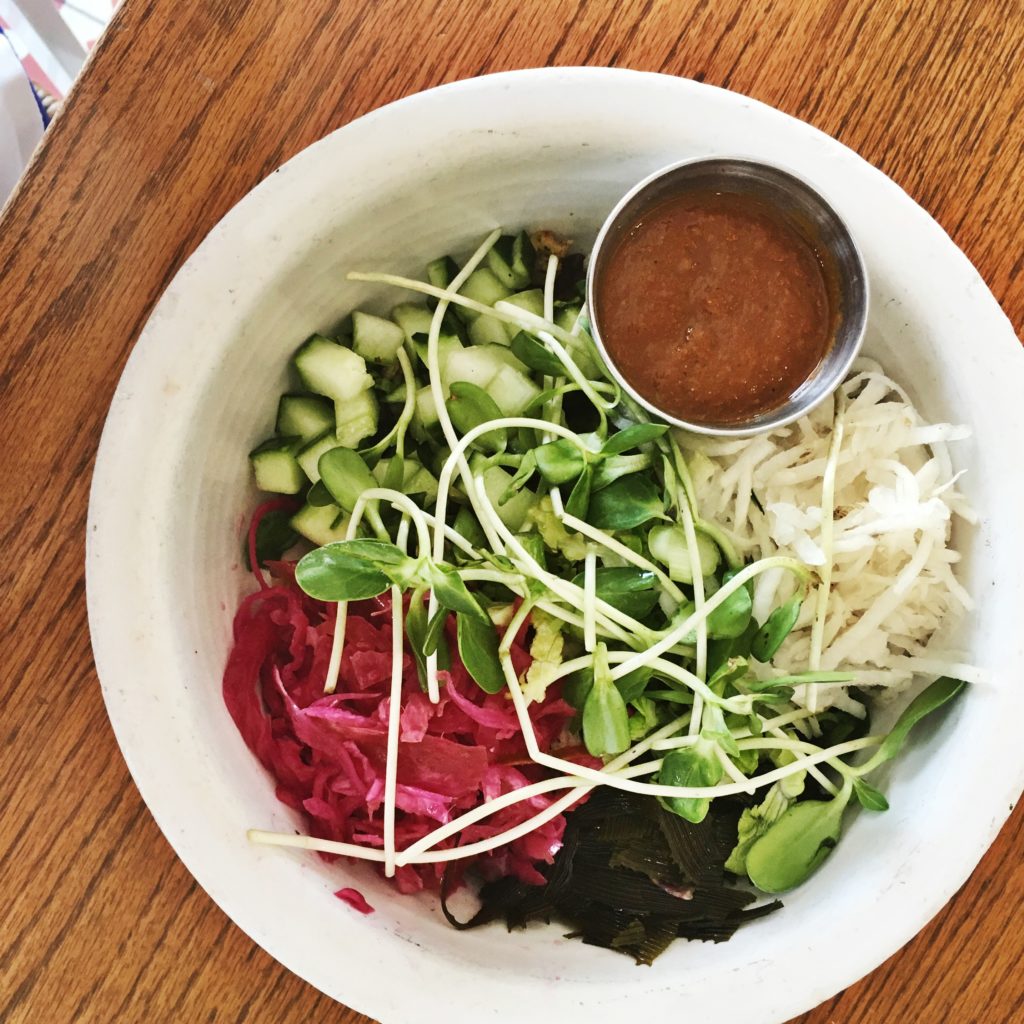 Cafe Gratitude. 4 L.A.-area locations in Larchmont, Beverly Hills, Venice, and the Arts District.
This too is not a Korean restaurant — but is a yummy place to go for organic vegan Bibimbap Bowl, a.k.a. Evolved. Does it taste like real Korean bibimbap?
Well, the bulgogi is made with oyster mushrooms and the egg with chickpeas, the kimchi's very mild, the usual gochujang is replaced with a runny "bibimbap sauce" and the whole thing's topped with a lot of sprouts — so no! But this dish is a fresh, satisfying dish in its own right.
Book pairing: I Have the Right to Destroy Myself by Young-Ha Kim
"C imagined the green liquid going down her throat and spreading throughout her body. He could see her body turning green, the kiwi juice seeping into her capillaries."
*
Aren't those the perfect lines to read right before drinking a raw green smoothie? I picked out this book on a whim from the library shelf and was really sucked in by this moody Korean novel — about two brothers in love with the same listless woman — who hires a suicide whisperer of sorts to help her end her life. It's a strange, disquieting, yet oddly peaceful story.
___
Have other healthy Korean-ish restaurant recommendations? Let me know in the comments —