Don't have time to nori-wrap your tempeh bulgogi or to slice-n-bake sweet potato toasts for your paleo tartine? Indulge your love of health fads and fusion food alike at these healthy to-go spots this spring.
__
Kye's. Santa Monica: 1518 Montana Ave.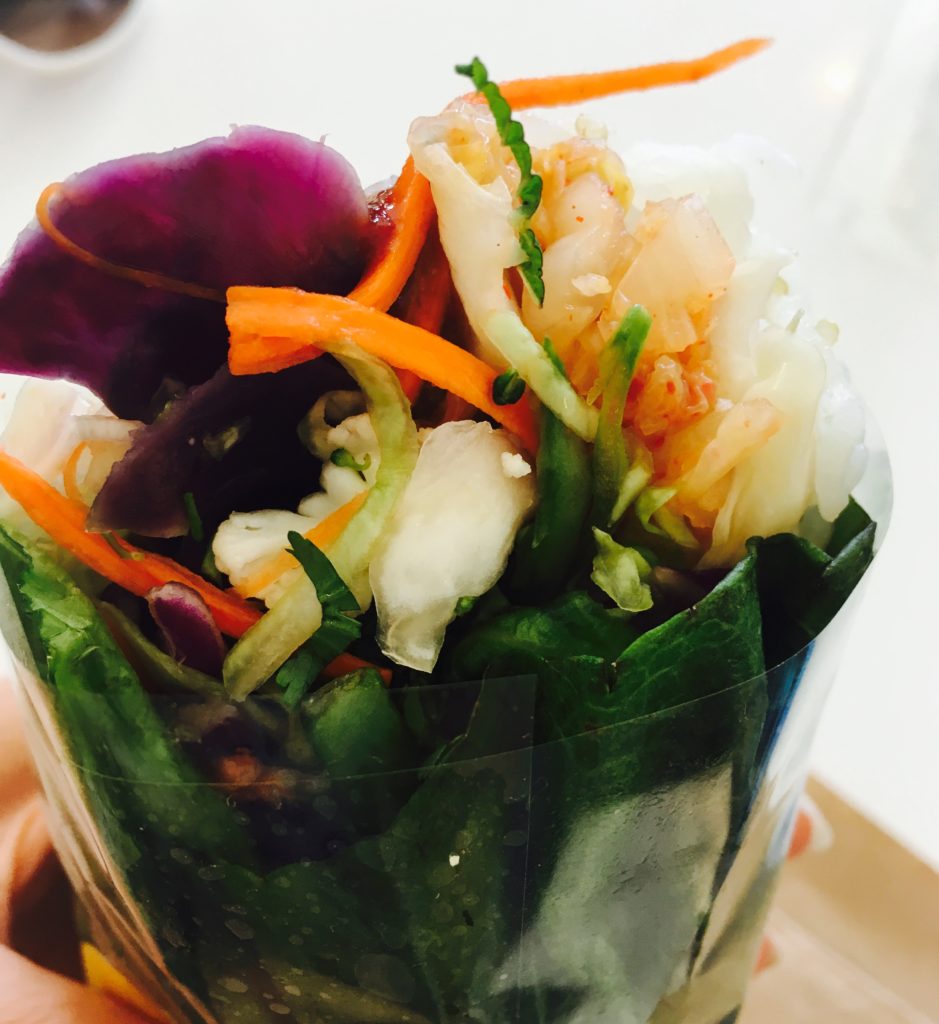 This sunny spot is the home of the Kyerito — which is basically a leaf or nori-wrapped breadless burrito. A special slip wrap keeps the warm stuff from touching the wrap part, so nothing gets soggy.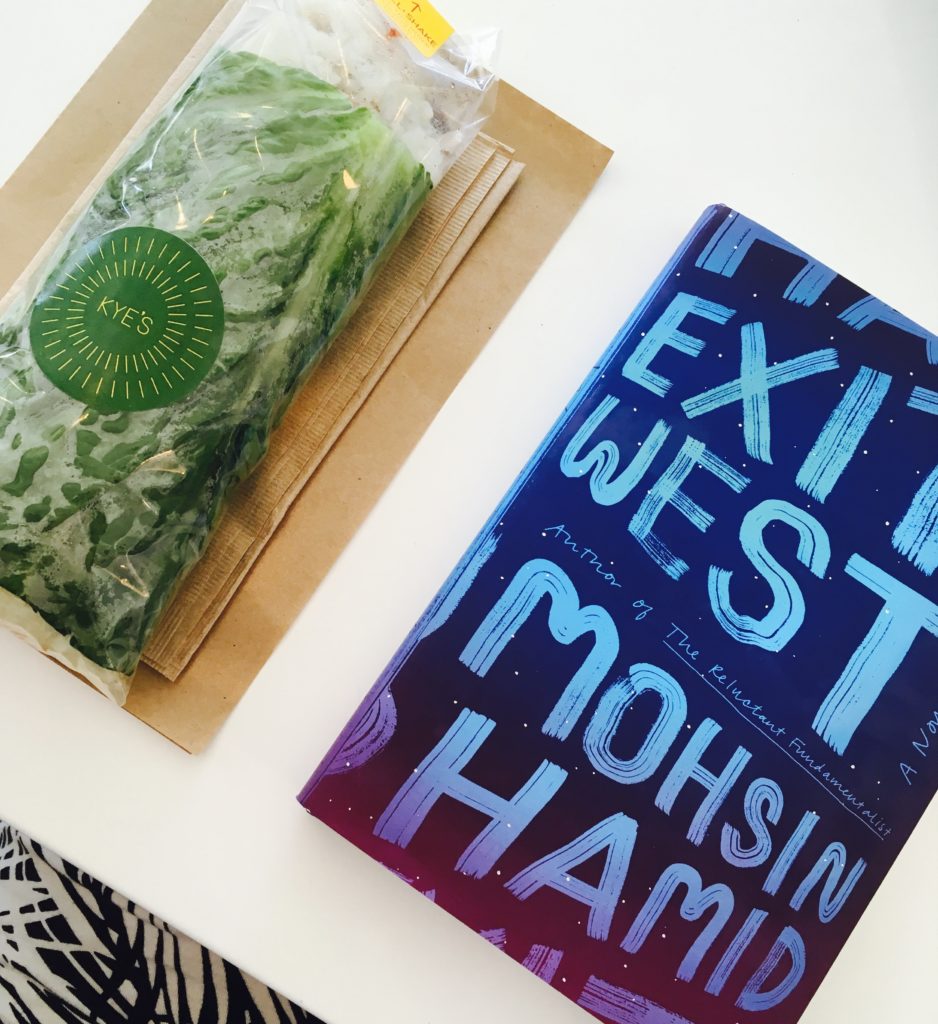 I loved the Tempeh Bulgogi Kyerito — a Korean-fusion deal with gochujang, kimchi, tempeh, rice, plus veggies and herbs, all wrapped in romaine. Most of the ingredients are local and organic too.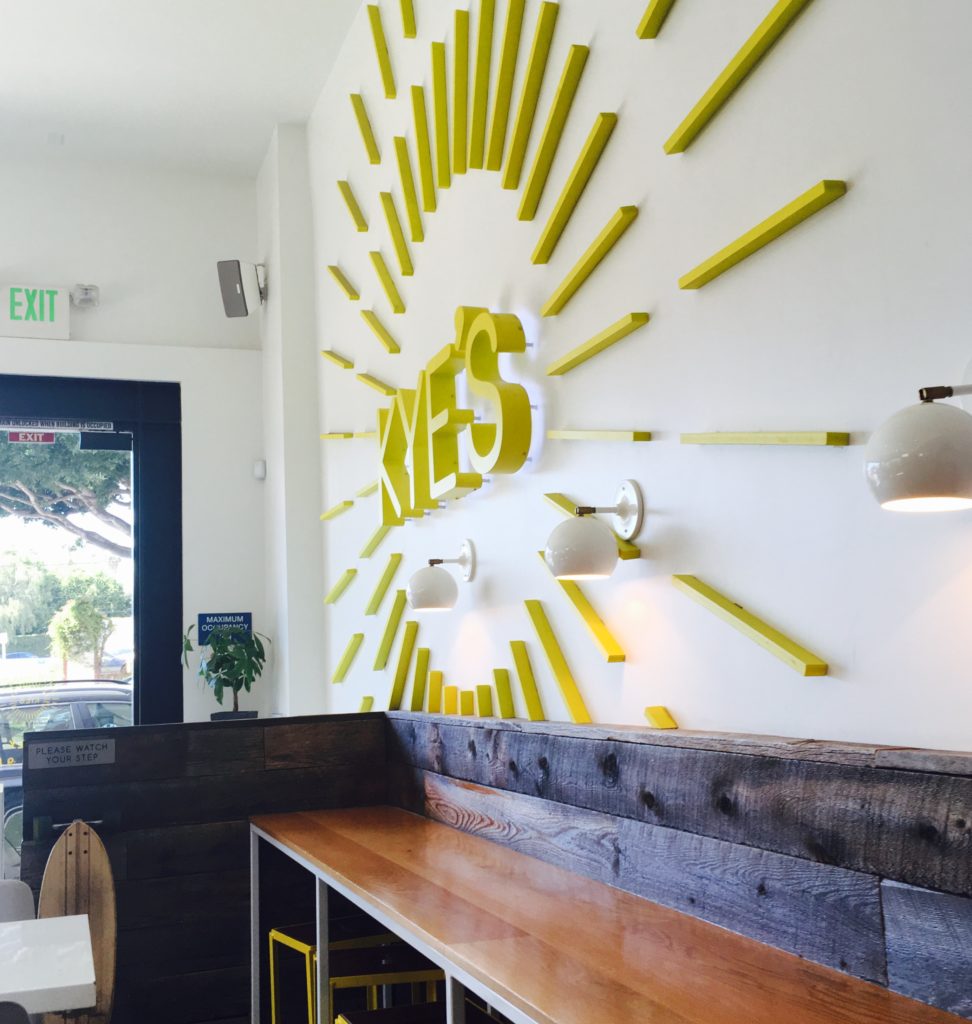 Kye's also offers salads and soups — plus vaguely healthy sounding desserts like vegan black bean brownie and kabocha pie I hope to try one day —
Honey Hi. Echo Park: 1620 W. Sunset Blvd., Los Angeles.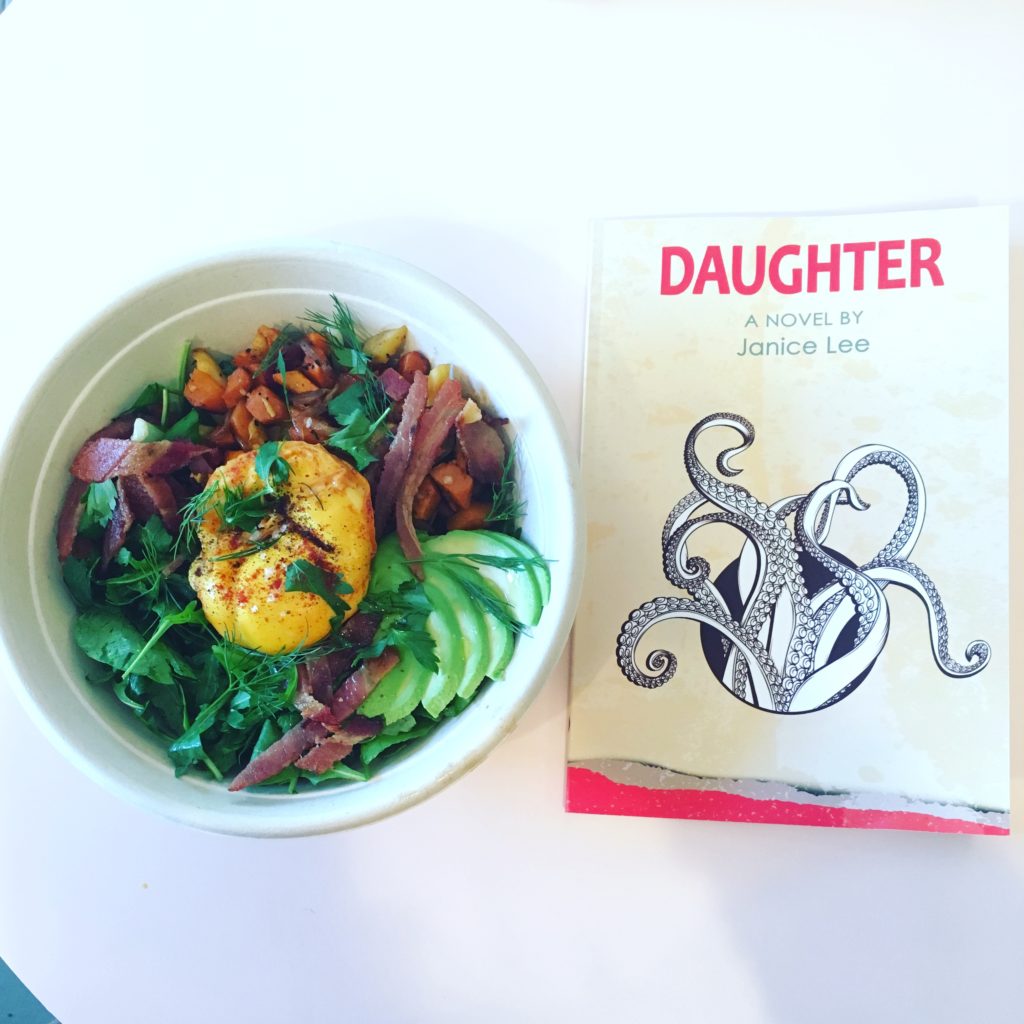 If you're headed to an event at Stories or 826 LA in Echo Park, stop in at this organic and local, no refined sugar or gluten spot for a bite to eat. I recommend the breakfast bowl, made with sweet potato hash, pastured turmeric poached egg, Niman Ranch uncured bacon, greens, avocado, herbs, sumac, and smoked paprika.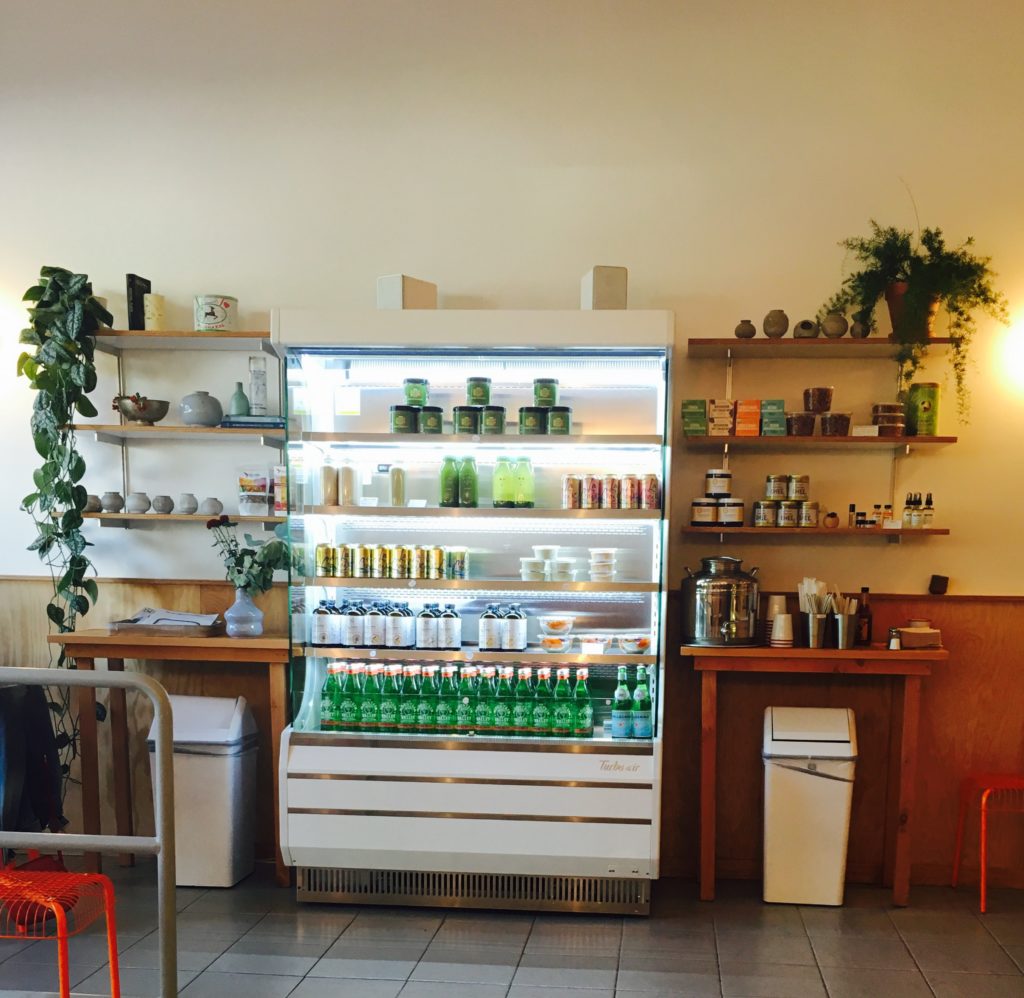 The place also has sourdough tartines, sandwiches, juices and smoothies, and all the currently trendy health craze drinks: bone broth, reishi hot chocolate, bulletproof coffee, and more.
Erewhon: Three locations: Venice, mid-city, and Calabasas.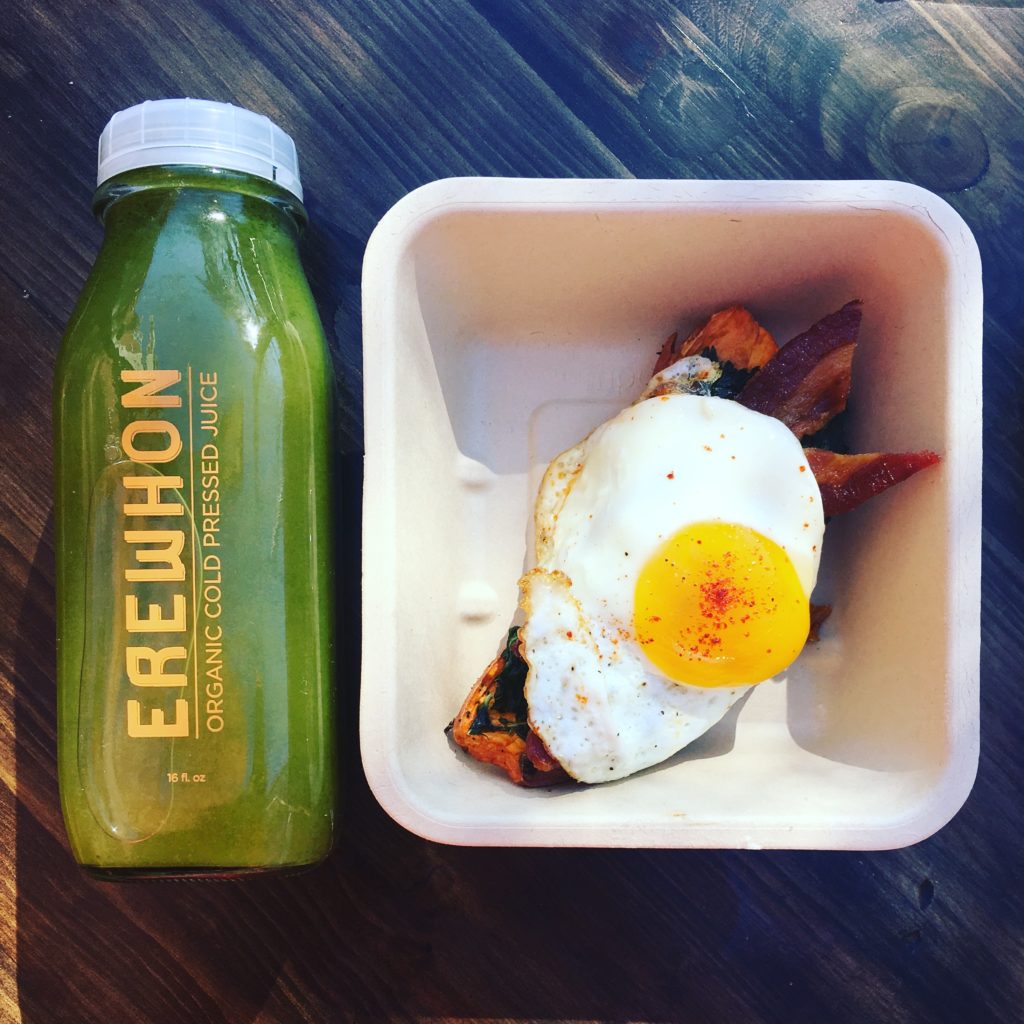 Once, I zoned out while driving west on Venice to a reading at Beyond Baroque, overshot it, spotted Erewhon, stopped in to eat a paleo tartine — and forgot about the reading. The sweet potato, greens, bacon and egg combo was delicious!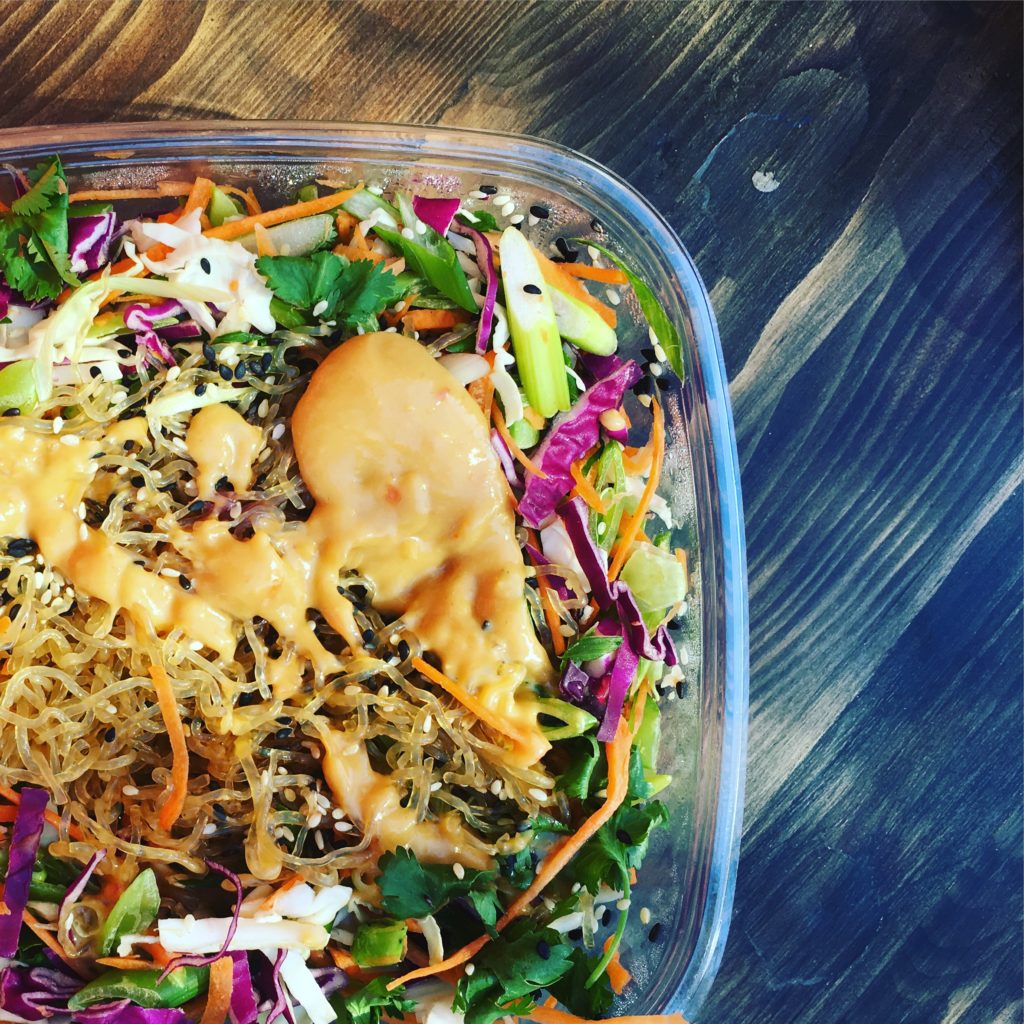 I got a green juice in a reusable glass bottle and a kelp salad too and ate everything in the sunny patio by this health-conscious grocery store and deli. The day was warm and the food was perfect.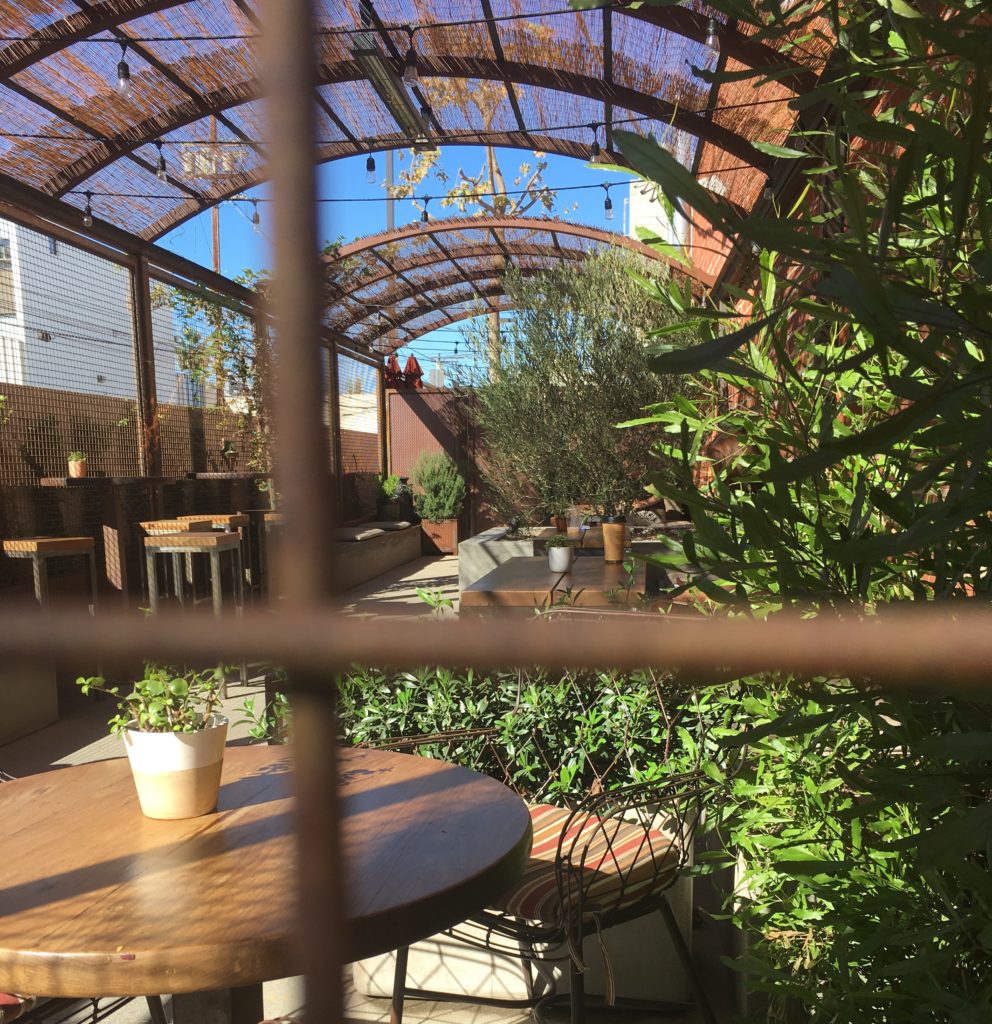 The downside: Lunch cost me $30. Also, I missed the reading —
Sweetgreen. 8 locations around the city.
This popular salad-and-bowls chain's been expanding like crazy across the country. Back in February, I had a Pesto Portobello bowl in Santa Monica — then flew to Washington DC for the AWP Conference and had another one. It's a tasty warm dish: quinoa, arugula, roasted chicken, portobello, corn, chickpeas, and spicy broccoli tossed in pesto vinaigrette.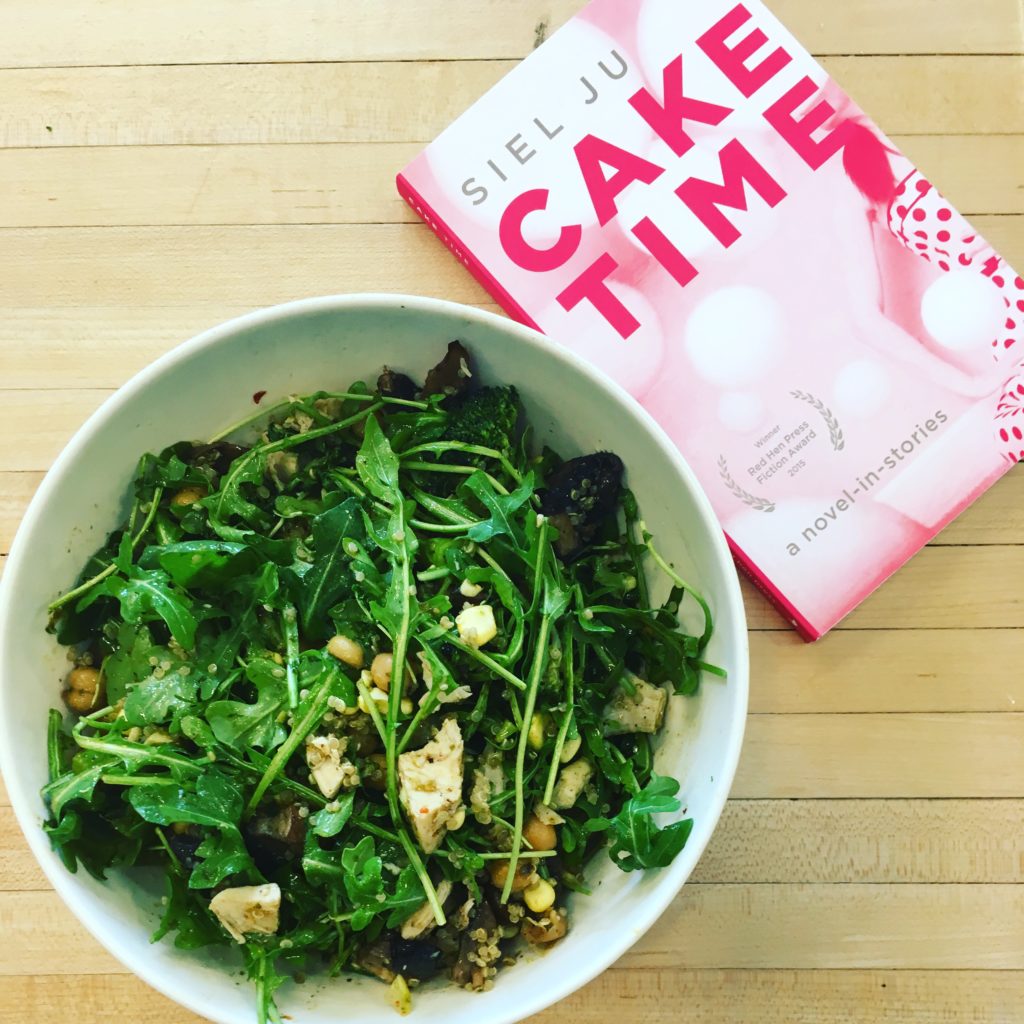 Sweetgreen takes local and seasonal seriously. At each location, a chalkboard lets you know where exactly the ingredients for your meal came from.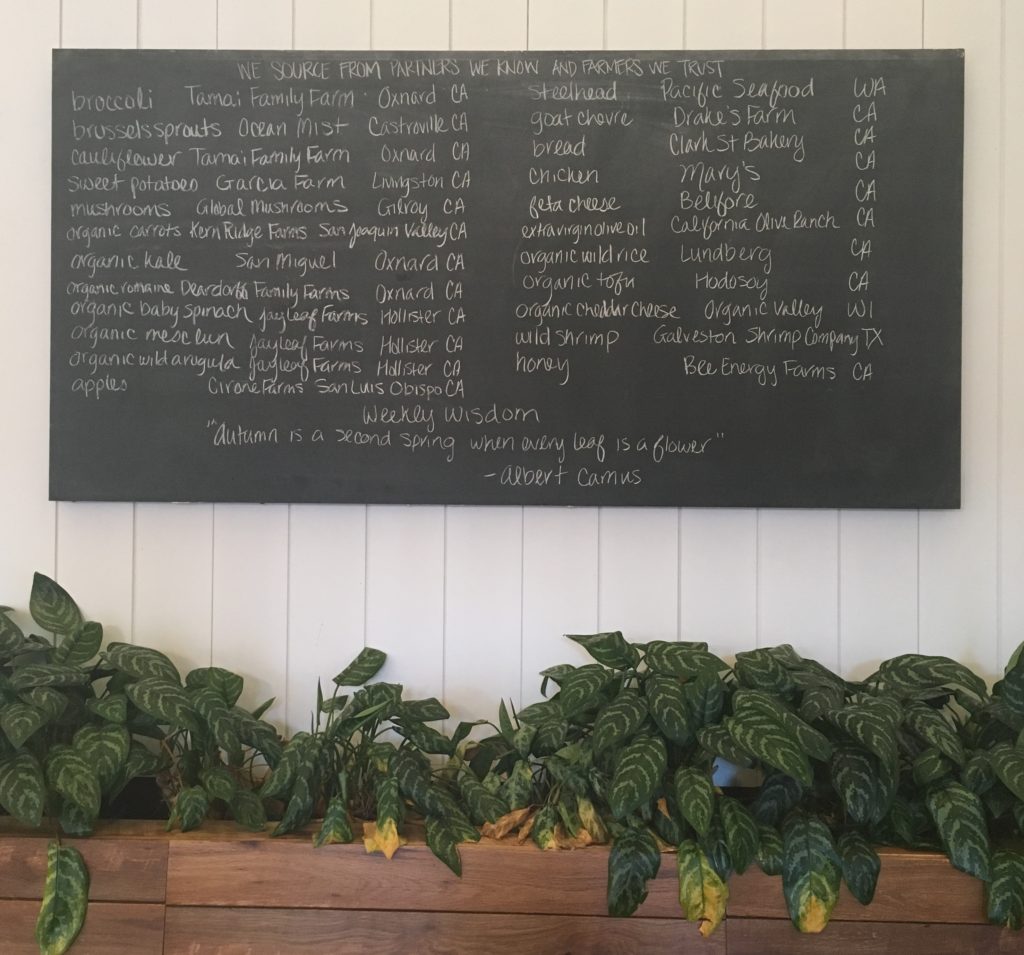 That does mean that some dishes will come and go with the seasons — so get them while you can! This OMG Omega bowl is a perennial though, and one of my favorites: arugula, baby spinach, cucumbers, tomatoes, basil, avocado, roasted steelhead and nori furikake, tossed in miso sesame ginger dressing.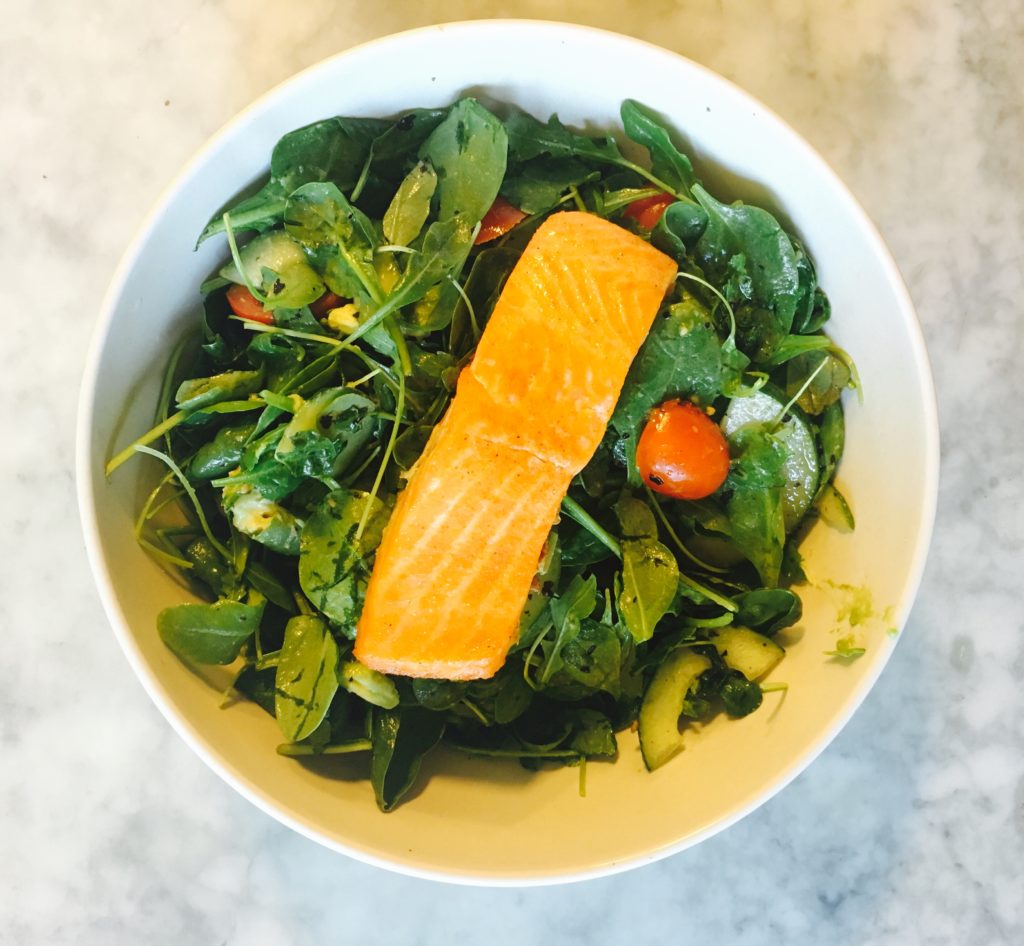 Frozen Fruit Co. Santa Monica: 729 Montana Avenue, Suite 2.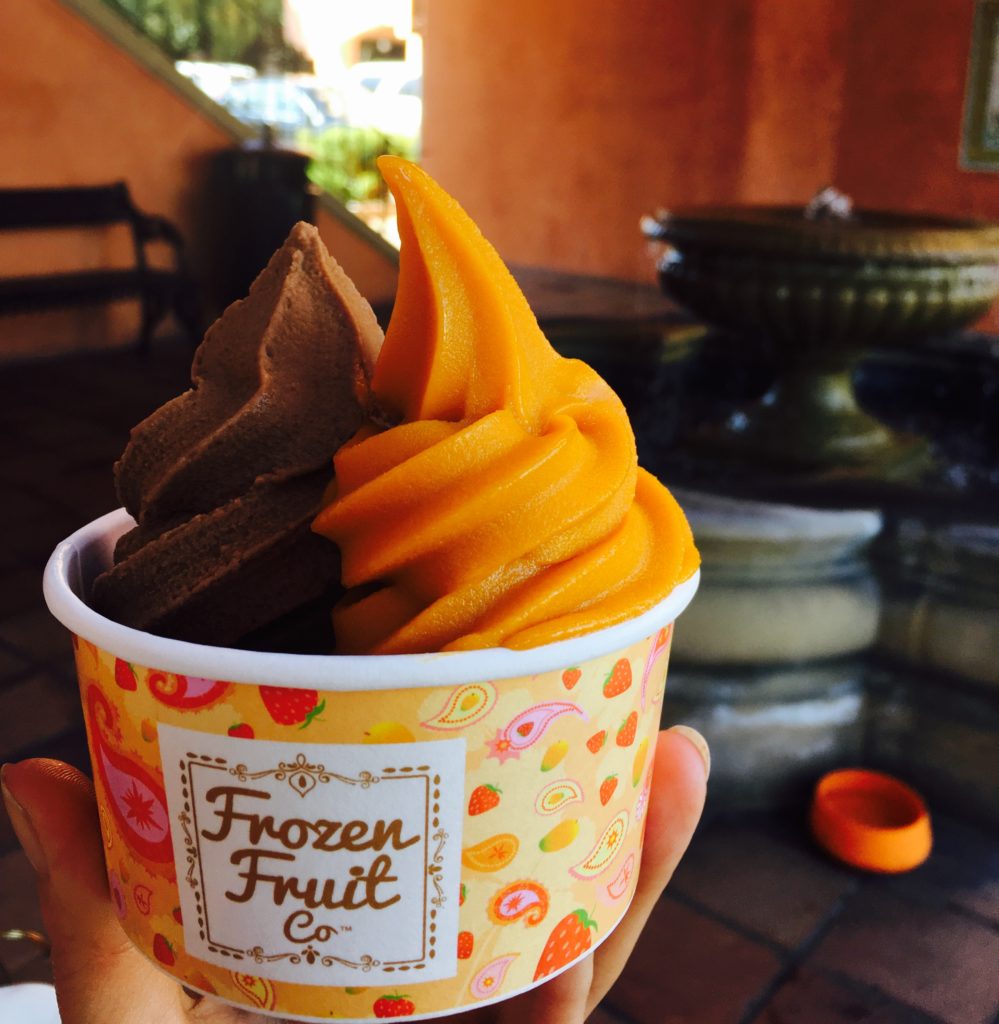 Okay — Soft serve ice cream perhaps doesn't qualify as a healthy lunch on its own. But the tasty stuff at this place makes for a healthier dessert option! Frozen Fruit's ice creams are basically just frozen and blended fruit — no dairy, gluten, or white sugar — with a few other clean ingredients.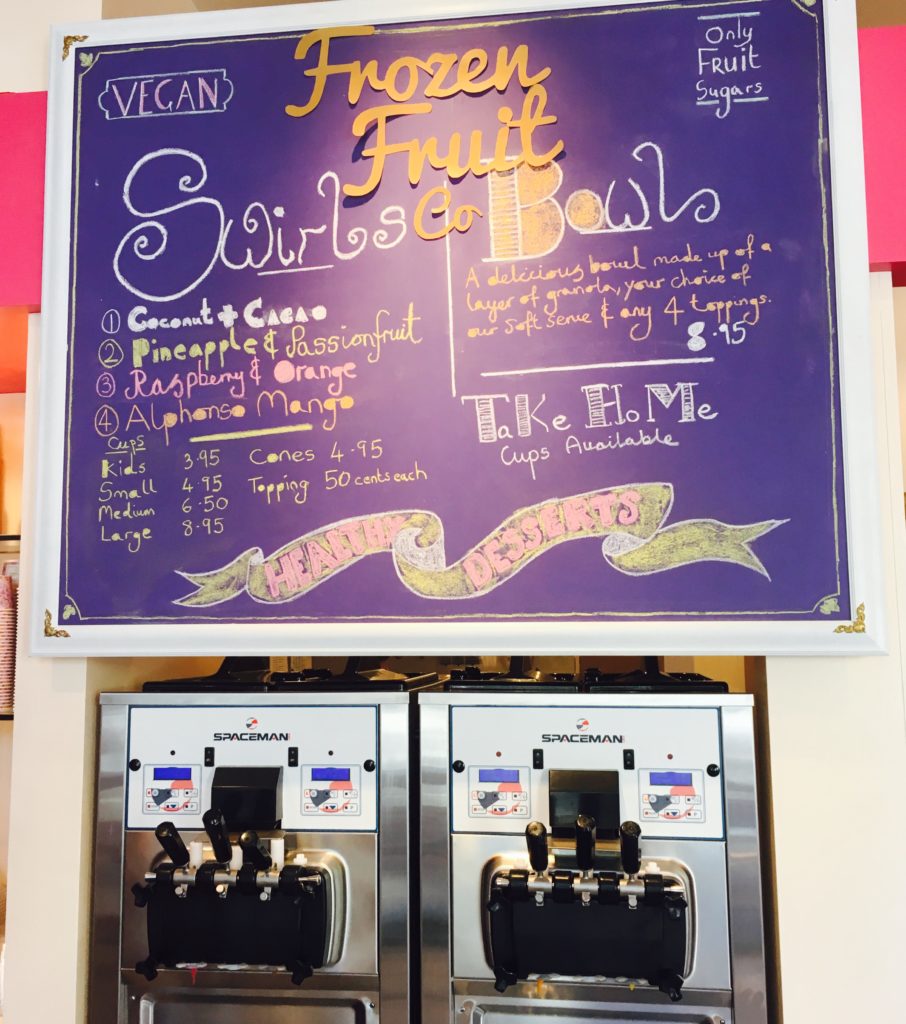 And the concoctions are surprisingly creamy and tasty! The chocolate flavor — made with coconut milk and cacao — is my favorite. The place offers a bunch of toppings, from carob chips to the more delicious real chocolate chips, though I didn't try those. Just the ice cream was enough.
Earlier:
* Best place for oysters after shopping at Alias Books: Plan Check
* Melrose Station: Best speakeasy hidden behind a bookcase