I want a lot from my library. A good library for writers, in my view, should have comfortable chairs and desks, wifi and outlets, a decent selection of books, relatively easy parking, and a generally pleasant atmosphere to hang out in for a few hours. A bookstore and coffee shop are, of course, nice bonuses.
If you're looking for a quieter — and free-er — space than your local coffee shop to finally finish writing that novel of yours in the new year, here are seven lovely libraries to check out. These places are your tax dollars at work. Enjoy them!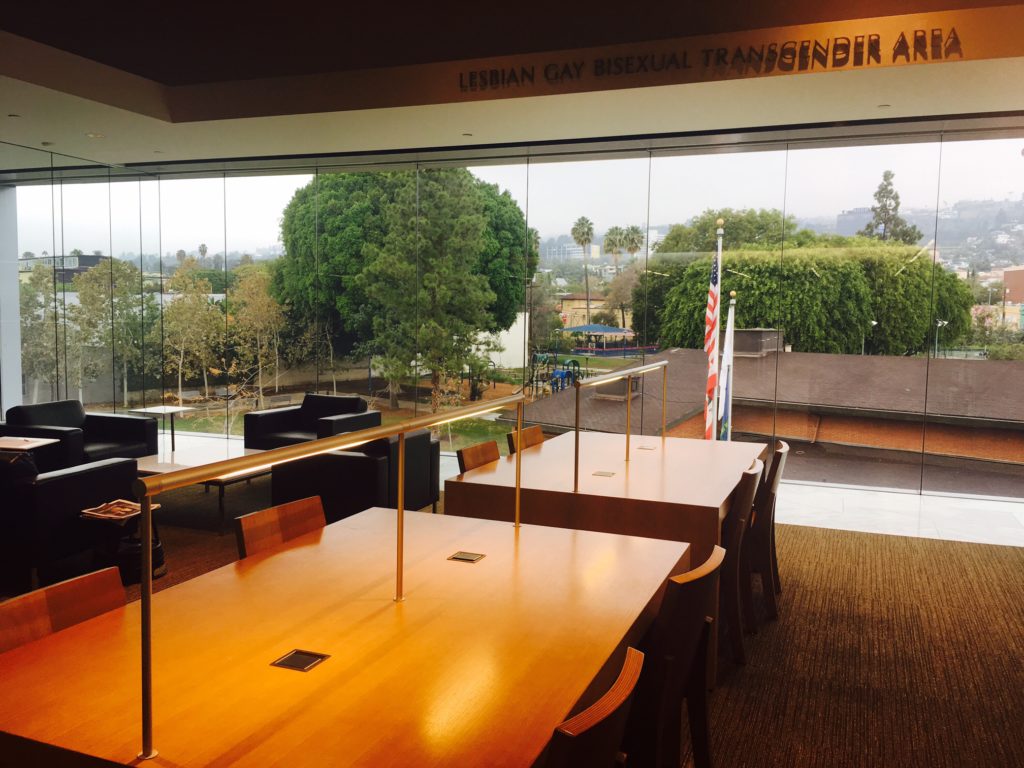 West Hollywood Library. 625 N. San Vicente Blvd. West Hollywood.
This library is the only one I know of that has a designated Lesbian Gay Bisexual Transgender Area, complete with a row of bookshelves dedicated to LGBT issues! This area is the best place in this library, since it's a sunny spot surrounded by windows with great tables and chairs and lamps and outlets.
The modern building is decorated with contemporary art and hosts everything from writing workshops to a women's book club (earlier: 6 Book Clubs in Los Angeles). Stop by the Friends of the Library Bookstore, career development center, or across the parking lot, Longshot Coffee. Since this is a L.A. county library, you'll need a county library card to access the wifi. There's three hours free parking with validation.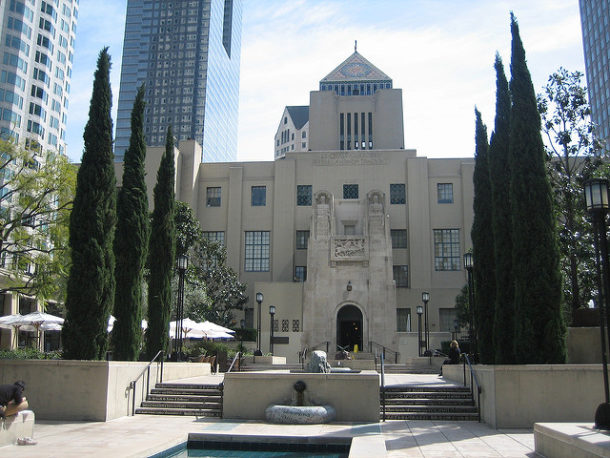 Central Library. 630 W. 5th St. Los Angeles.
If you're looking for a specific book, this is the library where you have the biggest chance of finding it. Central Library is the largest public research library west of the Mississippi, with eight levels of books arranged by subject matter!
This library boasts gorgeous architecture with a rotunda and atrium, beautiful public arts projects, and an art gallery. Take it all in via a guided tour! Come on a day when there's an Aloud Lecture Series event (earlier: 12 literary reading series in Los Angeles) and kill two birds with one stone.
I find the Central Library more a great place to roam around than a place for sitting down to write, though if there's a good undiscovered nook for doing just that, do let me know and I'll give it a try next time. Parking is $1 for the first hour — but can quickly go up to the $35 max rate — so know the rates and don't forget to get your ticket validated.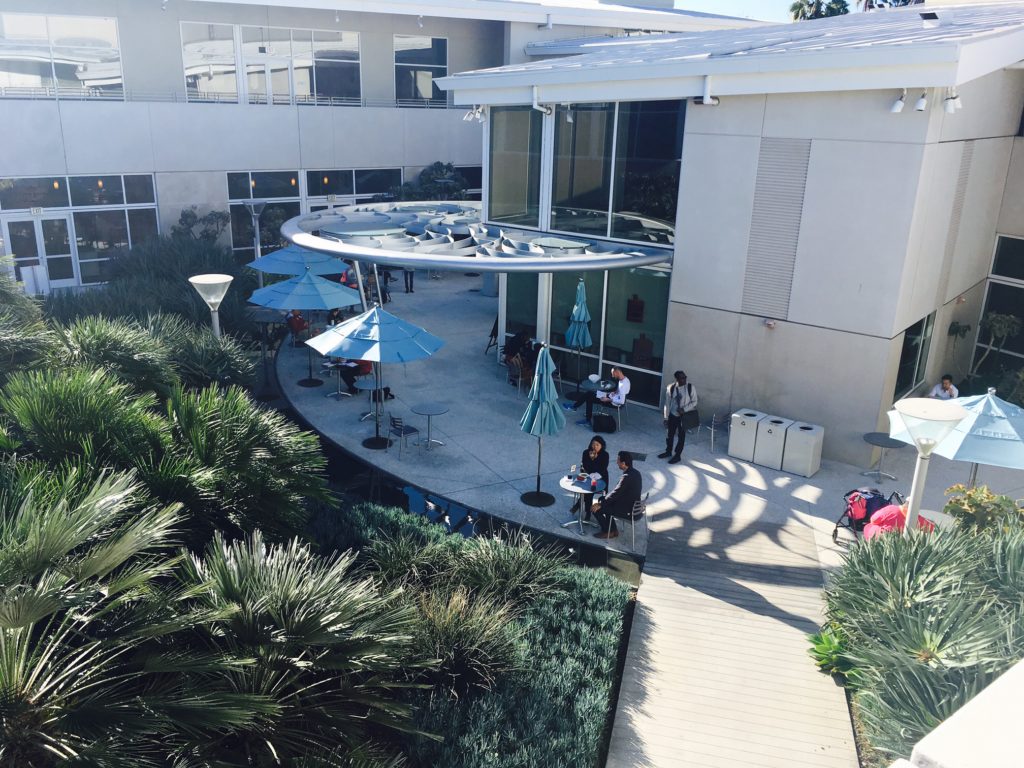 Santa Monica Main Library. 601 Santa Monica Blvd. Santa Monica.
This two-floor library is a clean and modern sunlit space with lots of magazines, study rooms, a friends of the library bookstore, somewhat spotty city wifi, and a significant homeless population dozing in the comfier couches.
My favorite part of this library is the outdoor courtyard, with its garden and Bookmark Cafe. On a mild sunny day, which is most days, you'll feel like you're writing in paradise. Paradise with lattes.
One odd quirk of this place is that the bathrooms don't have paper towels — for environmental and financial reasons, according to the signs. Instead there are hand dryers — the really old, ineffective kind that don't actually dry your hands. Underground parking is free for the first 30 minutes, after which the cost slowly climbs to $10. There are bike racks aplenty!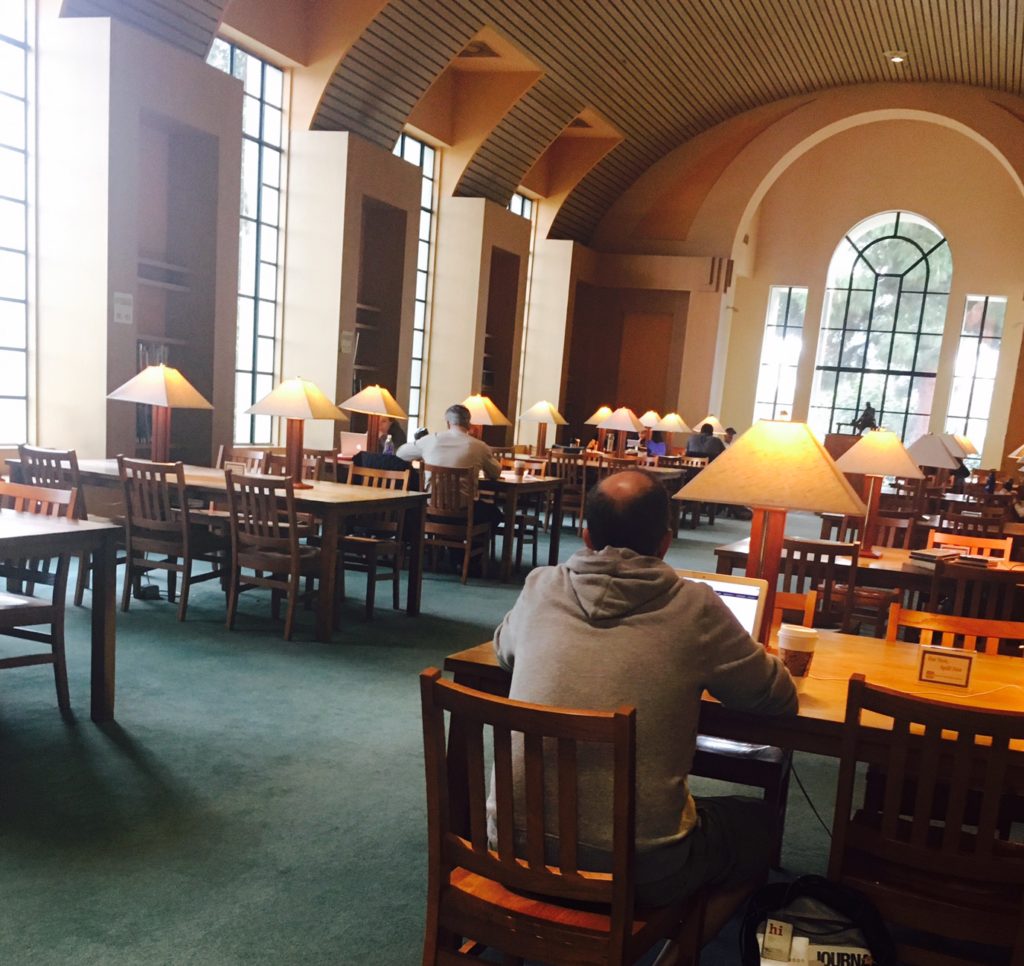 Beverly Hills Public Library. 444 N. Rexford Dr. Beverly Hills.
This is where I studied back when I was in high school! It's a quiet, well-maintained place with great city wifi and lots of comfortable working areas. On the first floor, there's a friends of the library bookstore, and next to it, Kelly's Coffee & Fudge Factory.
The second floor has more study areas, lots of books — and green shopping baskets, the easier to haul your book picks around in! A city lot offers two hours free parking.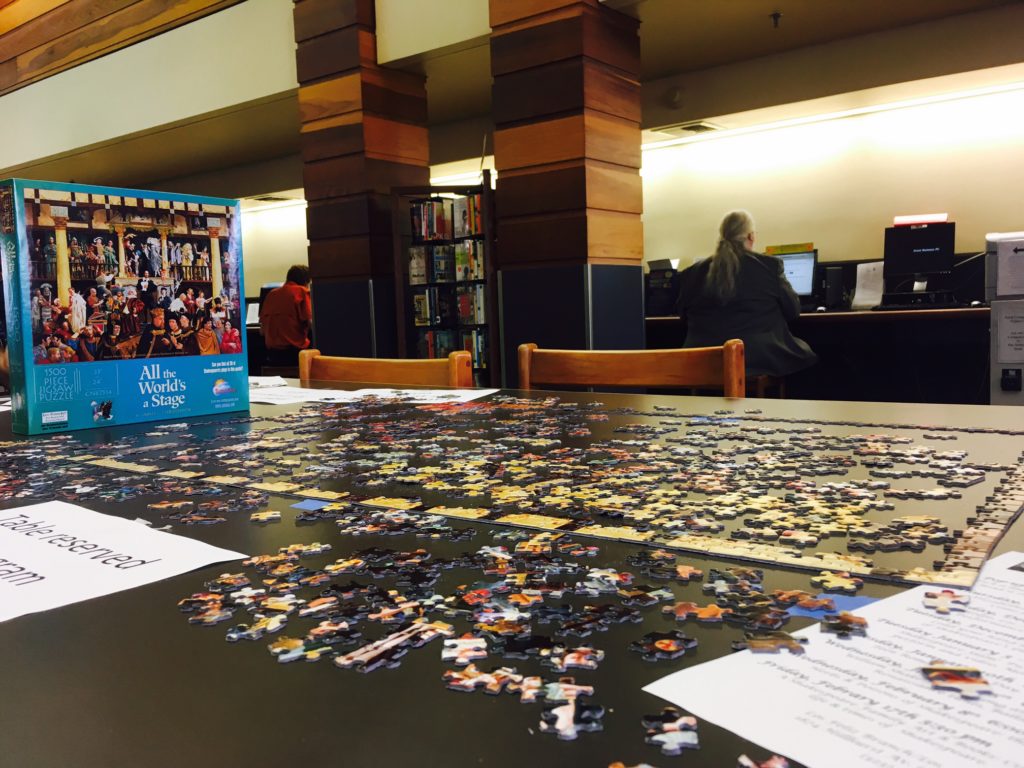 Los Feliz Branch Library. 1874 Hillhurst Ave., Los Angeles.
This library offers the perfect creative distraction: a community puzzle on a big central table where you can stop by to put in a few pieces during your writing breaks.
This simple library has both a children and teen section, both a Spanish and Armenian bookcase in the stack, and an inviting feel. Also, as writer friend Tony DuShane put it on Facebook, "They have a cool little area outside to hang out and the aesthetic is cool." A small parking lot always seems to have spaces.
Pasadena Central Library. 285 E. Walnut St. Pasadena.
I rarely make it to Pasadena, but the city's main library is beautiful enough that it makes me want to return just to visit it. The big place has four levels — three of them book stacks, the main level a series of gorgeous rooms perfect for studying, working and loafing.
The quietest — and coolest — spot is the Centennial Room, where archival materials related to Pasadena history are kept in a temperature-controlled space. A coffee shop called Espress Yourself is in the open courtyard, and near it is a rather crammed bookstore. Enjoy three hours of free parking in the lot.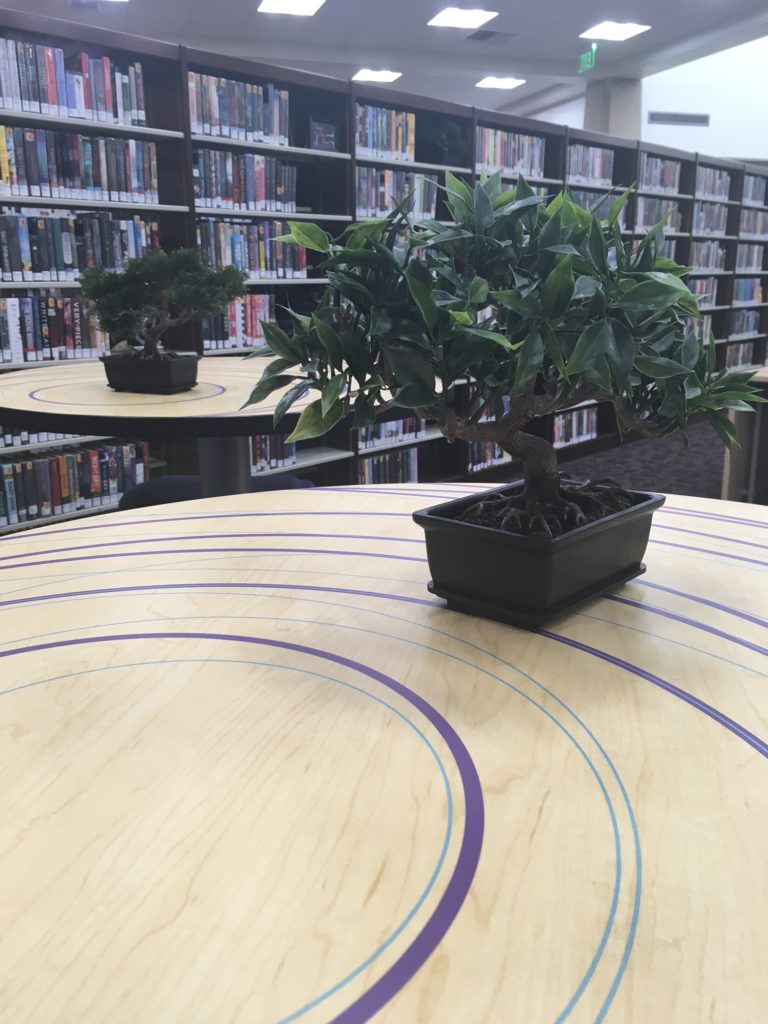 Culver City Julian Dixon Library. 4975 Overland Ave., Culver City.
Though the other libraries on this list are in the center of bustling areas full of lunch spots and shops and theaters and other distractions, the Culver City library is in a bit of a dead zone and doesn't even have a coffee shop — which could be a plus if your aim is to stay focused on writing.
This L.A. County library still has a lot to offer — and is probably the cutest library on this list. Little plants on study desks! Cute seats with pillows that say "I love this place"! There's even a weekly knitting club — materials provided!
And the library makes giving easy: At the edge of the spacious parking lot, a donation box for the Friends of the Library bookstore sits right next to the book returns box.
____
All that said, the library I visit most often is West Los Angeles Library, simply because I can walk there from my place. It's not a particularly pleasant place to work though; I'm only there a few minutes at a time, returning books and picking up holds. Still, I have a lot of love for it — It's great to be able to get most any book I want delivered here for free —
Are there other libraries you know of that should be added to this list?
Photo of Central Library by Sheila Thompson