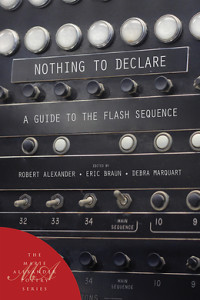 What is a flash sequence? Imagine a series of flash fiction pieces that connect and build on each other — though really, you could also imagine a string of prose poems too, or a sequence of tiny creative non fiction pieces, or a regular short story broken up into little sections —
Whatever your definition, I recommend that you pick up a new anthology — Nothing to Declare: A Guide to the Flash Sequence. New from White Pine Press, this handsome anthology imagines and reimagines tiny prose pieces and their connections and disjunctions.
Plus — one of my pieces is in the anthology! The story, "The Locust of Desire," was originally published in ZYZZYVA.
And don't miss all the other wonderful work. There are too many great pieces to mention them all, but here are lines from a few to whet your appetite:
>> Nin Andrews: "As if snow were falling inside each one of us, and no one would make it stop."
>> Jim Ruland: "We're going to need Cuban cigars and Italian espresso. Definitely champagne. Possibly lube."
>> Jenn Koiter: "There was always a good Ken and a bad Ken. Always a bad Ken. The bad Ken is necessary."
>> Bob Thurber: "She had a wide mouth overcrowded with perfectly straight teeth and a tongue like an angry snake."
Thank you to Robert Alexander, Eric Braun, and Debra Marquart, editors of the anthology.
Pick up Nothing to Declare at Perseus or Amazon — and come to our flash sequence panel at AWP! More about that soon —