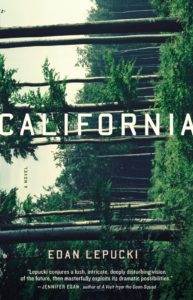 *** Winner selected! Congratulations to Rachel in San Francisco! ***
Imagine a grimmer, harsher California of the future, where urban centers have been bombed out or abandoned and survivalists forge new surreal lives in the wilderness. Edan Lepucki's first novel California brings this scary world to life, following the do-or-die adventures of 20-something Frida and her husband Cal.
The young couple flees a chaotic and violent Los Angeles to settle in a shack in the middle of nowhere, where they eke out a tenuous living — until Frida finds herself pregnant. The two then decide to look for a community for support — and find one filled with secrets, strange paranoias, and unexpected dangers.
Angelenos will especially enjoy this book, as it provides a vision of L.A. that's both provocative and painful: The fountain at The Grove gone sludgy, the lawns dried dead, the residents starving on the sidewalks.
Get a copy of California now, or enter to win one by signing up for my newsletter to the right. Already signed up? Then you're already entered!
Come back mid-month to read a Five Firsts interview with Edan Lepucki!