Picky writers can't just go to any coffee shop. We need good working spaces with comfy chairs and tables. We need decent wifi and electric outlets for our laptops. We (or at least I) need good reading light. And we like to be able to hang for a few hours without feeling like we're overstaying our welcome.
Which is to say — I'm really putting together this best coffee shops list for me.
I often find myself stuck in a part of town I don't know very well — usually before or after some event — because I don't want to drive home until after rush hour ends. Now (or more accurately, soon, when I finish this 5-part guide covering most L.A. neighborhoods), whatever area of Los Angeles I happen to be in, I know where I can stop to read or get some writing done while I wait for traffic to clear.
Earlier:
* Best coffee shops for writers in Los Angeles: Central LA
* Best coffee shops for writers in Los Angeles: Westside
* Best coffee shops for writers in Los Angeles: The Valley
___
Silver Lake: Dinosaur Coffee. 4334 W. Sunset Blvd., Los Angeles.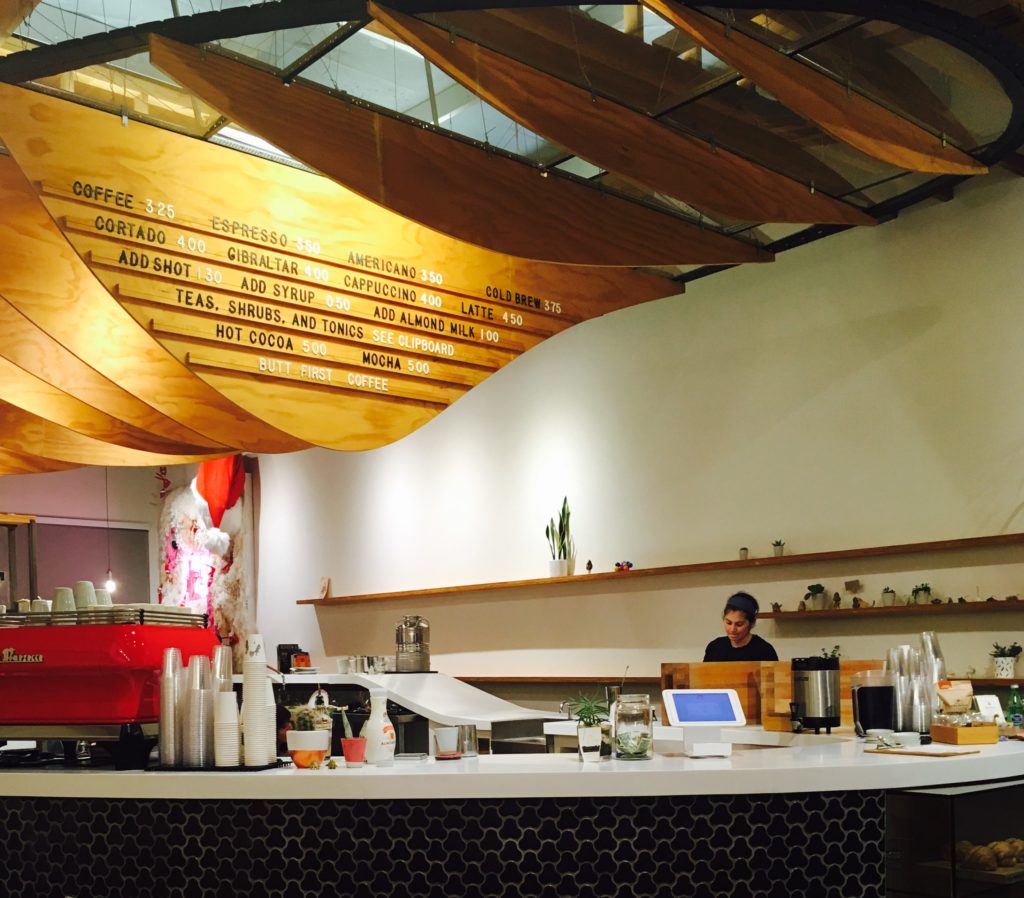 Need freedom from free wifi? This no-free-wifi spot will force you to work on your novel instead of senselessly surfing the internet. Dinosaur's a spacious, inviting, and well lit place with nice wood paneling and little decorative plants. There's Fourbarrel coffee, creatively-named blended coffee drinks, and some good teas.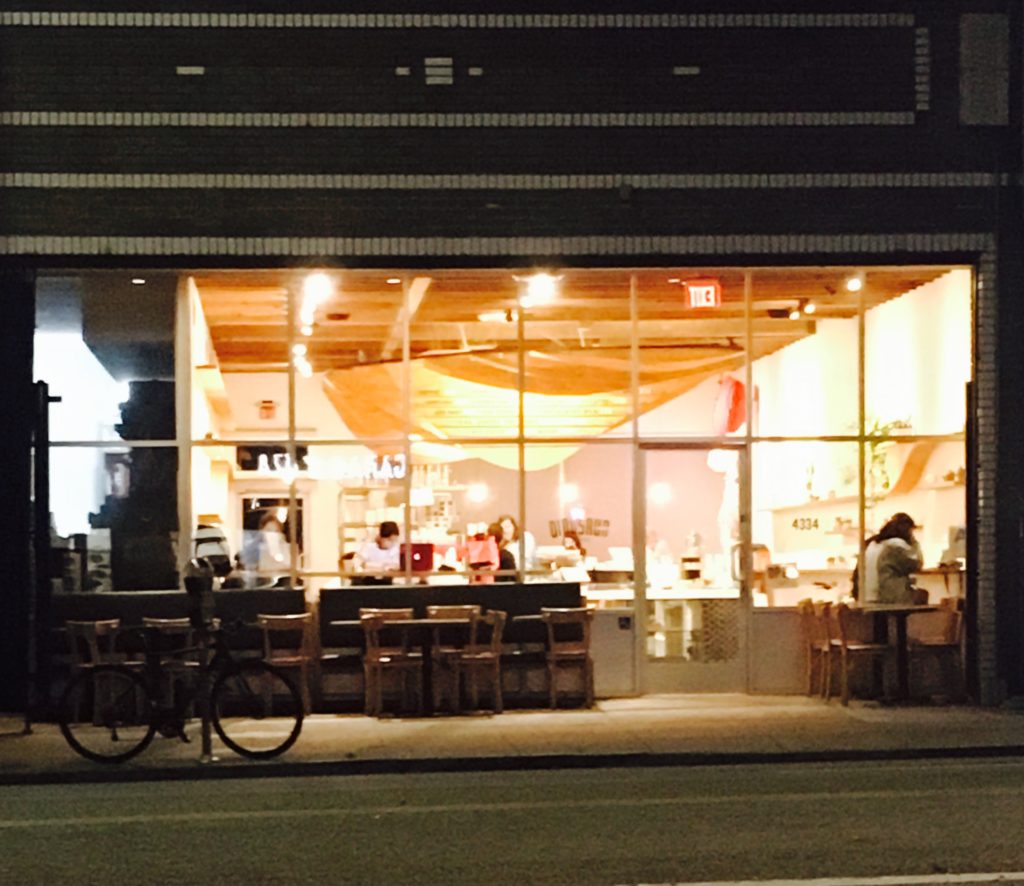 Echo Park: Stories Books & Cafe. 1716 Sunset Blvd, Los Angeles.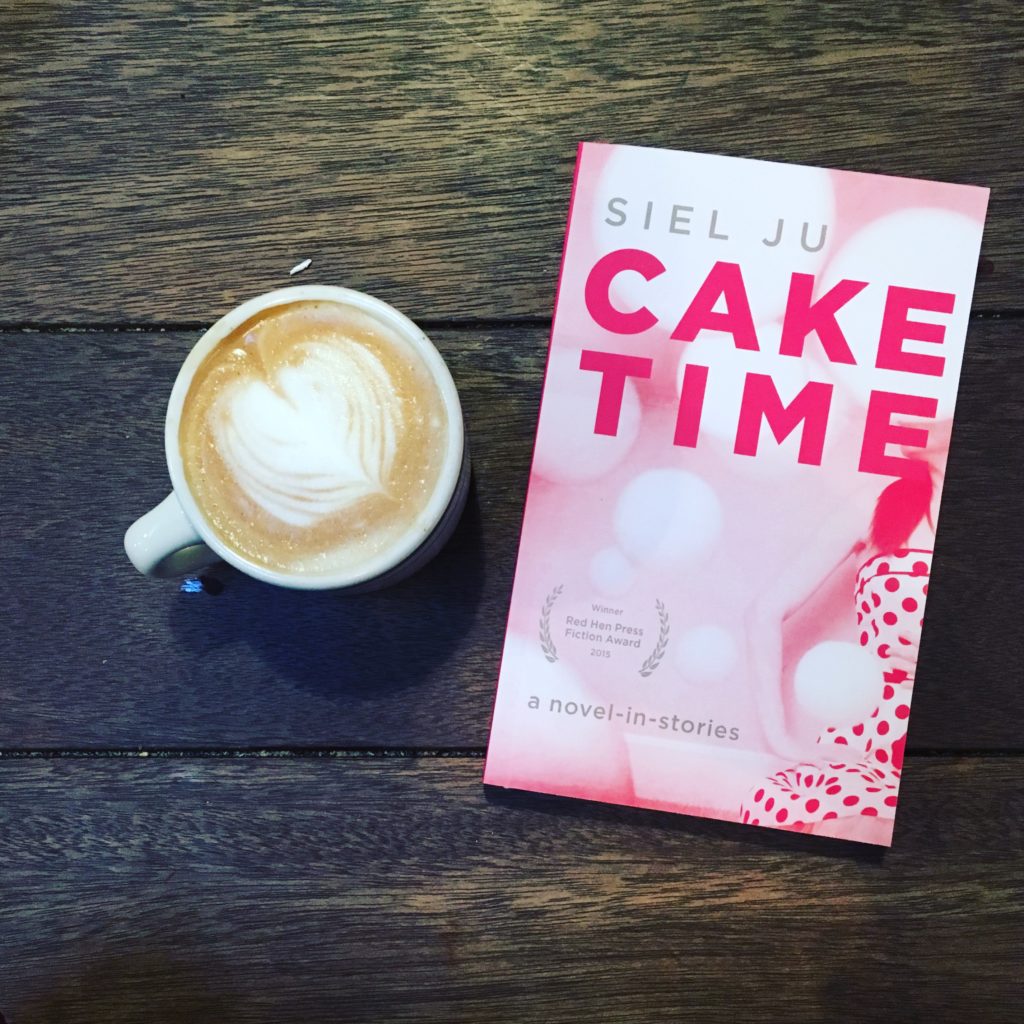 This is my favorite coffee shop on the list — because it's also a bookstore, and carries my book, Cake Time! Plus it's a cozy place to work over coffee, Juice Served Here drinks, or beer or wine — take your pick. There's a decent small menu of simple eats as well as a gluten-free and vegan pastry selection. Plus, the outdoor patio with communal tables is a perfect place to read on sunny days — or take in a performance or reading on some evenings. Here's a photo of me with the other readers at a Kaya Press reading from a couple years back —
Earlier: 11 best bookstores in Los Angeles for writers
Eagle Rock: Found Coffee. 1355 Colorado Blvd., Los Angeles.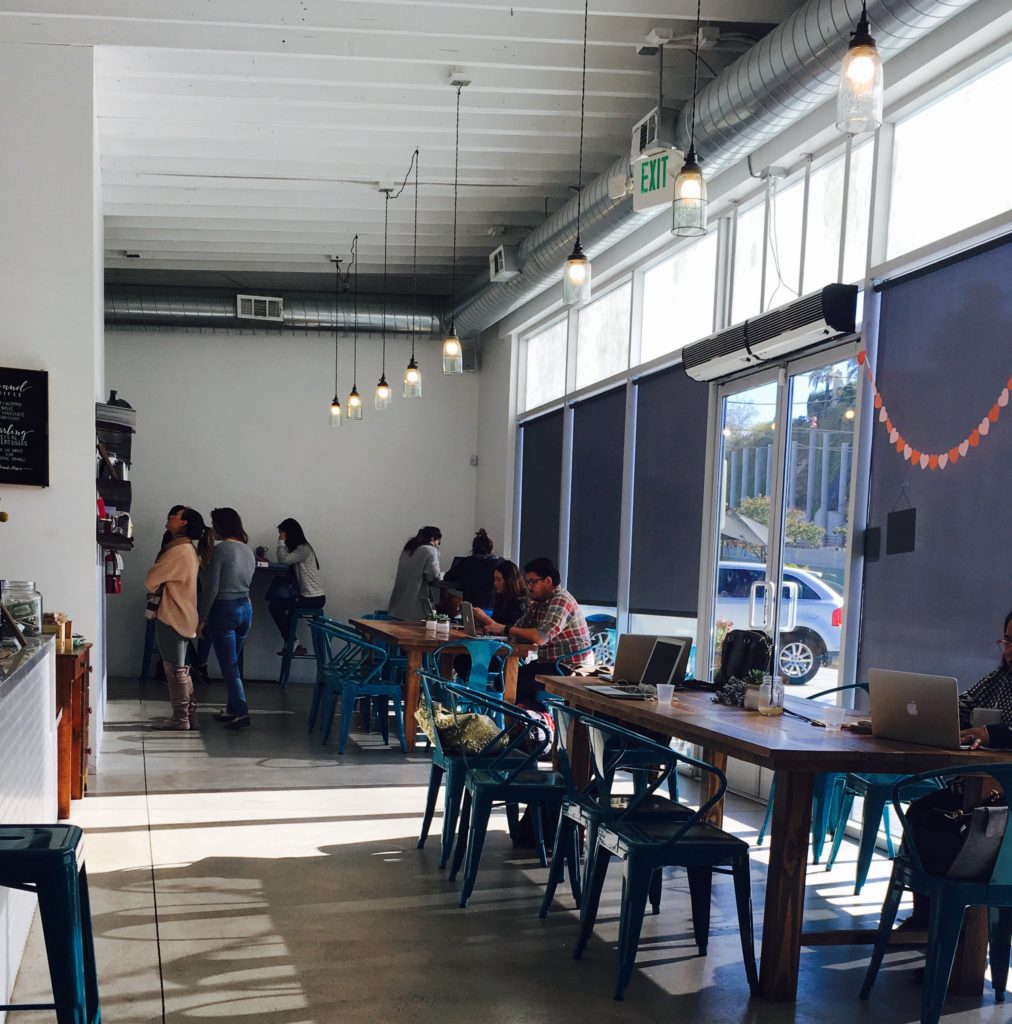 This sunny, welcoming spot's great for writing, reading, and meeting up with other writers. Found focuses on local coffee roasters, so it's a nice place to discover the caffeinated companies near you! Thanks Janice Lee (read her book Daughter, reviewed here and pictured below!) for introducing me to this spot!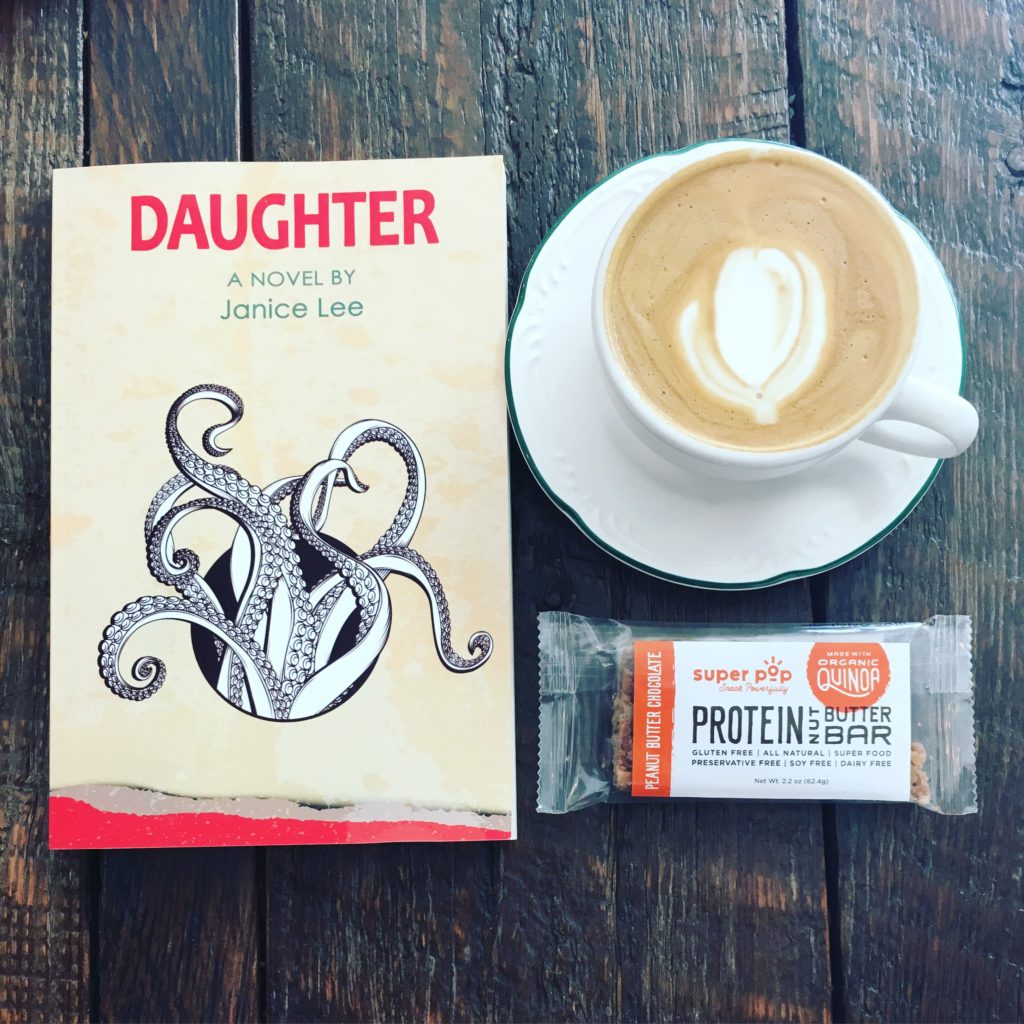 Glassel Park: Habitat Coffee Shop. 3708 Eagle Rock Blvd., Los Angeles.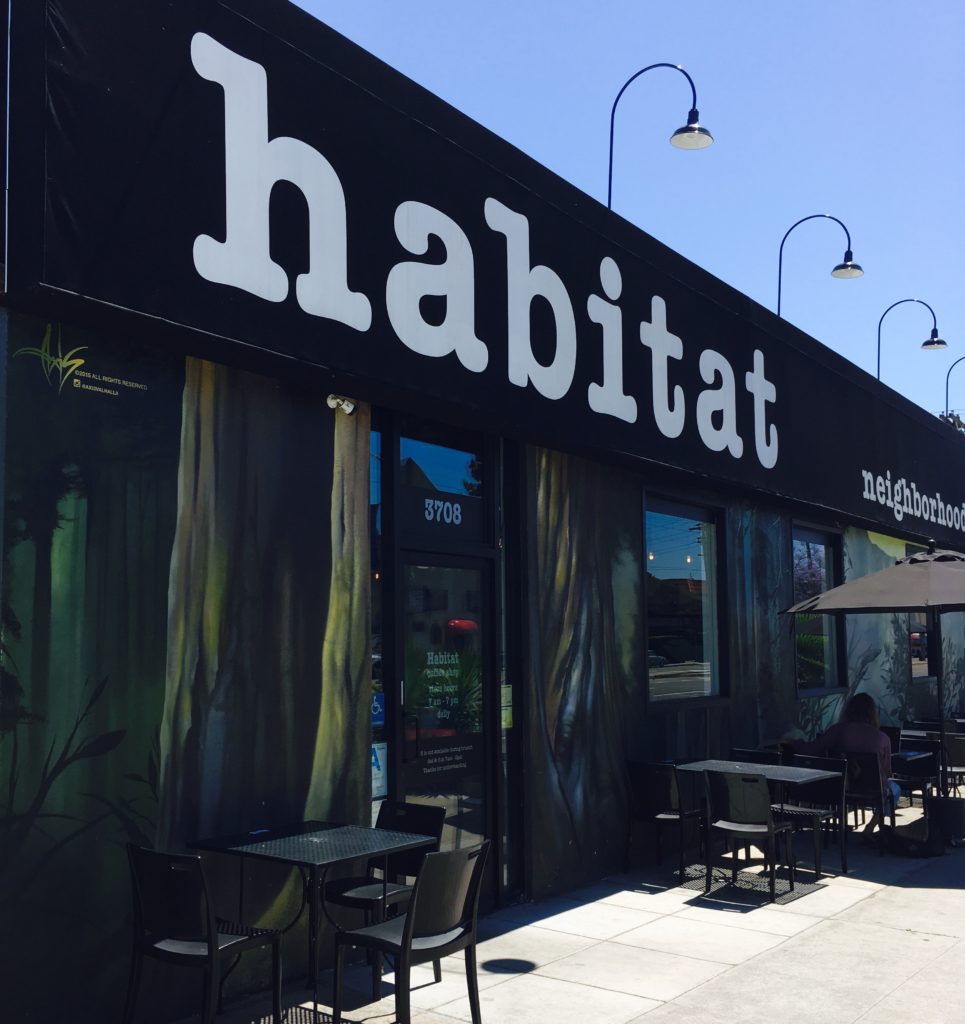 This spacious cafe offers something for everyone: gigantic sandwiches ranging from roasted pork to vegan seitan bahn mi, soba noodle salads, all manner of gluten free energy bars, and cold pressed juices.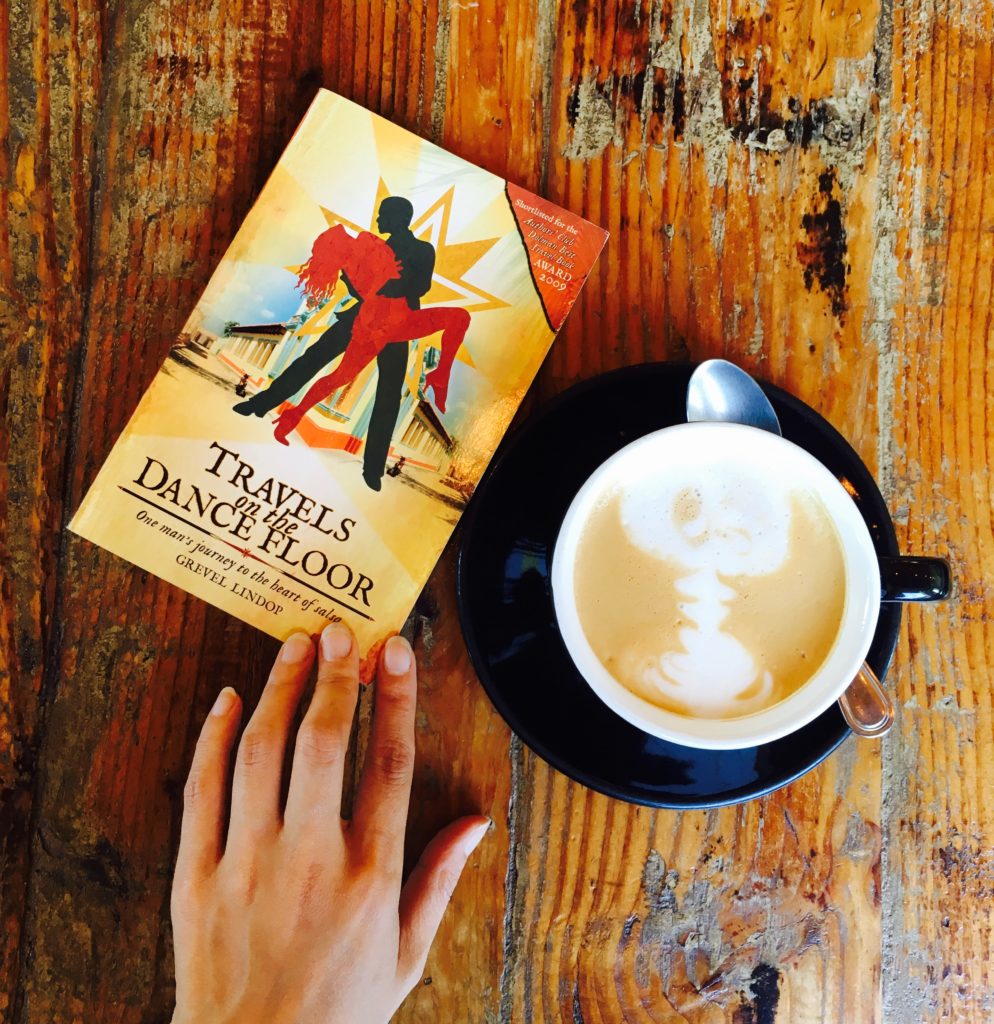 The wifi is fast and the seating plentiful and soy lattes come with Rorschach test-esque art because apparently it's tougher to do latte art with soy milk —
Highland Park: Kindness & Mischief. 5537 N Figueroa St., Los Angeles.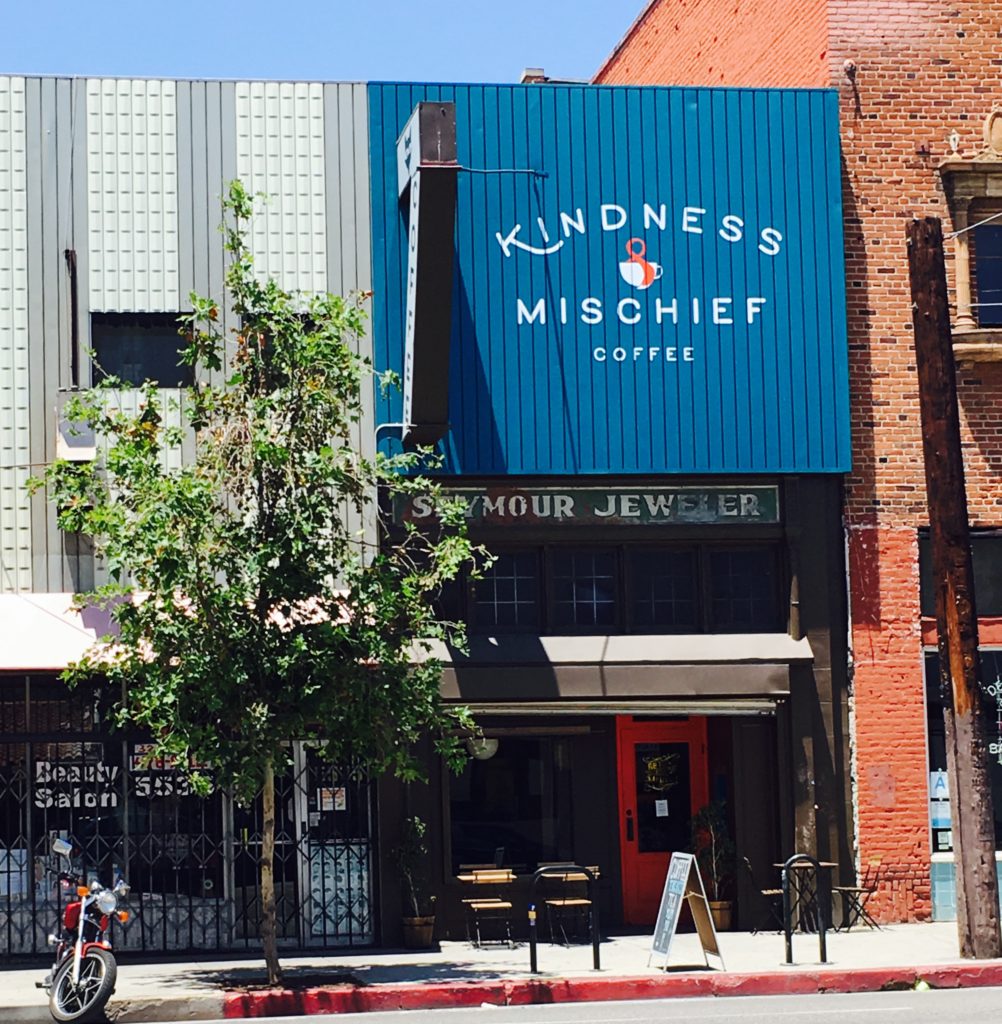 This cozy spot has pretty macha lattes, lovely natural wood tables with decorative blue glass, and fun specialty concoctions like The Kindness: milk, sweetened coconut condensed milk, cinnamon, and espresso.
There are two downsides to this cafe, however: no wifi and a super early 5 pm close time! The upside? Kindness & Mischief is just down the block from Book Show!