Every month, I interview an author I admire on his literary firsts.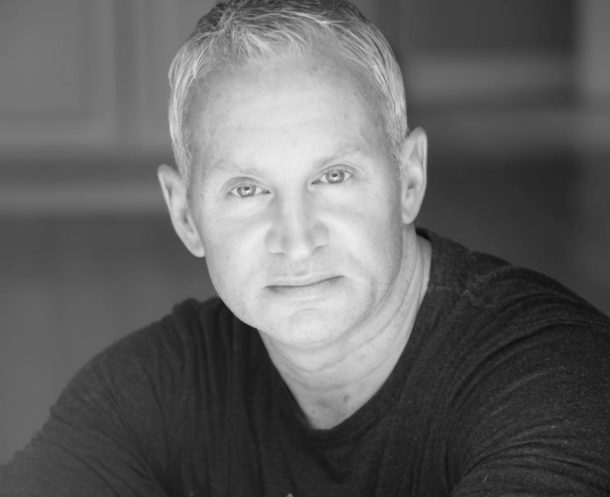 If you're plugged into the L.A. literary community, you know about Roar Shack, the eclectic monthly reading series in Echo Park with its impromptu live write competitions. And if you've been to Roar Shack, you know its host David Rocklin, the energetic writer who's been putting the monthly series together for five years now.
I first met David when I first read at Roar Shack in 2013 — after which, out of curiosity, I picked up David's first novel The Luminist (Hawthorne, 2011), a historical novel inspired by the life of photographic pioneer Julia Margaret Cameron. Reading it, I got to enjoy a lyrical novel with feminist underpinnings and also learned a lot about the advent of photography —
Julia Margaret Cameron has in fact inspired David's second novel too. The Night Language, officially out from the local Los Angeles indie press Rare Bird Books Nov. 14, 2017, stars a fictionalized version of Prince Alamayou of Abyssinia (Ethiopia today), who in real life was photographed by Julia (full review of The Night Language here).
In this interview, David gives advice to second-time authors, reveals the benefits of working with a local press, and describes the addictive high of a literary reading series.
____
Siel: This is your second novel with an indie press — but your first with a local indie press! Did it make a difference in the publication process, working with a press based in Los Angeles?
David: It's made a huge and wonderful difference that coincides with the difference in my position as a writer this 2nd time around.
The first time, I was fortunate enough to be acquired by a wonderful lit press that wasn't located here in my hometown. They were good to work with and did their best, but I wasn't ever quite a fit with them to begin with (they tended toward edgy material, and my first novel, The Luminist, was period lit fiction set at the beginning of photography), and I didn't have roots in their venue. On top of that, I didn't come from an MFA program and didn't know anyone in that lit community, or any other one.
Since then, and as a result of touring for that novel, I've developed relationships with authors all across the country, and especially here at home. So now comes The Night Language and everything is here in L.A. The community of writers that I belong to has been just astonishing in their support and enthusiasm (present company included!). The publisher feels like a friend around the corner. We know the same people and places, and they've embraced the novel and what it stands for. There's a platform beneath me, which is a wonderfully supportive feeling as this odd publishing journey begins for the second time.
We hear a lot of advice aimed at first time authors, but not as much for those on the second go around. What words of encouragement or advice would you offer to those seeking to write and publish a second book? I'm really just asking for me —
Like you need it, successful Cake Time author extraordinaire!
I guess I would say this: if you're fortunate enough, like me (and holy shit, am I lucky) to be traditionally published twice, you obviously intend to make this your work (and supporting your ability to do that work, and do it the way you want/need to, is a whole other topic that I'm more than happy to expound on), so do yourself the favor of treating it like the profession it is.
Be aware of what your contracts (publishing and agent, if you have one – and if you don't have one, think seriously about getting one) provide for. Become a collaborative partner with your publisher on everything from cover design to reading locations to promotion (as in, how much and via what mediums). Understand that your art is paramount, but sales do matter because your publisher, or perhaps your next publisher, will look to the numbers you moved in deciding whether your next book is a worthwhile risk to undertake.
Network with your lit community, with bookstores and libraries, as you would in any other field of endeavor – making those contacts means that they'll remember you when it comes time to support you with word of mouth.
Protect your writing time. There are lots of distractions in life, but if you think about that other job you hold, you'd never let yourself clean your office or work space rather than help a customer. Don't do it with your writing, or else you're guilty of the very thing we all hate when we hear it from friends or family who don't get it: you're treating your writing as a hobby that can always be interrupted for something else.
Both your novels were inspired by photography. Has visual art always been an inspiration for your writing?
Everything I write seems to begin with a visual prompt – an image of a moment – but not alone. It needs something hard to strike against and spark up, and that hard thing is always a stray fact that, when coupled with the image, starts my wheels turning.
With The Luminist, it was one of Julia Margaret Cameron's images coupled with the fact that she'd lost a child at birth. From that came the story of a woman obsessively determined never to lose someone to the frailties of memory again; photography would forever hold them still.
With The Night Language, it was another of Ms. Cameron's images, one of the actual prince Alamayou as a boy, coupled with the fact that he died so young in life (I won't tell you how it turns out in the novel). The spark that struck was this: I wanted to write a life for Alamayou that he never actually got to live in reality. That became a love story, because of course.
Your monthly reading series Roar Shack is a beloved part of the Los Angeles literary scene. What inspired you to start this series — and what keeps you motivated to keep doing it now, years later?
It grew out of the book tour I did for The Luminist. All along the way I was exposed to one community of writers after another, and when it was over, I really found myself pining for that sense of belonging that I'd experienced reading alongside other remarkable and accomplished artists. I'd been exposed to so many amazing series and venues, and one in particular, up in San Francisco, really made an impression and inspired me to try to create a series here in LA.
In the best "hey kids, let's put on a show" tradition, I honestly was too clueless to comprehend how hard it would be to create a reading series out of nothing and build a following, but I reached out to LA-based writers anyway. What I found was what I continue to experience each and every time I interact with our lit community. Inclusiveness, support, enthusiasm, and love for each other and for each other's work. It's inspiring to me, and now I can proudly say I count some of the most amazing writers as friends. That's an incredible feeling for me, as is the awe that comes over me when someone I'm not familiar with, or someone thoroughly unknown, comes out of nowhere and kills it at Roar Shack. It's an addictive high, to see a writer reach for something they might never have thought themselves capable of, and the audience respond. That keeps me going. It's a joy.
What are you working on now?
I'm at work on my new novel, The Electric Love Song of Fleischl Berger. It's a love story across time, and it's also about the accidental discovery of the electroencephalograph. I'll pause while you take that in.
___
Enter to win a copy of David Rocklin's  The Night Language by signing up for my newsletter. Already joined up? Then you're already entered — but you can get a second entry into the drawing by leaving a comment on the giveaway post with the name of your favorite language. Good luck!