*** Winner selected! Congratulations to Kristy in Los Angeles! ***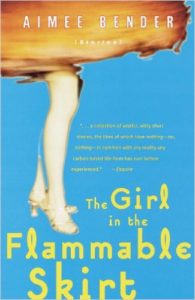 The first lines of Aimee Bender's stories often set up strange, fairy-tale-esque worlds. For example: "There were two mutant girls in the town: one had a hand made of fire and the other had a hand made of ice."
Other first lines are surreal but with an eerie sense of reality: "Steven returned from the war without lips."
And yet other first lines just make you keep reading to find out more: "I'm spending the afternoon auditioning men."
Aimee Bender's first book, The Girl in the Flammable Skirt, is filled with stories unafraid to meld the real with the impossible, the grotesque with the funny, the sacred with the profane. There's a man who develops a hole in his stomach — and becomes very proud of it. There's a woman who falls in love with a robber — but even more in love with a stolen ring that dyes everything red. Then there's a librarian who fucks every guy that comes in — to get over her grief over a father's death.
*** This giveaway is now closed, but join my email list to be entered into future giveaways! ***
Come back mid-month to read a Five Firsts interview with Aimee Bender!