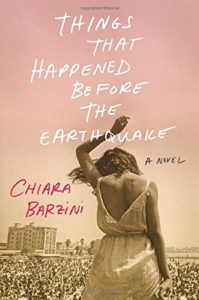 When I think of the '90s, I think Nirvana, Beverly Hills 90210, and long stretches of childhood boredom. But Chiara Barzini's debut novel reminded me that the '90s was actually a rather violent and volatile time in Los Angeles, what with the L.A. Riots, the Northridge Earthquake, and of course, the O.J. Simpson Trial.
Which is to say — reading Chiara's debut novel, Things That Happened Before the Earthquake, was a fascinating experience for me, at once a trip down memory lane and a thrilling journey down the road not taken. I remembered and recognized so much in the events she describes — but saw them this time through completely new eyes, those of a wild, sensitive, and sharp girl trying to make sense of a foreign world.
The novel tells the story of Eugenia, an Italian teenager who moves from her home in Rome to Los Angeles with her family so her filmmaker parents can chase their Hollywood dreams. The family readies for a glamorous life among movie stars — only to land in LAX while the city's still literally smoldering from the riot fires. They end up living in a house in Van Nuys, far far away from the rich and beautiful.
From the start, the family doesn't quite fit in, their cultural clashes often hilarious. On a Malibu beach, Eugenia's old grandmother gets yelled at through the police helicopter's loudspeaker then receives a citation — for topless sunbathing. On the first day of school, Eugenia gets sent to detention — after wandering the halls unable to find the bathroom or her class.
Yet Eugenia's got a lot of moxie, forming odd friendships with strange characters — her father's death-obsessed writing partner, a Persian classmate who likes her but won't acknowledge her in front of his friends, an ear-less dude who works at his mother's shop of movie curios. Her parents preoccupied with their own dreams, Eugenia has the freedom to basically do whatever she wants — whether that's sneak out of school to hook up with a secret boyfriend or walk down long, empty stretches of Sepulveda Boulevard or hike through Topanga Canyon on hallucinogens. Her adventurous scrapes are thrilling, but often frightening and dangerous too — and her loneliness is palpable.
I loved this Los Angeles coming of age story and think you will too. I'm giving away  a copy of  Things That Happened Before the Earthquake to one of my readers! All current email subscribers will be automatically entered to win the copy. Subscribe now if you're not yet getting my occasional newsletters.
For a second chance to win, comment on this post below, naming your favorite street in L.A.. The giveaway closes December 31, 2017 at 11:59 pm PST. US addresses only.
Come back mid-month to read an interview with Chiara Barzini.