Every month, I interview an author I admire on her literary firsts.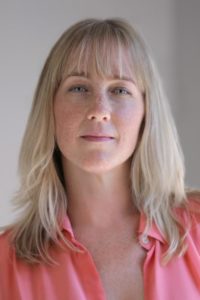 August's featured author is Edan Lepucki, author of New York Times bestseller California, her first novel, as well as the novella If You're Not Yet Like Me. She's also a staff writer for The Millions and the founder and co-director of  Writing Workshops Los Angeles.
In this interview Edan talks about her tough decision to give up on publishing the novel she wrote before California — as well as her unexpected rise to fame — and bestseller lists — via The Colbert Report.
Sign up with your email in the right sidebar to get notified of future interviews — and to be entered to win a copy of Edan's novel!
____
Siel: Your dystopian novel California depicts a dark, grim future Los Angeles. The image of the fountain at The Grove, turned "sludgy with poison" especially comes to mind. Does L.A. appear differently in your mind's eye now, post-book? Also, was it strange doing a reading for California at the at The Grove's Barnes & Noble?
I have always thought L.A.–and California in general–emitted a post-apocalyptic vibe. It's so beautiful and sinister at once, and you can see why so many end-of-the-world narratives take place here. The freeways! The earthquakes! The bougainvillea! LA hasn't changed for me since writing the book; it's just as magical and weird and frustrating as ever. I destroyed so much of the city while writing California, that I suppose I'm just glad that was fiction and the place still exists!
As for doing my reading at Barnes & Noble: that was amazing! To read at The Grove…the height of absurdity and achievement, right?!  I read the opening scene there, just so I could narrate how terrible the mall was, while performing at the mall. It was fun, and the people who work at that store were, I should say, good sports about it all.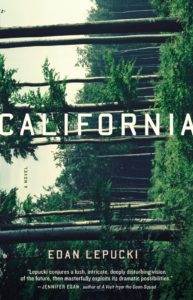 You've said you didn't expect California to become a bestseller — but that it became one, partly because Stephen Colbert featured your book on his show twice during the whole Hachette vs. Amazon kerfuffle. Should other authors get so lucky, what advice would you give writers for making the most of an unexpected opportunity?
My experience was so strange and unexpected, and exceptional–I mean, the luck involved was just out of this world!  In her book Still Writing, Dani Shapiro talks about how some books are just successful in this inexplicable way; I believe (if memory serves me well), that she refers to it as the books that get dusted with some magical fairy dust.
So…if your book gets the magical fairy dusting, I'd say: be open to every opportunity. Go do the readings, the email Q&As, the phone interviews, answer the fan emails, write the personal essays. Say yes because you want to make the most of your very lucky and miraculous situation.
Also, and this goes for any publication, no matter what happens: Enjoy yourself! Let yourself marvel at your achievement. You did it!
Lastly, never ever read the 1 and 2 star reader reviews of your book. NEVER.
At a reading, I remember you mentioning a novel you'd written before California — that never got published. Could you talk a bit about what you went through there? How did you know when to let it go and focus on new work?
My first, unpublished, novel was called The Book of Deeds. I started it right after graduate school and worked on it for 3 or 4 years. When I was finished, my agent at the time read half of it, said it would never sell, and broke up with me. It was pretty tragic, but I was so happy to get a new agent a few months later (through a friend's referral). I revised the book for her, and it went out–but no one bought it. After about 9 months, we decided to stop trying, since I was writing California and we both felt it was a better book, and also more commercial.
The first book was about violent teenage girls–and it just wasn't totally working. It wasn't ready, I wasn't ready. That said, I feel a little tug of pain each time a book about violent teenage girls comes out and everyone loves it. I was ahead of my time!
I started writing California right after my first agent dumped me. I needed to fall into a new project, even as I tried to get new representation for the old project. Writing California saved me–it kept me feeling sane, and alive, and itwhole life wasn't about this unpublishable novel.
Since you're the founder of Writing Workshops Los Angeles, which gives writers a place to get feedback and advice, I'm curious about the support you seek out for yourself now, at this stage in your writing career. At what stage in your writing process do you share your work — with friends, fellow writers, mentors, editors, or agents?
At this stage I have a few trusted readers. My husband Patrick has been my first and last reader for a long time now–he can help me work through ideas and plot points early on, and he reads my manuscripts before I send them onto my agent and/or editor. I also have been working with a writing group for the last three years. They've read parts of Woman No. 17 (forthcoming spring 2017!) since day 1.  We all read each other's work beforehand, but our discussions are more casual than a workshop might be. They've helped me by asking questions about character and theme as I moved forward.
I also have a couple friends from graduate school that read my work every now and again–my friend Madeline McDonnell is a line-edit genius and has a really keen sense of scene that I appreciate. As I move forward in my career, I see that I'm depending more and more on comments from my editors. With both books, their feedback has been instrumental in revision.
If you were to go through the entire first book process again, from acceptance to publication, is there anything you might do differently?
I don't think so. It was hard to face all the rejection with Book of Deeds, but I'm glad it happened because I ended up publishing a better first book–and a fairy-dusted one at that. And I worked very hard to enjoy the ride, even when it got intense!  And I kept writing. That's what is important, right?
____
Purchase a copy of California now, or enter to win one by signing up for my newsletter to the right. Already signed up? Then you're already entered!