Every month, I interview an author I admire on her literary firsts.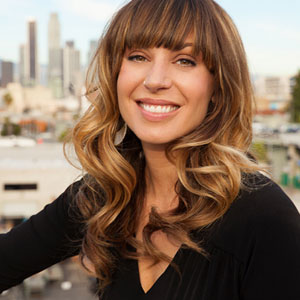 September's featured author is Jillian Lauren, author of New York Times bestseller Some Girls: My Life in a Harem, her first memoir. Jillian's also authored the novel Pretty and a second memoir, Everything You Ever Wanted, about the process she and her husband, Weezer's bassist Scott Shriner, went through to adopt their first son.
In this interview Jillian talks about dealing with strange questions people ask about her personal life, overcoming fear and resistance as a memorist, and much more.
Sign up with your email below to be entered to win a copy of Some Girls — and to get notified of future interviews!
____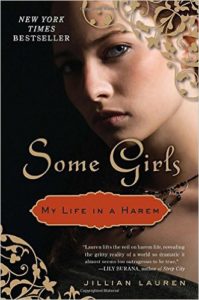 Siel:  I read in a Rumpus interview that you struggled as an unknown writer for years — before selling both your first memoir and novel in one deal, then rising to sudden fame (New York Times bestseller list, The View, Howard Stern, etc.). How did that first book deal finally come about?
I had been trying to sell my second novel for about a year (after the first one also didn't sell!) and had gone back to school to get my Masters in Library Science. I figured I'd be happy being a librarian, if the writing thing never came to pass. At least I could spend all day around books.
But the Some Girls story kept knocking at the door of my consciousness, so I told my husband, I'm going to put school off for one semester and work on this proposal. I finished it in three months and I sold the book, packaged with my novel in two days. It was bananas. I had been working so hard for so long and it seemed I'd never be writing for anyone but me and the wall. Then one day my whole life changed on a dime. That's why I tell people to never give up.
You've said that when Some Girls came out, the book's sexual content often had people asking more about your personal sexual history than your writing — the craft of it, the years of work, the future ambitions. Has this reaction to your work changed, now that you have three books out?
I knew that was the risk I took when I published a book with such a splashy hook — the harem thing casts a long shadow.
As women artists, there is always going to be an aspect of objectification, and a focus on both appearance and personal details to which men aren't subjected for the most part. This is doubly true if you're a woman who speaks in a candid way about sexuality. This remains true for me, even though I've since published two books that are way less saucy.
When my first book came out, I often got asked if I actually wrote it. Which was terrifically offensive, and demonstrated to me the depth of what I was facing. The assumption was that no woman with a past like mine could possibly write a book with complex insights, original perspective, and sophisticated prose. I've been through this for a long time and have come to the conclusion that it's not really my business what other people think of me. It's just my business to continue to ask the tough creative questions, to examine the world unflinchingly, and to make the most outstanding work I possible can.
Before your books got published, did you consider yourself more a fiction writer or memoir writer — or did you draw those distinctions at all? Do you consider yourself more one or the other now?
I started out thinking of myself exclusively as a fiction writer. I never wanted to write a memoir! But the work really finds you, and the memoir kept bugging me until I finally sat down and gave voice to it. Now I love both fiction and nonfiction! I appreciate the freedom to move fluidly between the two. Nonfiction has turned out to be both a passion and a calling.
What advice would you give to a young writer working a first memoir, but is held back by fears that her life has not been as "exciting" as say, an ex-member of a harem?
A memoir is never about a subject; it's about a perspective. Some of the most fascinating books in the world have been written about life's minutiae — a walk to a lighthouse, a ride up an elevator. Writing is very hard, and all writers are haunted by resistance. Resistance can take on many forms. Maybe it's a fear that you're not important enough. Maybe it's a fear of what your mother or your kids will think.
I tell my students that there may be a time for those questions, but that time is never before you've actually written the work. Otherwise it's so easy to become paralyzed. Write the story you need to write. Write what is urgent to you. Don't second guess it before you've even given it a chance to get onto the page.
If you were to go through the entire first book process again, from acceptance to post-publication, is there anything you might do differently?
Every single time I write a book I think it's going to get easier and it never really does. The process is a mysterious thing. I have a lot of faith in it, though. If you just sit down and keep putting one word after another, you will eventually write a book. You will — it's a fact.
The two most important pieces of advice I give beginning writers is first of all to be tenacious and second of all to seek a supportive community. Contrary to popular belief, writing doesn't happen in a vacuum. That's why I started Story and Soul with my best friends Jenny Feldon and Claire Bidwell Smith. We teach workshops and retreats, but more importantly are working to create a supportive community of woman writers. We believe that there's room for all of our voices, and we want to empower other women to tell their story.
____
Purchase a copy of Some Girls now, or enter to win one by joining the newsletter. Already joined up? Then you're already entered!