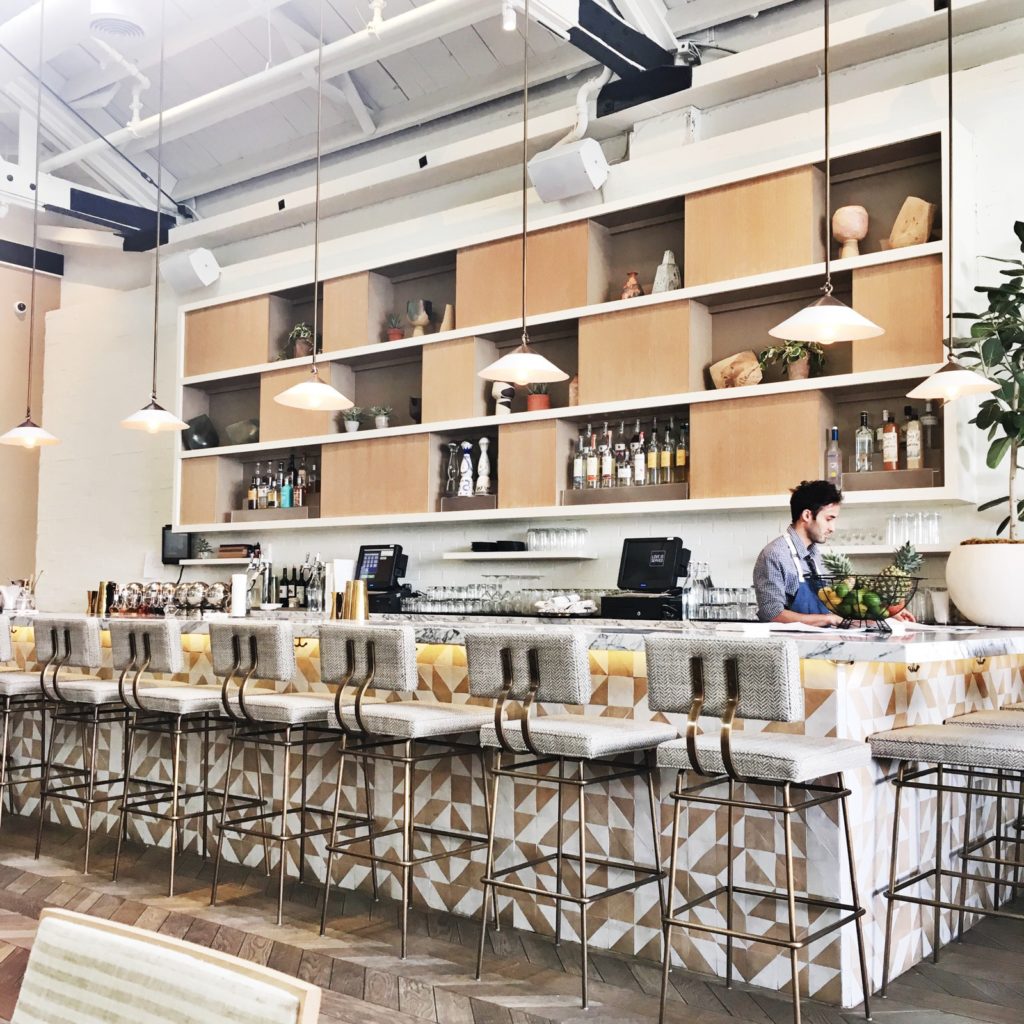 What is the difference between a Cafe Gratitude restaurant and the new Beverly Hills spot called just plain Gratitude? Both offer delicious, organic, vegan food with a dose of self-empowering messages — but only the latter boasts a full bar.
So though I rarely drink, when I stopped by the newish Beverly Hills spot for happy hour with Esther of e*star LA fame, I had to try the cocktails.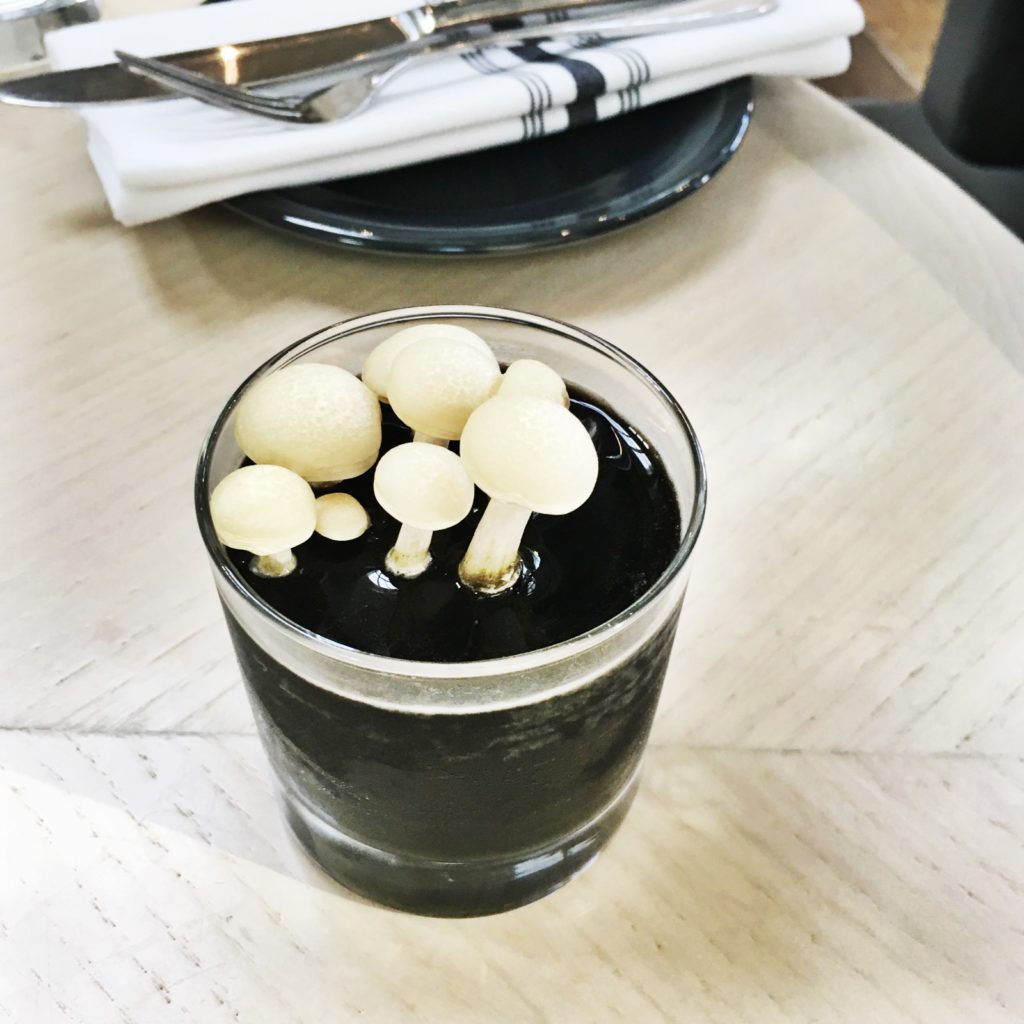 And in regular Gratitude-style, these cocktails are the most healthy-sounding cocktails ever. Case in point: the Black Magic gets its black from activated charcoal! The cocktail might not be all that detoxifying though, since it also contains a good amount of rhum agricole, along with fernet, chaga sarsaparilla, and lime, and comes topped with a cluster of mushrooms — yes, real mushrooms — growing out of a big ice cube.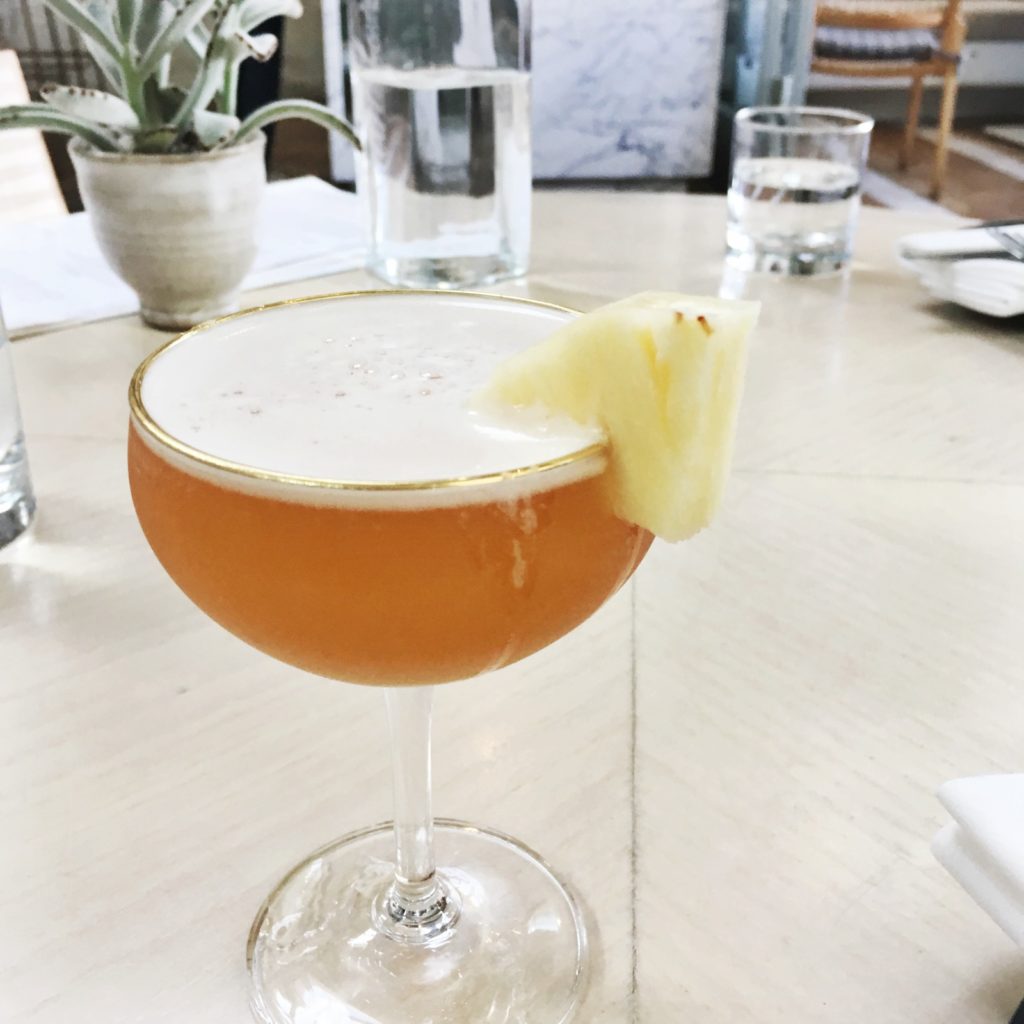 That cocktail wins the prize for creativity. For fruitier fare, there's Escape — a refreshing summer drink made with fresh pineapple, coconut water, and Diplomatica Reserva Rum — and One In A Melon — a tequila drink mixed with watermelon puree, lime, Himalayan salt. Basically, the cocktail ingredients sound like raw juicery concoctions — just with alcohol added in.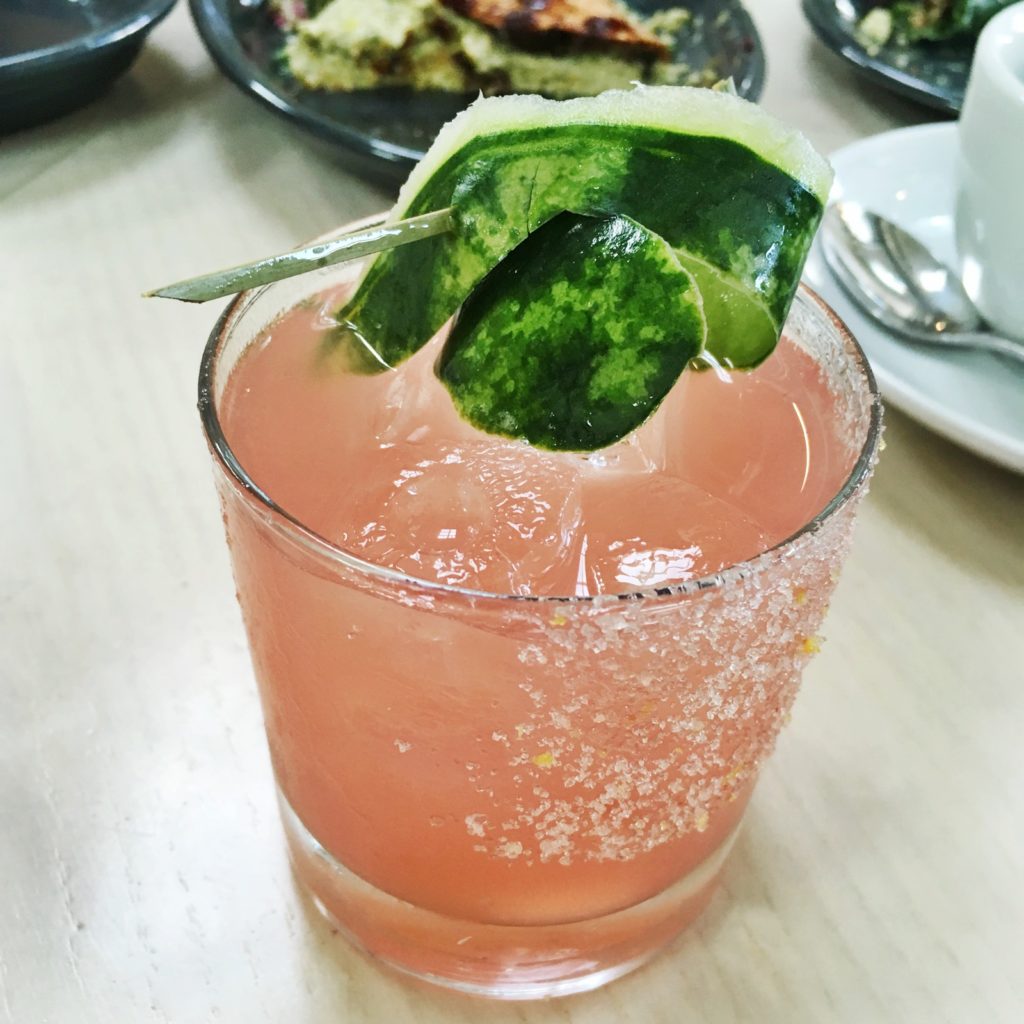 My favorite drink though was the Outer Sounds Sauvignon Blanc: a dry New Zealand wine with notes of lime and gooseberry. And my favorite happy hour eat was Light-Hearted — a.k.a. the Chef's Seasonal Pizzetta — a gluten-free, dairy-free pizza that's actually delicious! The einkorn and kamut flatbread was soft and pliable, the vegan cheese creamy, and the dusting of toasted coconut flakes a sweet touch.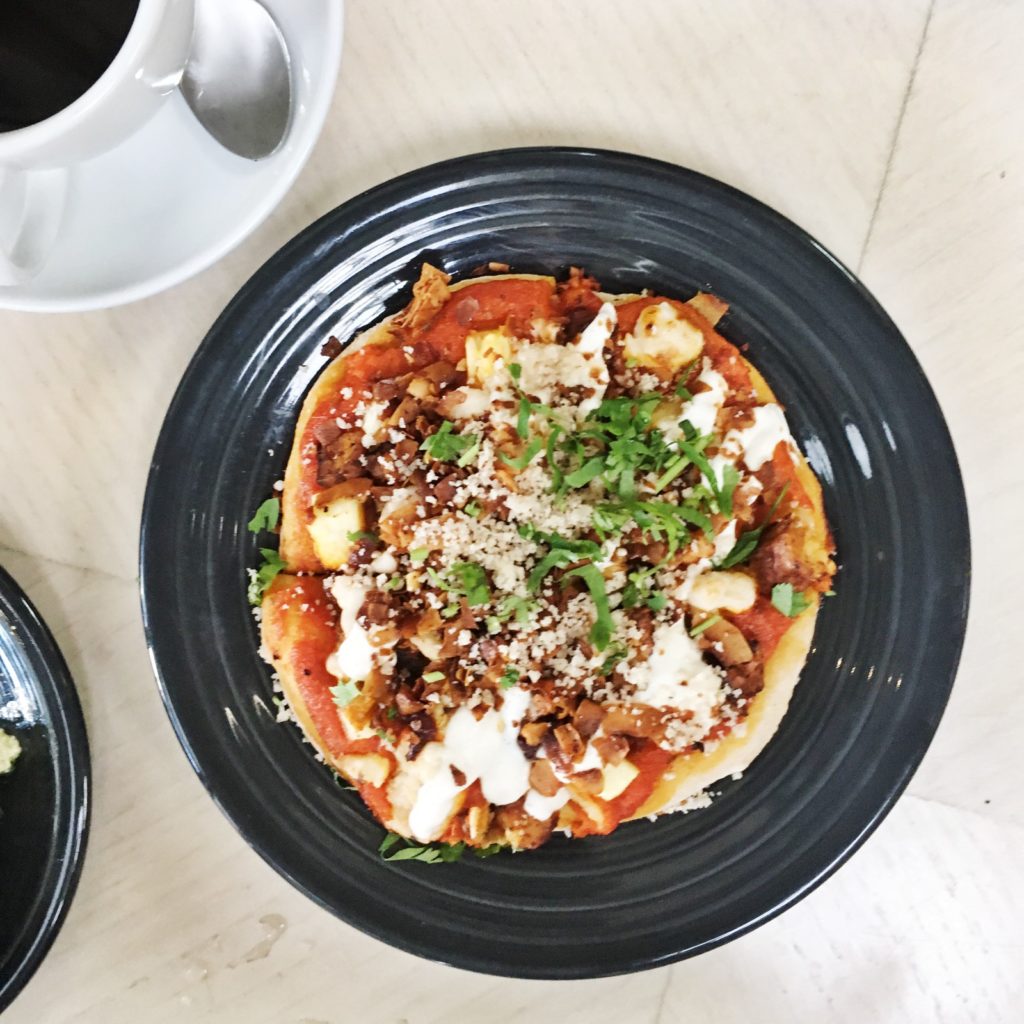 For a lighter meal, get the Honoring (Mediterranean Tapas) or Fearless (Korean Collard Spring Rolls). The former lets you spread zucchini cilantro hummus, spiced tomato chutney, hempseed tabbouleh, kalamata olives, and gremolata on raw flax crackers; the latter gives you your greens wrapped over oyster mushroom bulgogi, avocado, cabbage, spicy pickled vegetables, and kim chee, with sesame wasabi dipping sauce on the side. It didn't taste very Korean to me, but it still made for a delicious hand-held salad.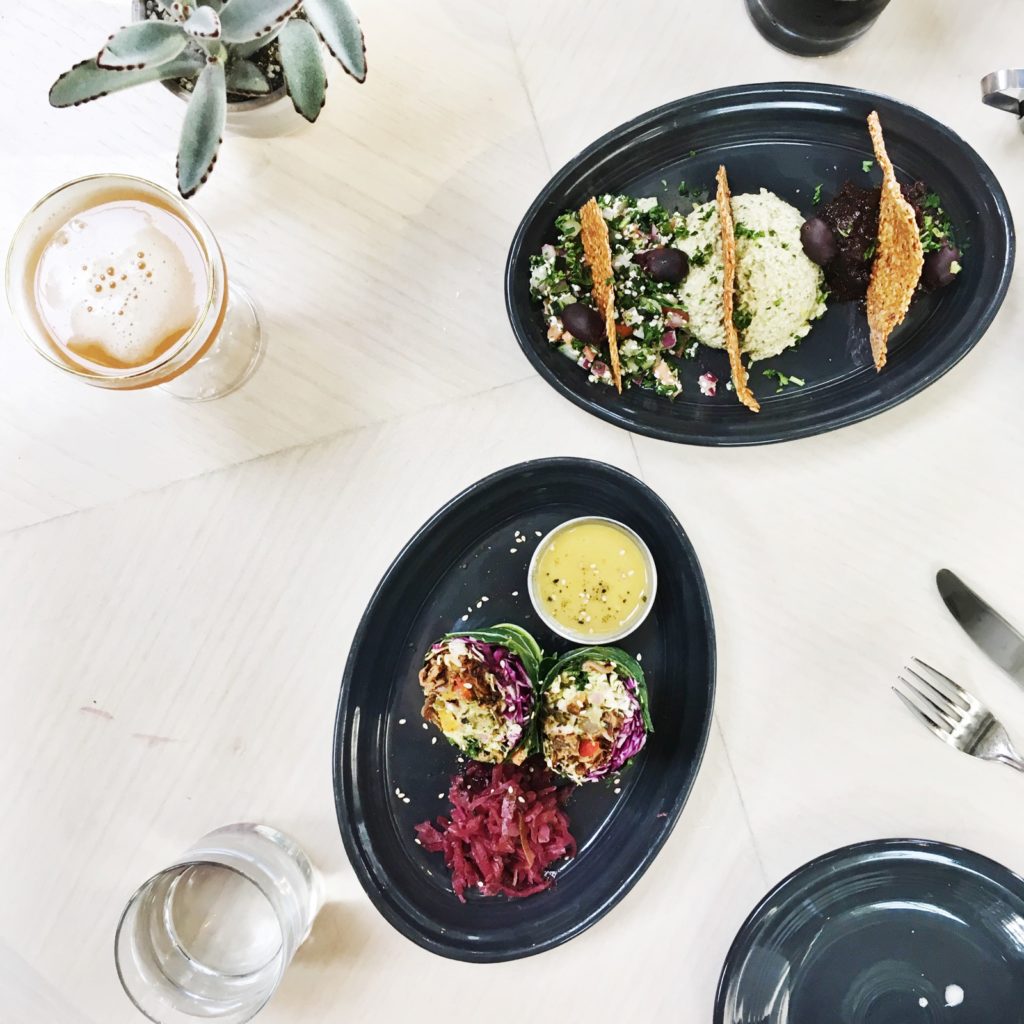 I'll be back to try the loaded heirloom potato fries next time — available in nacho, Hawaiian, and Bollywood styles. Happy Hour at Gratitude happens weekdays from 3 pm to 6 pm.
Gratitude. 419 N Canon Dr, Beverly Hills.
Earlier: 5 healthy Korean dishes to try in Los Angeles — with matching reads