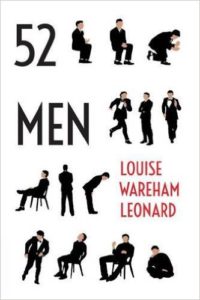 One of my favorite books read last year is Louise Wareham Leonard's 52 Men, a thinly veiled memoir written in tiny, flash pieces, each one about a guy with whom the narrator had a relationship — some brief, some longer, some intimate, some cruel (full microreview here).
Now, 52 Men has launched in podcast form! Called 52 Men the Podcast: Women Telling Stories About Men, the audio series launched November 15. Each 10-minute episode features one woman writer telling, well, a story about men.
And my story, "Acceptance," is the latest! As Louise puts it, the story is about woman with a lover "who seems to be two different people – one loving and wonderful and the other, well — not so loving and wonderful. How to tell which is the real person, and whether one should stay or go?"
Other women writers featured on the podcast include Lisa Locascio, Amalia Negreponti, Lynne Tillman, Rebecca Baumann, and others.
And you can be on the podcast too! To be considered, send a short prose piece of up to 900 words to 52menthepodcast@gmail.com. Louise says the podcast seeks "positive stories about men as well as stories of trouble."