Hi! I'm Siel, a writer and reader.
Each month I interview an author who inspires me about the pleasures, perils, and practical hows of writing a first book — to help you forge your own creative path.
I also blog about living a literary life in Los Angeles, and give away a book I love each month! Sign up for my monthly newsletter to get entered into the drawing.
*
My novel-in-stories Cake Time is available now!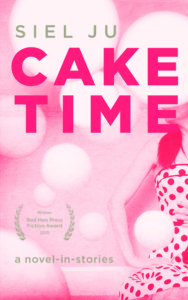 IndieBound | Amazon | Barnes & Noble
Book club discussion questions for Cake Time
"A promising start for a brave and unapologetically bold new writer."
— Kirkus (starred review)
"Cake Time is a delicious indulgence. Treat yourself to its dark, seductive intimacies and savor the gritty sugar of its unsentimental humor."
— Jillian Lauren, NY Times bestselling author of Some Girls: My Life in a Harem, and Everything You Ever Wanted
Save