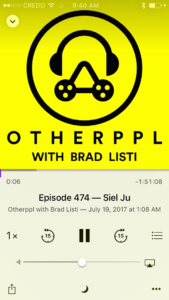 Ever wondered about my thoughts on religion, AA, and the Midwest? Okay, maybe you haven't — but tune in to the latest episode of Otherppl with Brad Listi, my favorite literary podcast, to hear me ramble about all of those topics and more!
I've listened to so many authors I admire on Otherppl, so it was an honor and a treat to get to be part of the podcast myself —
And I talked about a lot of things I don't usually talk about. Religion, AA, and the Midwest are three of these topics, but the episode also has interludes about boarding school, not being vegan, self-help books, and aimlessness.
Give it a listen — and if you have thoughts or questions about it, drop me a line.
Thanks to Brad for having me! If you're not yet subscribed to Otherppl, subscribe now —