Come out to Echo Park this Sunday for cupcakes, dancing girls, and fun reads!
Feminist poetry press Dancing Girl Press is based in Chicago, but has many fans — and poets — in Los Angeles. Five L.A.-based women poets — including me! — who have chapbooks with Dancing Girl Press will be reading and celebrating:
What: The Dancing Girl Press Show at Roar Shack
When: Sun, November 8, 2015, 4 pm – 5:30 pm
Where: 826LA, 1714 W. Sunset Blvd., Los Angeles
I'll be reading from my chapbook Feelings Are Chemicals in Transit with fellow poet Lisa Cheby, author of Love Lessons from Buffy the Vampire Slayer, pictured below in delicious cake form from her launch party: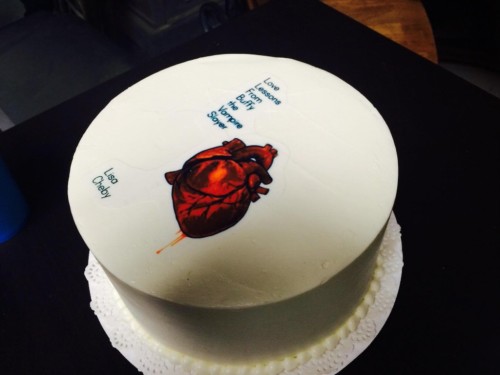 as well as Rachelle Cruz, Cati Porter, and Nikia Chaney. Our Dancing Girl chapbooks will be available for $5-$7 each or $25 for a full set of five.
We'll also have a musical guest — the talented Ramona Pilar — and a reading from last month's Roar Shack Live Write winner B Deep.
The Roar Shack reading series is organized by David Rocklin, fabulous friend and author of The Luminist. Unfortunately he won't be hosting this particular event due to schedule conflicts. In his place, David Kukoff, author of Children of the Canyon, will serve as guest host!
The Sweet Life will be delivering mini cupcakes to celebrate my birthday, which was last Sunday! Come eat sugar and hear poetry — and come to my one remaining birthday reading too. See you soon —