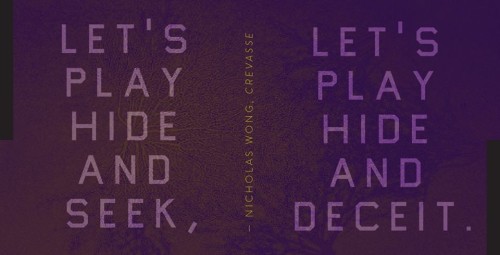 Come celebrate Crevasse! The latest book of poems by Nicholas Wong is out from Kaya Press, and four Los Angeles-based writers — myself included — are reading to celebrate it.
What: CREVASSE in Los Angeles
When: Wed, November 4, 2015, 7:30 pm
Where: Stories Books & Cafe, 1716 W. Sunset Blvd., Echo Park, Los Angeles, CA
I'll be reading with Lisa Locascio, Joyland's L.A. editor, whose Halloween party I went to on Saturday —
as well as Douglas Manuel and Brandon Som. We'll read our favorite poems from Crevasse plus our own work.
The reading is organized by the lovely Zoë Ruiz, editor extraordinaire and publicity director at Kaya Press, a USC-affiliated publisher of Asian Pacific Diasporas.
Some of my favorite lines from Crevasse to entice you:
Fetishes are simply details.
*
we are … caribous on a cruise to Malibu.
*
strangers met in the kenosis of sweat.
I'll also be bringing cupcakes to celebrate my own birthday, which was yesterday! Come eat sugar and hear poetry — and come to my other birthday readings too. See you soon —