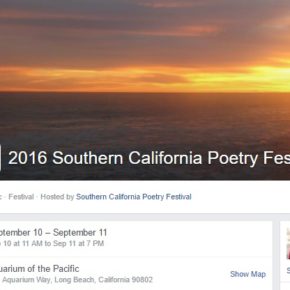 The first ever Southern California Poetry Festival happens next month in Long Beach. Organized by Sonia Greenfield and Donna Hilbert in partnership with The Poetry Foundation, the weekend affair going to be two days filled with readings, panels, and keynotes — topped off with cocktail hours at The Brass Lamp Book Bar!
Hear luminaries like Amy Gerstler and Henri Cole, discover a dozen or so local literary journals, and find out about local bookish nonprofits. There'll even be a panel moderated by former book critic of the Los Angeles Times David Ulin, with the provocative title, "Does SoCal Have a Voice?" I'm going to go out on a limb here and say that the panelists — Marilyn Chin, Suzanne Lummis, Luis Rodriguez, Ralph Angel — are probably going to say yes.
I'll be reading with the Los Angeles Review crew on Saturday, Sep. 10 from 2 pm to 3 pm, along with Charles Harper Webb (Amplified Dog), Jessica Piazza (Interrobang), and Kim Dower (Slice of Moon). Here's the full schedule lineup for both days.
Reserve a FREE ticket for the festival here — though I must warn you that all 175 tickets for Saturday are already taken! That said, if you're a reader of this blog and would like to come on Saturday, just leave a comment ASAP and I'll contact the organizers to get a ticket reserved for you.
Hope to see you there!
Southern California Poetry Festival. Saturday, Sep. 10 – Sunday, Sep. 11, 2016. Aquarium of the Pacific, 100 Aquarium Way, Long Beach.