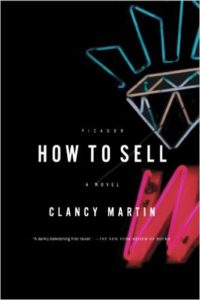 *** Winner selected! Congratulations to Taryn in Los Angeles! ***
Cocaine and Philosophy. Fake coins and real jewels. Diamonds and Rolexes. Get all that and more when you read Clancy Martin's first novel, How to Sell.
This novel follows Bobby Clark, who drops out of high school and goes into the jewelry business — the double-dealing, customer-swindling, insurance-scamming kind of jewelry business. He grows up quickly, cheating out of their money the rich and poor alike, learning to ply his customers with what they want to hear, show them what they never knew they wanted.
How to Sell is a fast-paced, entertaining tale of deception — both of others and of the self — peppered with philosophical ideas that'll make you think about life and desire and ambition. After all, Clancy Martin, in addition to being a novelist, is also a philosopher and professor of business ethics. In How to Sell, we learn a lot about what drives people — their strange motivations and rationalizations for spending outrageous sums of money on what are ultimately pretty rocks and small clocks.
Get a copy of How to Sell now, or sign up with your email below to be entered to win a free copy! Already signed up for my newsletter? Then you're already entered!
*** This giveaway is now closed, but join my email list to be entered into future giveaways! ***
Come back mid-month to read a Five Firsts interview with Clancy Martin!