*** Winner selected! Congratulations to Calin in Los Angeles! ***
The first time saw Dana Johnson was on a panel at Skylight Books. I can't remember what the panel was actually about, but I remember clearly what Dana said about her MFA experience — that she didn't go right out of college, she waited a while until she was really hungry, ready. Then during her years at Indiana University, she wrote the stories in her first collection, Break Any Woman Down, winner of the prestigious Flannery O'Connor Award for Short Fiction.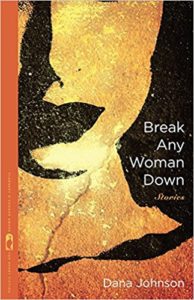 That's pretty much the exact opposite of what I did, which was go to grad school at USC straight out of college and use the time as a sort of prolonged adolescence — the totally unproductive kind with lots of flailing around and remarkably little writing.
If only I'd waited to go to USC until Dana started teaching there! Then I'd have been the recipient of her sage advice — though whether or not I would have done anything with it at that point, who knows.
That said, everything's turned out fine —
But back to Dana.  Break Any Woman Down is a complex and provocative collection of short stories, often starring characters in the margins of society.  A black stripper tries to figure out what she wants in her relationship with a controlling white porn star. A woman defiantly goes to bars alone, over her daughter's protests. They're stories of power and acquiescence, stubbornness and change — all cutting across lines of race, class, and gender.
My favorite story is the first one, "Melvin in the Sixth Grade." Avery, a young black girl whose family just moved from South L.A. to West Covina to get away from the gangs, becomes friends with a white boy called Melvin. He too's new to town, and with his bell bottoms and Oklahoma drawl, doesn't fit in. When Melvin gets in a fight, Avery's loyalty is tested — with heartbreaking consequences.
This story just tackles so much — from the petty allegiances of grade school and the giddiness of childhood crushes to the casual racism absorbed by children as a matter of course and the brutal dislocation that comes from shifting social classes. What Dana reveals about education is truly thought-provoking — how the learning of standard English, even the "correct" pronunciation of words, can be a sociocultural marker that connects and divides, confers privilege as well as exiles us from those we're closest to.
Enter your email below for a chance to win a free copy of Break Any Woman Down. Already signed up for my newsletter? Then you're already entered! US addresses only; giveaway ends July 31 at 11:59 pm.
Come back mid-month to read a Five Firsts interview with Dana Johnson.