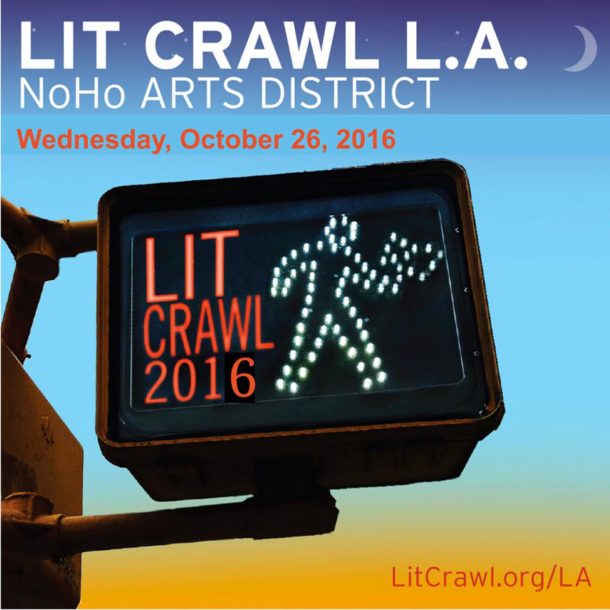 Clear your schedule for next Wednesday night! Lit Crawl LA returns Wed., Oct. 26, turning the North Hollywood Arts District into the hub of Literary LA with irreverent readings and other fun events happening in local dive bars, fancy theaters, and other interesting spots.
The night's set up so that each of the three hours of the night, a dozen or so events happen concurrently, with a few minutes in between each hour to let crawlers get to their next event. All the events are free! Unfortunately as of this writing the Lit Crawl LA website hasn't updated the schedule for the night. But the Facebook invites have gone out — so here are the three events I recommend you crawl to!
Round 1 at 7 pm: The Rejection Game at The Eclectic Wine Bar & Lounge, 5156 Lankershim Blvd, North Hollywood.
Okay — I picked this event mainly because I'm in it — and also because it should be a fun time! Organized by Women Who Submit — a lit org that encourages women to submit to lit journals more frequently and tenaciously — this reading will "celebrate the work that has been rejected time and again, but that we still believe in."
Come hear me, Rachael Warecki, Tammy Delatorre, Ryane Nicole Granados, Stephanie Abraham, and Kate Maruyama (Harrowgate). Poet Lauren Eggert-Crowe will host!
Round 2 at 8 pm: The Literary Dating Game at the Kahuna Tiki, 11026 Magnolia Blvd, North Hollywood.
One brave creative-nonfiction-writing bachelorette called Brandi Neal has agreed to let three brave souls compete for a chance to take her out on a date! Organized by PEN Center USA, the event promises a "stellar host, a stunning mistress of ceremonies, literary questions, some audience participation, and a Mai Tai or two." I am pretty sure you'll need to pay for your own mai tais, so prepare accordingly —
Round 3 at 9 pm: Truth in Fiction at MOD Pizza, 5300 Lankershim Blvd #103, North Hollywood.
This event's a chance to get to hear some of the bigger names in the LA lit scene read. David Ulin (Writing Los Angeles: A Literary Anthology, former LA Times book editor), J. Ryan Stradal (NY Times bestseller Kitchens of the Great Midwest), Natashia Deon (recently published Grace), Matthew Specktor (American Dream Machine) — as well as James Sie (Still Life Las Vegas), Robert Roman, and Julia Ingalls — will all give short readings. Take your books to get signed!
I'm guessing there'll be an afterparty with drinks and nibbles and socializing after the third round, as there has been in previous years. Check the Lit Crawl LA website closer to date for details.
Earlier: 7 big annual literary events in Los Angeles to put on your calendar now