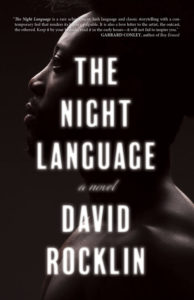 *** Winner selected! Congratulations to Shawn in Red Wing, Minn.! ***
Political drama. False identities. Forbidden romance. David Rocklin's new novel, The Night Language, contains all of these, but is at its heart a quiet — and unexpected — love story. After all, there aren't too many novels starring black men in the court of Queen Victoria — let alone two black men who fall in love.
The Night Language brings together Prince Alamayou of Abyssinia (Ethiopia today) with his ad hoc guardian, Philip Layard. Plucked from his home and brought to England, Alamayou slowly learns to communicate with Philip's help — with whom he slowly falls in love. Yet from the beginning, the two men are under constant threat in the racist, homophobic society they're immersed in.
The couple's allies — who include the royal family — do their best to protect them. Princess Louise, for example, warns them to watch what they say: "It's a different language, the words that come quietly at night. Don't mistake what we've talked about for something we can talk about in daylight."
Yet despite the support of the royal family, Alamayou is eventually sentenced to be sent back to Abyssinia — where he's likely to be killed. The novel follows the men as they struggle to survive through the plot's surprising twists and turns.
Although Prince Alamayou is a real historical figure, David's novel is an alternate history, imagining a longer and more romantic story of the prince's life (the real Alamayou died of pleurisy while still in his teens) that allows for a nuanced examination of repressive societies of that time and the curtailed possibilities suffered by those not in the majority. As Philip says of himself and his friends at the local circus, "We're all freaks, they and I. We're not prepared for the life we lead, but we're certainly not prepared to hope for more and fail."
The Night Language will be published by L.A.-based indie press Rare Bird Books on Nov. 14. I'm excited to be partnering with Rare Bird to give away  a copy of  The Night Language to my readers! All current email subscribers will be automatically entered to win one copy. Subscribe now if you're not yet getting my occasional newsletters.
For a second chance to win, comment on this post below with your favorite language. The giveaway closes November 30, 2017 at 11:59 pm PST. US addresses only.
Come back mid-month to read an interview with David Rocklin.