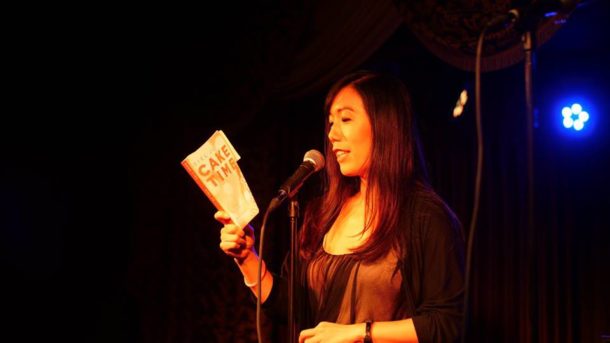 Celebrate the literary holiday season with me and last month's featured author, David Rocklin! The two of us will be reading together at a very special event: a joint Library Girl and Roar Shack reading and celebration.
Both Library Girl and Roar Shack are local monthly reading series that happen on the second Sunday of the month — the former on the westside, the latter on the east. Now the two have joined forces for a big end-of-the-year event!
Library Girl & Roar Shack Present: (This Is S'posed To Be) The New World
Sunday, December 10, 2017, 7 PM
Ruskin Group Theater, 3000 Airport Ave, Santa Monica
Tickets — which cost $10 and include snacks and dessert — sell out sometimes, so get yours now!
In other personal news: Juked, one of my favorite online literary journals, nominated me for a Pushcart Prize! Thank you to the editors for championing my work. Read the nominated story, "The Supplies," at Juked. That story's one of many included in my novel-in-stories, Cake Time. If you don't have a copy yet, treat yourself to one for the holidays —
And lastly, PEN Center USA, one of my favorite local literary nonprofits, profiled me in a member feature! Here's an excerpt:
If you could be one fictional character, who would you be and why?

Alice in Wonderland, but only if it's a lucid dreaming type situation where I know it's just a dream so I don't get too frightened. Also, the Cheshire Cat would need to be hypoallergenic.
Read the full feature at PEN Center USA.
And drop me a note to let me know what you're reading and writing — and what you'd like to see more of here on my blog in 2018. Happy holidays —
Earlier: 5 ways to give back to literary nonprofits in Los Angeles
Photo by Wes Kriesel