Bindercon LA — a conference and community for women and gender non‑conforming writers — happens this weekend!
Get a ticket to hear from writers ranging from Jillian Lauren to Lisa Kudrow, pitch your writing to agents and publishers, and participate in networking sessions. And come to the "How to Build a Writing Community" panel– moderated by myself.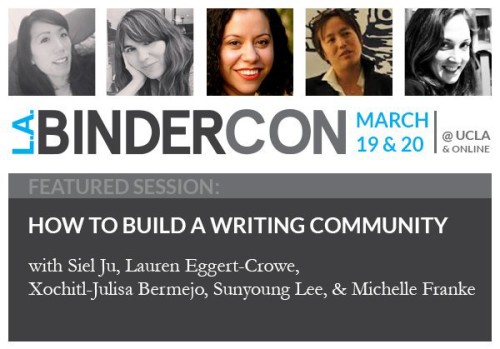 What: How to Build a Writing Community at Bindercon LA
When: Saturday, March 19 at 2 pm
Where: UCLA campus, in Carnesale Commons
Joining me on the panel are Michelle Franke of The Rattling Wall and Pen Center USA, Xochitl-Julisa Bermejo of Women Who Submit, Neelanjana Banerjee of Kaya Press, and poet Lauren Eggert-Crowe.
Hope to see you there —