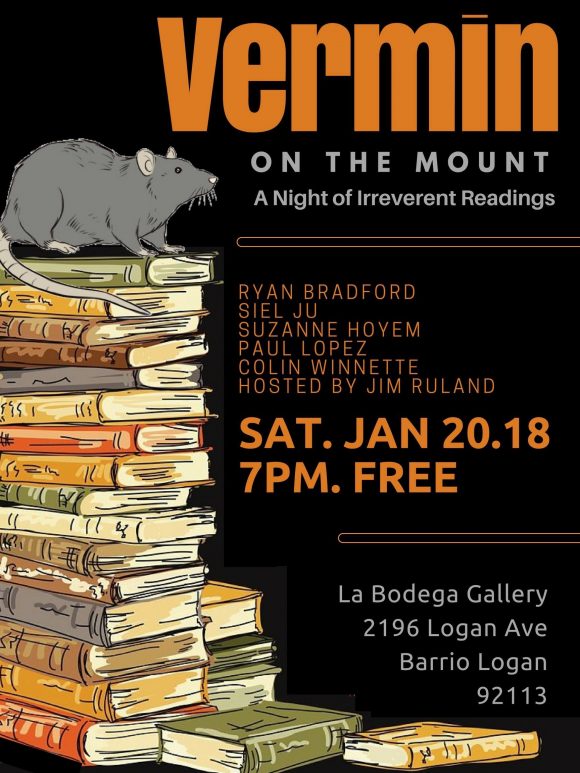 I realize this is rather late notice, but I'm reading from Cake Time tonight Vermin on the Mount San Diego and would love to see you there!
What: Vermin on the Mount San Diego
When: Saturday, January 20, 2018, 7 pm
Where: La Bodega Gallery, 2196 Logan Ave., San Diego.
Hosted by Jim Ruland, Vermin on the Mount is one of my favorite reading series — so much so that I wrote a long piece about it for Literary Hub — and the only one I know of with events in both San Diego and Los Angeles.
For each event, Jim asks the readers to answer this question: "What's the most unusual experience you've had at a reading?." I ended up writing a personal essay of sorts in response that's longish without really answering the question. Here's an excerpt:
I took a Lyft to Ball and Chain. I danced. People kept asking if I lived in Miami, or was visiting. The first guy told me he used to live in Malibu, he liked sunsets and walks on the beach. The next guy told me he used to live in Redondo Beach. He'd gone to UCLA for business school. Now he sold motorcycle helmets on the internet. The music got louder and then there was less talking. One guy tried to get me to dance on two; it didn't go well. The Redondo Beach guy came back and tried to get me to dance Cuban style. This went better, but was disorienting. I moved closer to the glass wall, where it was a little quieter. One guy told me he was from Irvine, but he didn't learn to dance there, he'd picked it up after he moved. Save me another one for later, he said, then disappeared into the crowd.
Read the rest at Vermin on the Mount's website — and while you're there, check out the responses from my fellow readers tonight: Ryan Bradford, Suzanne Hoyem, Paul Lopez, and Colin Winnette.
Hope to see you all soon!