*** Winner selected! Congratulations to Isaly in Fort Worth, Texas! ***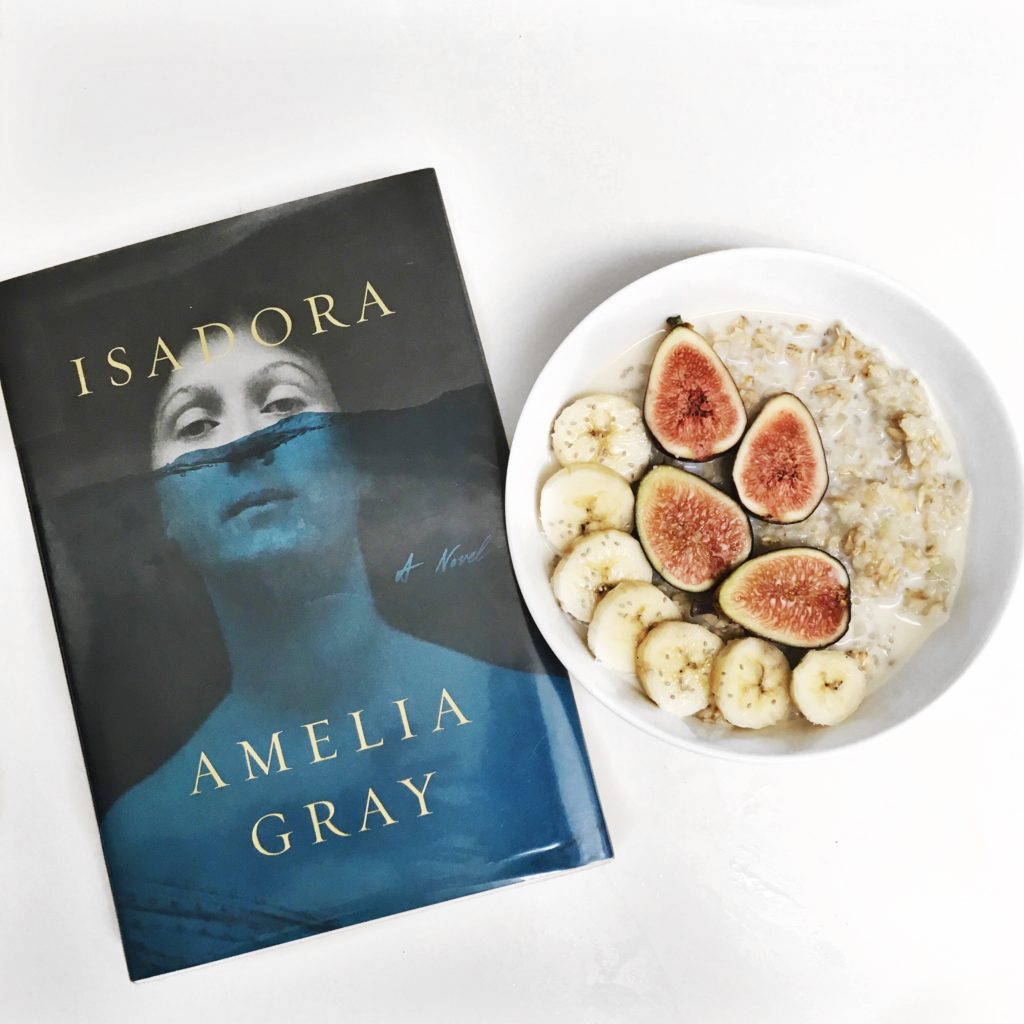 I'm one of those people who don't function well when there's a lot of drama going on in life, yet I often find myself pulled towards it, and to people who go out of their way to seek it out. I think many people are this way — which explains why Isadora Duncan, with her brief, wayward life, provokes such fascination in the public imagination.
Widely considered the mother of modern dance, Isadora had quite the dramatic life, traveling all over the world to live, teach, and perform, flouting social mores to take on many lovers, and finally, dying tragically at 49 when her scarf got caught in the wheels of a car she was riding.
Many biographies have been written about Isadora, but Amelia Gray's fictionalized account of Isadora's life — plainly titled Isadora and published earlier this year by FSG — focuses on a lesser known period — when Isadora's two young children drowned in a car that lurched into the Seine River. The historical novel follows Isadora through the time after the accident as she grieves, growing unpredictable, ascerbic, and mentally unhinged.
It's a gorgeously-told story of a downward spiral. Isadora goes to the Greek island of Corfu to recouperate — where she struts around nude, urinates in public, and eats her children's cremains: "It has come to be that I can eat only when the flavor is attended by the subtle ash of the children in my mouth."
Yet she retains her wit, and her incisive observations of humanity. Of her skeevy doctor, Isadora muses: "The silver tray of his heart holds two brown tincture bottles, each offering their own opiate. The first is marked Desire and the other Virtue; one clouds the mind and the other turns the stomach, but they have the same general effect in the end."
The novel is actually written from four perspectives: Isadora, her lover Paris Singer (the wealthy son of the Singer sewing machine magnate), her sister Elizabeth, and Elizabeth's lover Max. Each protagonist is uniquely vulnerable — and insufferable — preoccupied with their individual hopes and self-pity and senses of entitlement. Yet it's hard not to be drawn to them, selfish as they may be. Elizabeth's constant emotional repression, for example, is especially touching. She consoles herself through lonely times by gorging on rich food, "and hid[es] happiness from the others so they wouldn't suspect her for it." When she writes a new lover, she edits and re-edits her letter, excising all allusions to desire, herself, to home, until all that's left is a single sentence: "R — Can you picture the morning?"
Isadora is the kind of book that makes me want to wallow and revel in despair, numbness, unprovoked aggression, self-loathing — all the habits and emotions I generally try to run away from. It also makes me want to live bigger, less afraid of what may become of me. "What use is there to life and love without the mystery of circumstance?" the fictional Isadora says. What indeed?
I'm excited to be giving away a copy of Isadora to my readers! All current email subscribers will be automatically entered to win one copy. Subscribe now if you're not yet getting my occasional newsletters.
For a second chance to win, comment on this post below with the title of the last historical novel you've read. The giveaway closes September 30, 2017 at 11:59 pm PST.
Come back mid-month to read a Five Firsts interview with Amelia Gray.