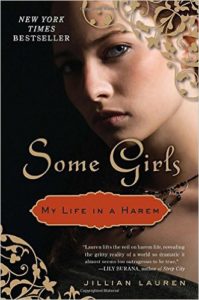 *** Winner selected! Congratulations to Jane in Los Angeles! ***
Memoirs don't get much more riveting than Jillian Lauren's Some Girls: My Life in a Harem. That's right — Jillian once worked as a call girl and stripper in New York before agreeing to fly out to Borneo — to join the harem of Prince Jefri Bolkiah, youngest brother of the Sultan of Brunei.
Some Girls details the surreal life Jillian lived there: strange late nights spent drinking and dancing for the prince's exclusive pleasure, crazy expensive shopping sprees, petty jealousies, unexpected alliances, and much more.
Although the titillating tidbits about harem life tends to get most of the attention, Some Girls takes us from Jillian's childhood as an adoptee struggling with a contentious relationship with her father to her marriage to Weezer bassist Scott Shriner and adoption of her own child. The memoir is a fascinating dive into life's bigger questions: what attracts us and repels us, why we make the choices we do, how we change and shift with time. It's a coming of age story that forces us to confront the ways we construct our own identities.
Get a copy of Some Girls now, or enter to win one by signing up for my newsletter to the right. Already signed up? Then you're already entered!
Come back mid-month to read a Five Firsts interview with Jillian Lauren!