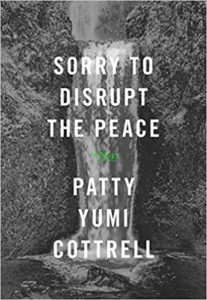 What I love most about Patty Yumi Cottrell's writing: the sudden moments of humor within the bleakest of moods:
A little self-knowledge can be a very productive thing, I said to no one. I am a very productive person, I said as I opened the windows of my shared studio apartment. I shouted things to the passersby on the crummy sidewalks below. I can be a very helpful person! I screamed. A woman pushing a double-wide stroller looked up at me with concern. At your service, bitches! I shouted.
This is what 32-year-old Helen Moran, the protagonist of Patty's debut novel, does soon after getting a call about her brother's death. It's a painful, wrenching scene — disrupted by a wry hilarity that makes you want to laugh-cry.
Sorry to Disrupt the Peace is full of these riveting moments as it follows Helen, who goes to her estranged adoptive parents' home in Milwaukee after her adoptive brother's sudden suicide. The book is depressing and painful and moving and ridiculously funny — with a flat tone that somehow manages to feel both unreachably distant and too close to home.
Patty in real life is hilarious too. I met her last year at a reading at Skylight Books, a few months before both our debut books came out, when Patty was still living in L.A. Now she's moved back to New York, despite all the nice and funny things she said about L.A. in her interview with Los Angeles Review of Books:
I have to say, New York City was for me a terrible place to write a novel…. There are such limited resources and you're in such close proximity with others, you're always highly aware of all of the things other people have, the things you want and lack. For example, in Brooklyn none of my friends had a dishwasher….

Living in Los Angeles, a lot of people have dishwashers. It's not a special thing. I don't mean to make Los Angeles sound like some kind of Communist utopia. What I'm trying to say is that you're not as aware of what other people are doing or what they have. It feels like things are more spread out. You can get space away from people who call themselves writers if you want. You don't have to interact with them if you don't want to. In this way, I feel more freedom in Los Angeles and that obviously affects what I'm writing and how and when I write.
Patty — I hope the writing's going well though you've moved away!
Get a taste of Patty's work by reading the excerpts of Sorry to Disrupt the Peace in Vice and Buzzfeed. Then get your copy — or try your luck in this month's giveaway! I'm giving away  a copy of Patty's book to one of my readers. All current email subscribers will be automatically entered to win the copy. Subscribe now if you're not yet getting my occasional newsletters.
For a second chance to win, comment on this post below, specifying whether or not you have a dishwasher. The giveaway closes January 31, 2018 at 11:59 pm PST. US addresses only.
Come back mid-month to read an interview with Patty.