I've declared June New York month because I'm in New York right now on my east coast book tour!
I've been so excited about this trip that before flying out, I actually prepped by checking out New York restaurants that recently opened in Los Angeles. Apparently the west coast is the place to be if you're a chef, because a whole bunch of new yummy spots have sprung up. Here's how my pre-NYC tasting tour went:
by chloe. 2520 Glendale Blvd., Silver Lake.
I'd put by chloe on my list of places to visit in New York after reading a review in The New Yorker last month — then googled it to find out L.A. already has its own location, right next door to a 365 by Whole Foods.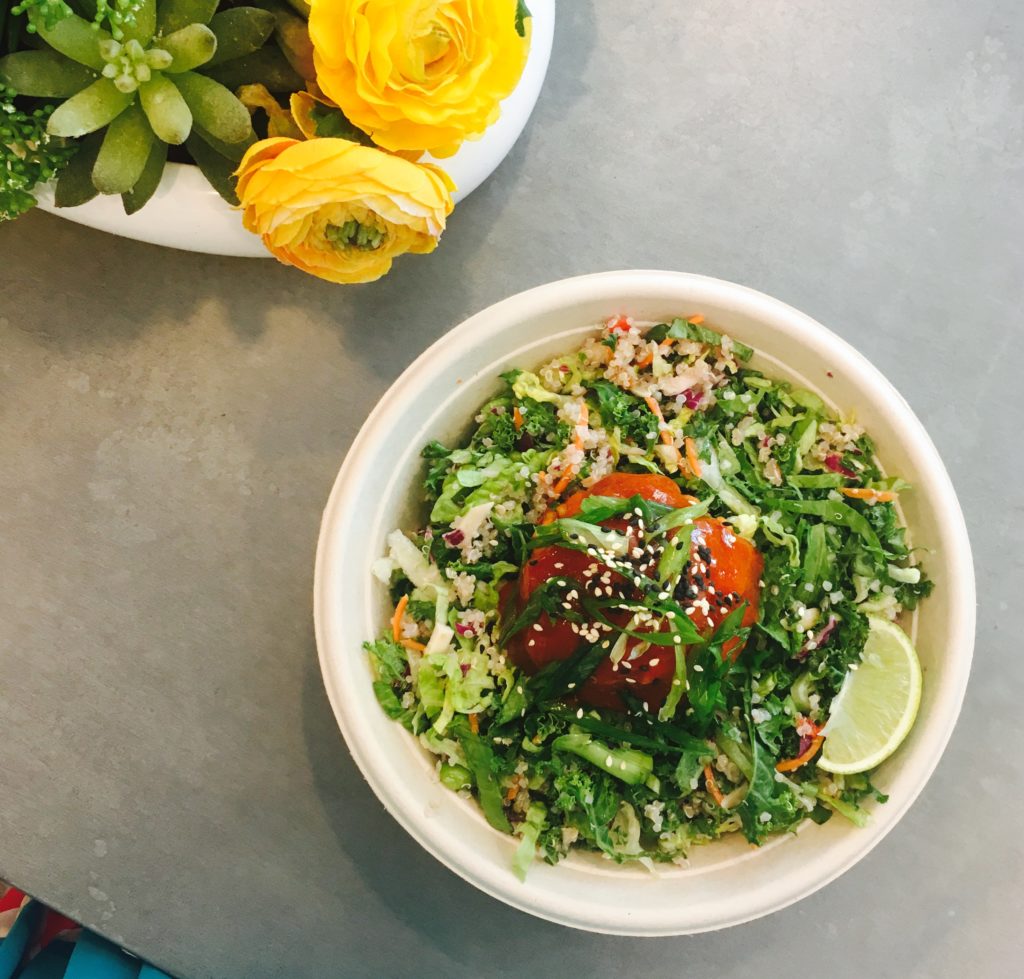 The review recommended veggie burgers and fries with the house made beet ketchup, but all that sounded heavy because I'm more of a salad for lunch girl. So I got the Spicy Thai Salad — which with quinoa, edamame, almonds, and a very sweet-and-sticky apricot-sriracha glazed tempeh ended up being really filling. I'm glad I asked for no wontons and peanut dressing on the side because all that with the tempeh glaze would have been way too much!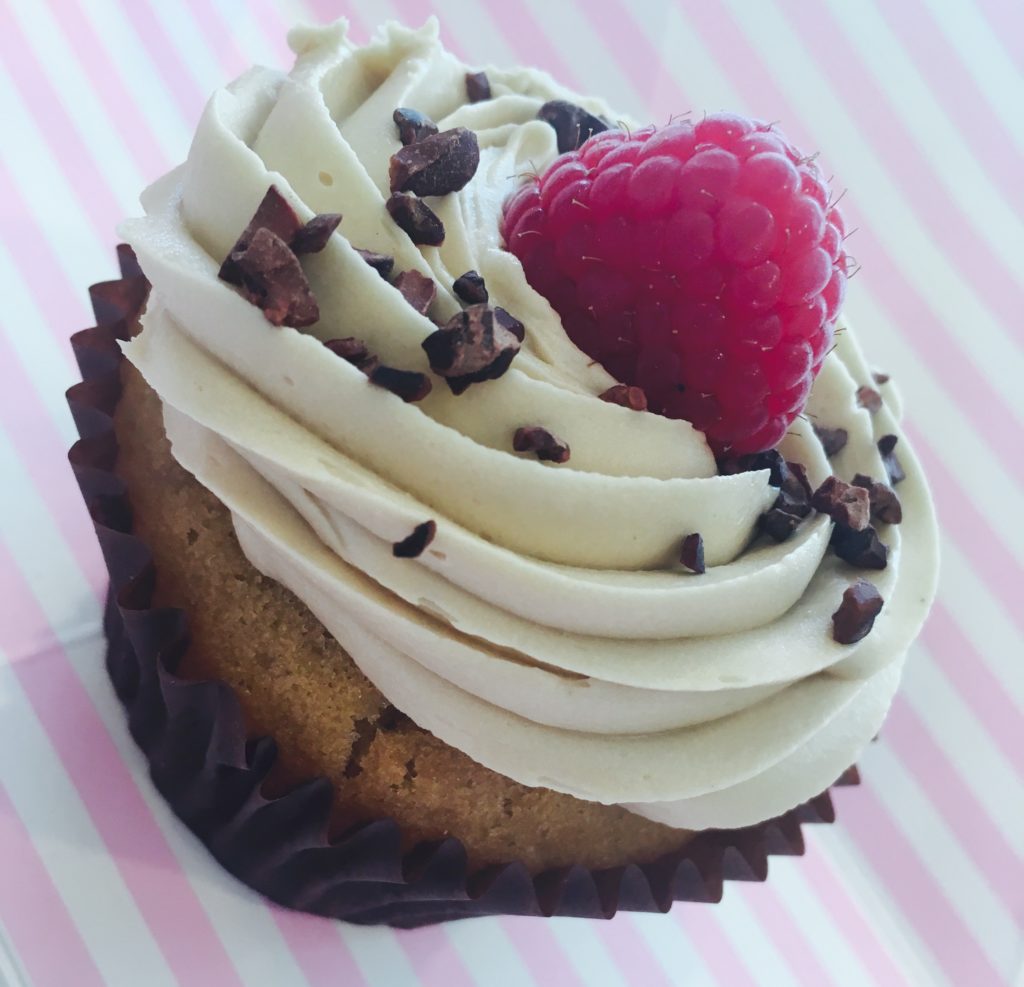 Afterwards I was too full to be tempted by the delicious-looking vegan treats — but my friend Ian got this tiramisu cupcake and made me jealous —
As a sidenote, has anyone else noticed that The New Yorker's suddenly started reviewing a lot of vegan restaurants lately? Did the magazine get a veg restaurant reviewer?
The Butcher's Daughter. 1205 Abbot Kinney Blvd., Venice.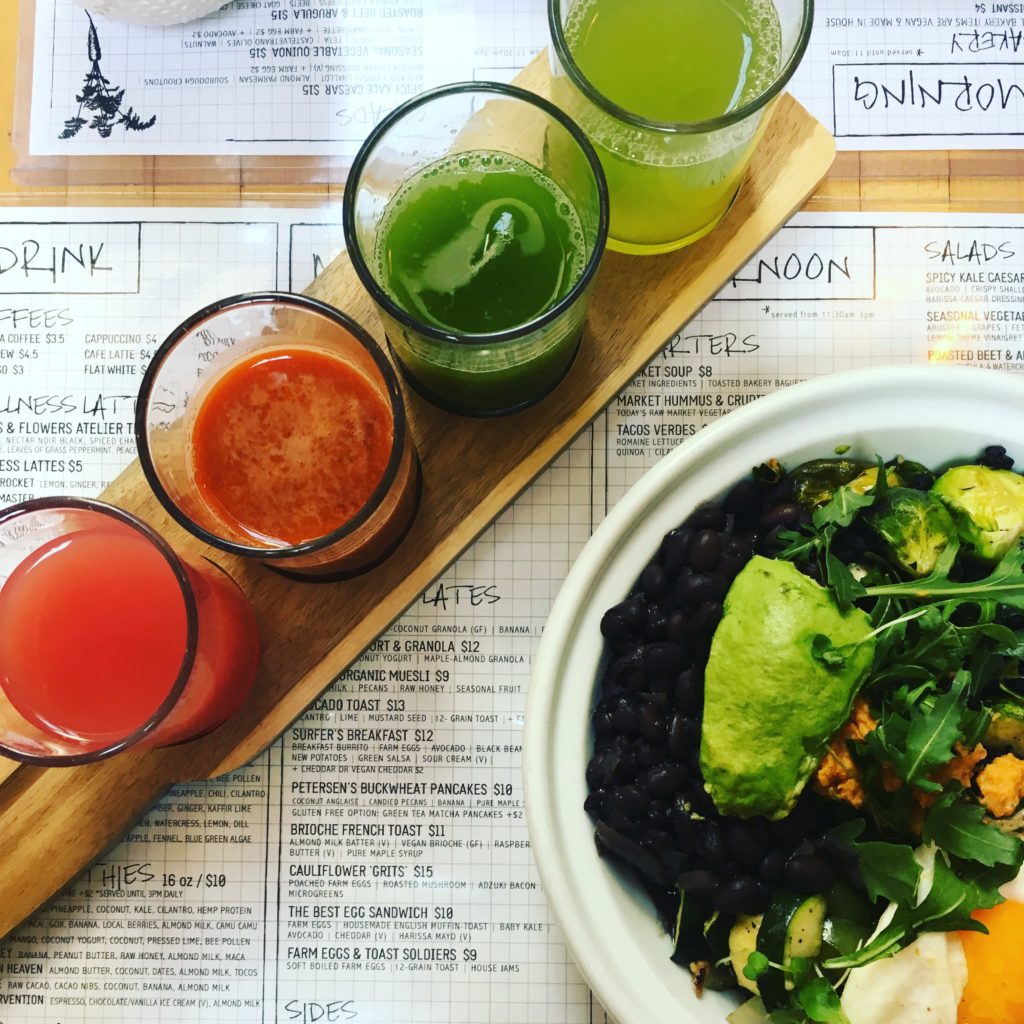 This very popular vegetarian eatery on Abbot Kinney often has a wait — but the food is worth it. Just visiting the restaurant's Instagram page full of avocado toasts will make you drool. When I went, I got the macro bowl — forbidden rice, black beans, roasted veggies, and hummus on arugula with an egg and a hunk of avocado — and for dessert, the juice flight, which comes with four cold pressed juices of your choice.
The Venice location's an open, airy space with lots of sunlight — which is to say that to me, The Butcher's Daughter seems very Californian. Perhaps New Yorkers just like to eat the same stuff Angelenos like to eat — Namely, avocados.
Erin McKenna's Bakery LA. 236 N. Larchmont Blvd., Larchmont.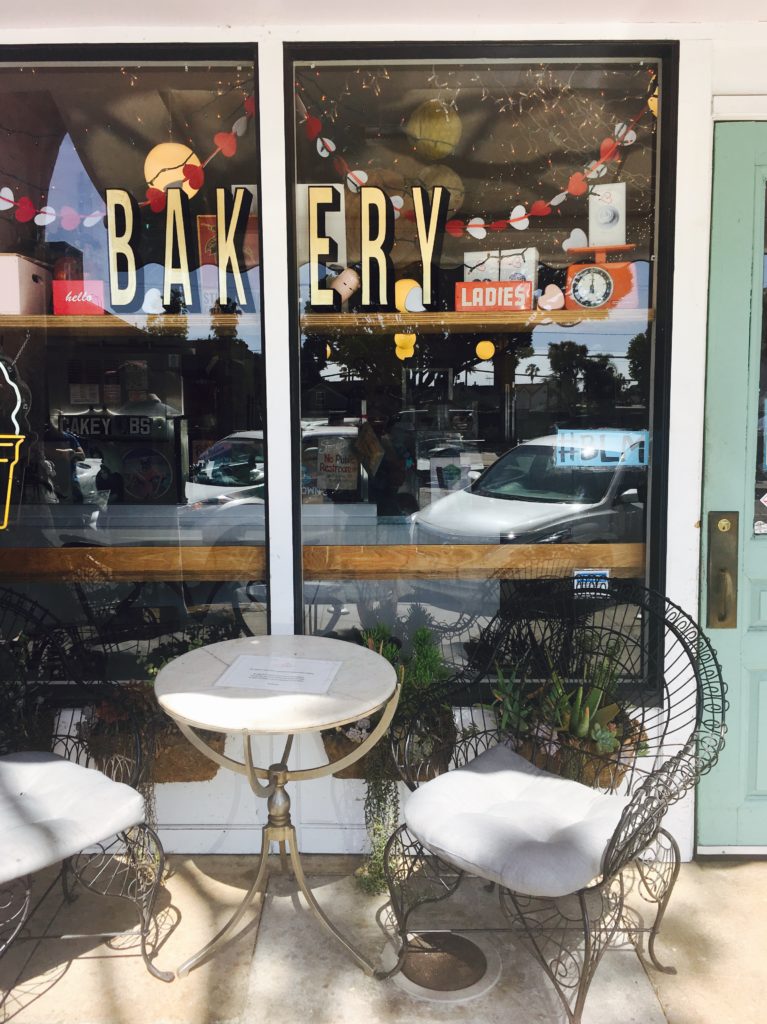 My NY-in-LA tasting tour had a third vegetarian-friendly spot: Erin McKenna's Bakery. This cute bakery's not only vegan but also gluten-free, soy-free, refined-sugar-free and kosher.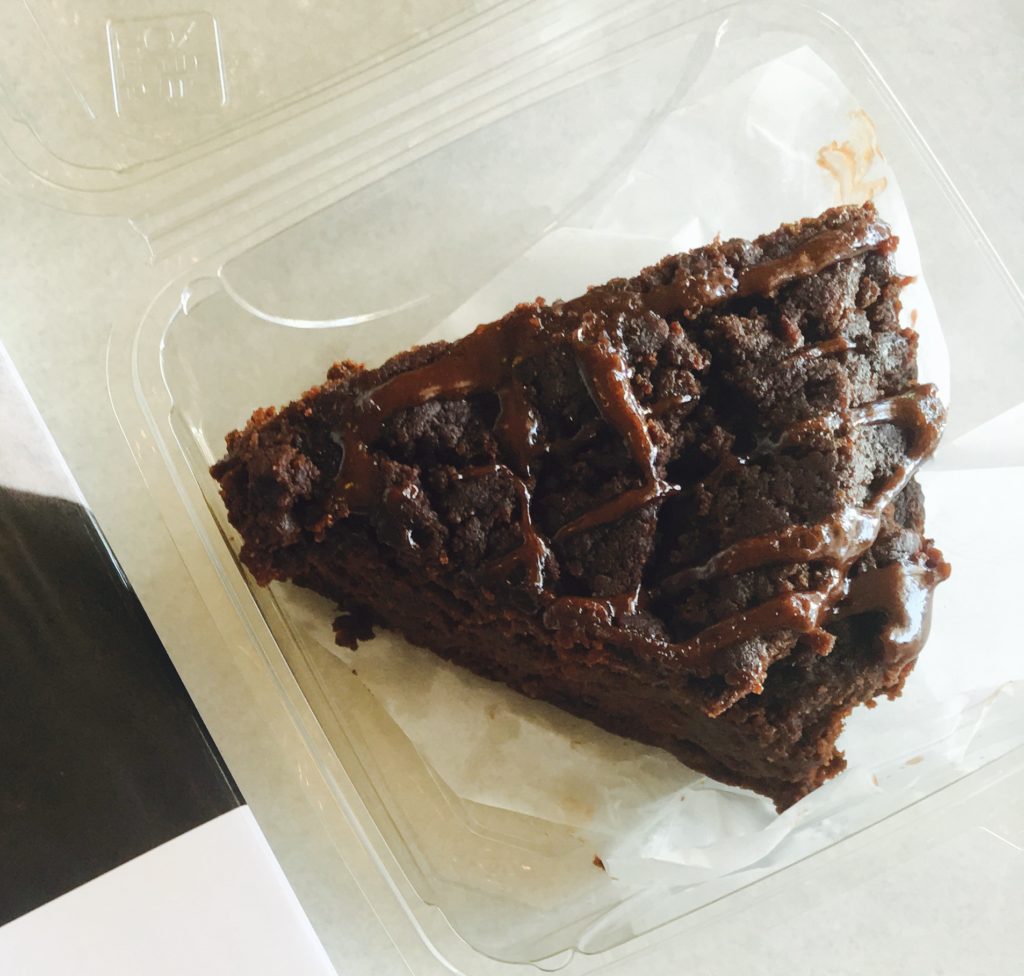 Unlike the pristine prettiness of Sprinkles or Vanilla, Erin McKenna's embraces a homier look, with cupcakes that look proudly hand-iced and not-quite-uniform. I think donuts are the most popular items here, but I had to get the double chocolate crumb cake — a generous slice of moist decadence.
Baohaus. Far East Plaza, 727 N Broadway #130., Chinatown.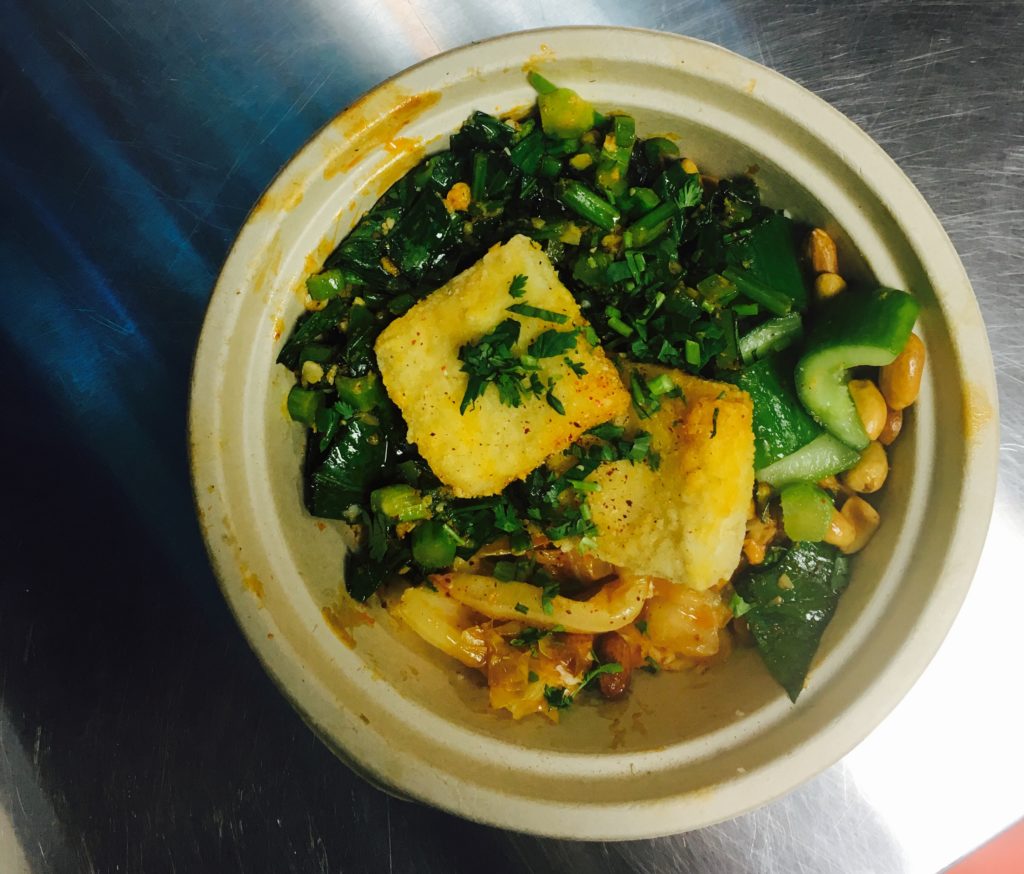 Edde Huang's Baohaus is famous for its pork belly baos — but the three veg places I visited must have had an effect on me. When I got up to the order counter at this tiny, mostly to-go spot, I saw a flyer that said "vegan managers meal @ baohaus L.A. only!" and on the spur of the moment, ordered that.
This was a mistake. The dish was basically supposed to be a fried tofu rice bowl — served with eggplant salad, peanut cucumbers, stir-fried Chinese broccoli, and garlic chili cabbage over a bed of cauli-rice. I was mostly excited about the eggplant salad — but when I got my compostable bowl, there was no eggplant to be seen. On top of that, the tofu was very greasy, and the oily-spicy flavors of the veggies really, really didn't go well with the slightly soggy cauli-rice.
Squished inside an old, noisy mall in Chinatown, this spot, though new, is rather run-down looking and unpleasant to eat in, with harsh fluorescent lights and aluminum countertops. All in all, I'm not interested in repeating this experience, but I did learn an important lesson: If a place is best known for pork, don't order the vegan dish.
Sweet Chick. 448 N Fairfax, Los Angeles.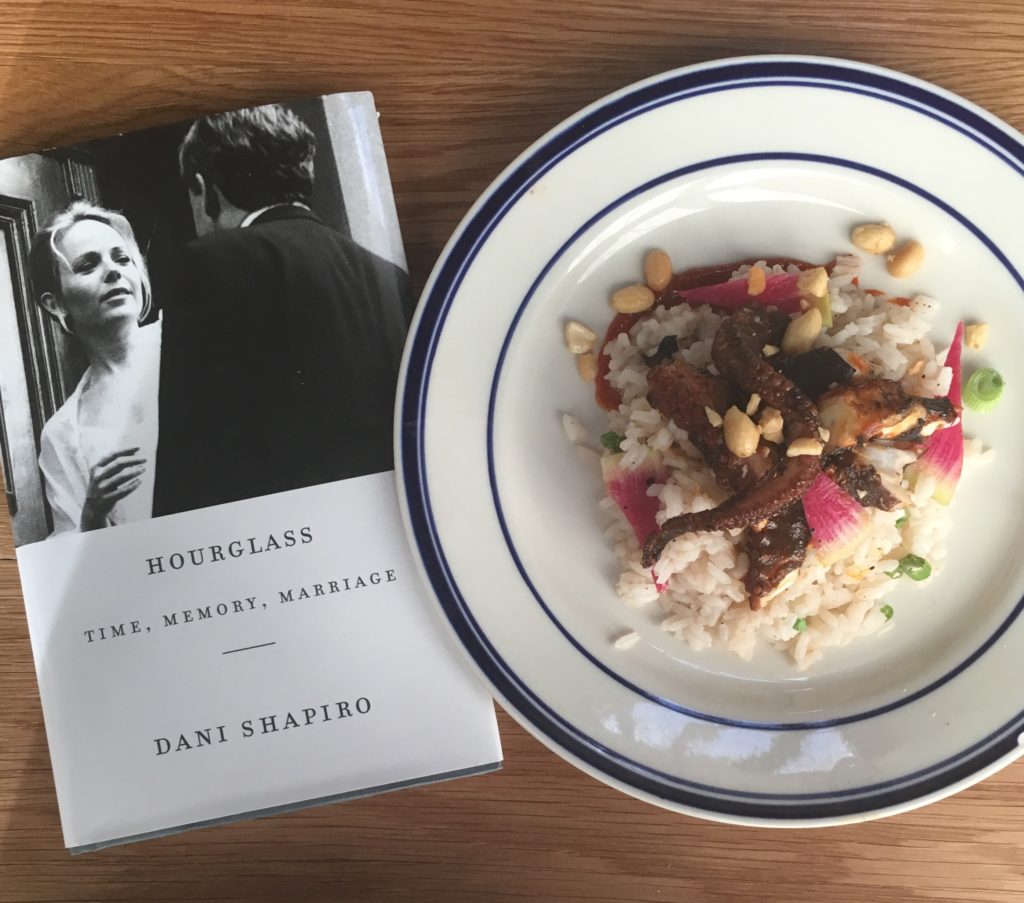 This contemporary southern comfort food place is known for fried chicken and waffles — so of course that's not what I got. Why be normal? Also, I just really don't digest gluten well, and fried chicken often tastes to me too — fried. This time though, my meal worked out well! The Grilled Octopus — with gochujang BBQ, peanuts, and lime radish on Charleston Gold rice — was warm and comforting and delicious with savory spicy tang.
Keep in mind that in the afternoons, Sweet Chick serves ONLY chicken and waffles; the full menu is available only at mealtimes. But at any time, you can enjoy the hip hop on the speakers and the full cocktail menu —
___
Maybe I'll revisit the New York locations of these restaurants and see how they compare while I'm on the east coast! And when I come back, I'll try some of the more formal NY-in-LA restaurants that have also opened up in the last year:
* Beauty & Essex. New American.
* Tao. Pan-Asian.
* Rao's. Southern Neapolitan Italian.
* Serafina Sunset. Casual Italian, with a focus on thin crust pizza.
Been to these yet? Let me know your recommendations in the comments.