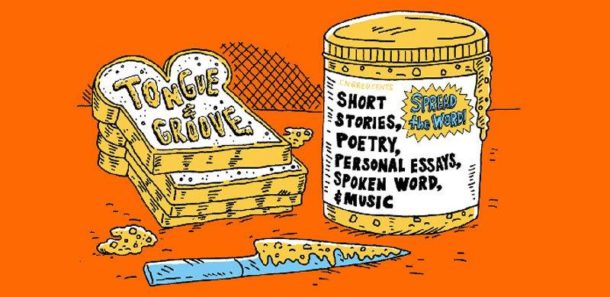 Literary readings often happen in makeshift spaces: classrooms, coffee shops, someone's tiny studio apartment. But one Los Angeles reading series — Tongue & Groove — puts writers on a famous spot: The main stage at Hotel Cafe.
Hotel Cafe's known as an intimate performance space for musicians in Hollywood — but Tongue & Groove takes over the venue one Sunday a month, each evening event featuring a handful of writers reading fiction, poetry, personal essays, and spoken word.
Organized by Conrad Romo, this reading series is now in its 13 year. Attendees queue up at Hollywood and Cahuenga, pay the $7 cover, then enter the darkened space to buy drinks and chat before sitting down at one of the tables or couches to take in the show. In keeping with the spirit of the place, a musical act also performs.
The next Tongue & Groove event happens this Sunday, Dec. 18 at 6:30 — and I hope you can make it because I'll be reading — alongside Bonnie Johnson and Samantha Emily Evans. See you there —
Tongue & Groove. One Sunday a month, 6 pm at Hotel Cafe, 1623 N Cahuenga Blvd., Los Angeles. Cost: $7.
Earlier: Roar Shack: A Monthly Echo Park reading series with music and a Livewrite