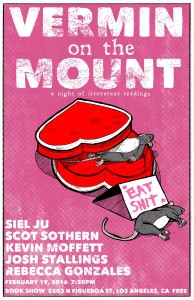 A reading series should surprise you, challenge you, entertain you — maybe sometimes even offend you. And the Vermin on the Mount series has been doing that in SoCal for 12 years now, thanks to the series host Jim Ruland!
In celebration of the series' 12th anniversary, I wrote my first story for Literary Hub: "The Reading Series that Wants Writers to Feel Like Rock Stars: Vermin on the Mount does things a little differently."
Click over to find out all about the series: Its punk rock beginnings at a noir-ish bar in Chinatown, its expansion to San Diego, its embrace of the strange, the mundane, the controversial. Literary luminaries like Amelia Gray, Jami Attenberg, and Scott O'Connor all enthuse about what Vermin on the Mount did for their writing careers.
I too got to read for Vermin a while back — and love being an attendee too. Events happen every two to three months; watch the Vermin website to find out about the next one. See you there —
Vermin on the Mount reading series. Once every two to three months in Los Angeles (Book Show, 5503 N. Figueroa St.) and San Diego (3rdSpace, 4610 Park Blvd.).
Earlier:
Roar Shack: A Monthly Echo Park reading series with music and a Livewrite
Book Show: A Carnivalesque bookstore in Highland Park