Cake Time, a novel-in-stories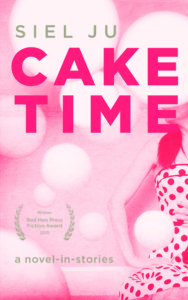 IndieBound | Amazon | Barnes & Noble
Book club discussion questions for Cake Time
"A promising start for a brave and unapologetically bold new writer."
— Kirkus (starred review)
"Cake Time is a delicious indulgence. Treat yourself to its dark, seductive intimacies and savor the gritty sugar of its unsentimental humor."
— Jillian Lauren, NY Times bestselling author of Some Girls: My Life in a Harem, and Everything You Ever Wanted
More about Cake Time
____
Might Club, poetry chapbook
Feelings are Chemicals in Transit, poetry chapbook
____
A Guide to Literary Los Angeles, a free eBook
In this free guide, I've put together the resources to help you find the kind of community that will support and sustain your writing over the long term.
You'll find out about —
literary reading series that highlight local writers — and want to feature new voices (like yours!).
creative writing workshops and classes you can afford on any budget.
local journals and presses eager to read your work.
meetups to keep you company while you write your masterpiece.
— and much, much more.