Every year we see articles bemoaning the dearth of women writers — on award lists, bestseller lists, magazine bylines, and more. But feminist lit groups are working to change that! Here are five moving things forward to get involved with:
Bindercon. Described as "the conference and community for women and gender noncoforming writers," Bindercon hosts two conferences a year — one in NYC, one in Los Angeles. The two-day events are full of keynotes and panels, tackling everything from basic writing advice (how to pitch articles) to larger political issues (writing about reproductive rights and justice).
I moderated a panel on creating a writing community at Bindercon LA earlier this year, and loved taking part in the exciting and warm conference. The next conference happens in NYC Oct. 29-30, and is currently seeking volunteers!
VIDA: Women in Literary Arts. This feminist nonprofit's best known for its annual VIDA count, a report that studies who's getting published in literary journals and whose books are getting reviewed — then crunches the numbers to give us some concrete stats showing current gender imbalances in publishing.
The group's larger mission is to draw attention to literary gender disparities — and to address them by amplifying marginalized voices. VIDA has a nice list of resources for women writers — including a list of women-run presses.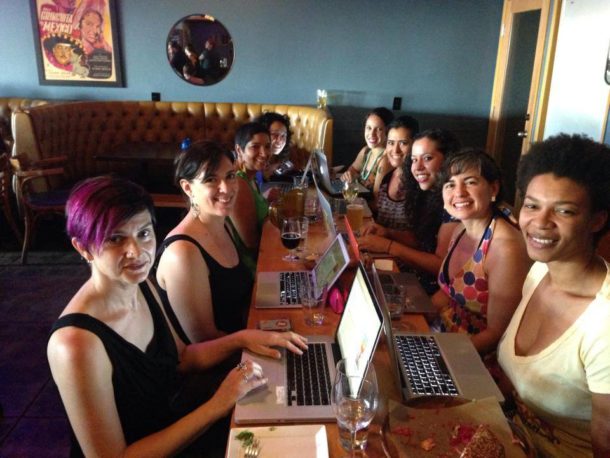 Women Who Submit.. This action-oriented group was actually inspired into existence by the VIDA count! The founders of WWS saw the lackluster numbers in the count — then decided to change them — by getting more women to submit more often to literary publications!
To that end, WWS hosts "submission parties" — where women congregate with their labtops at a local bar or member home and submit their creative work for a few hours, all while cheering each other on. Events happen around the country! The next LA submission party happens Oct. 8 — and I'll be speaking there, pre-submission blitz, about how to find a literary agent. More details soon — Hope to see you!
Hedgebrook. For women who seek a room of their own, Hedgebrook offers writing residencies on Whidbey Island, near Seattle. This feminist organization basically offers selected residents a free space to live and write!
Hedgebrook also hosts other events and workshops, its goal being "Equality for women's voices to achieve a just and peaceful world." The next application deadline for residencies is in July 2017. Earlier. 5 things to look for in a writing residency and My Writing Residency at the Anderson Center.
Money for Women. Known also as the Barbara Deming Memorial Fund, Money for Women basically awards writing grants to women writers and artists. The grants range from $500 to $1500, and are intended to help women artists finish works in progress. Applications are due each year in January.
____
Know of other great literary resources for women? Share them in the comments —
Photo courtesy of Kenji Liu / Women Who Submit