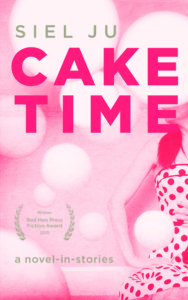 *** Winner selected! Congratulations to John in Quincy, Mass! ***
This month's giveaway is my own book! After many years of wanting and waiting, I'm beyond excited and grateful that Cake Time is finally coming into the world on April 6, 2017.
When people ask what my book is about, I say this: Cake Time is about a smart girl who makes risky choices about men and sex in Los Angeles.
Here's a longer description:
Daring yet aimless, smart but slightly strange, Cake Time's young female protagonist keeps making slippery choices, sliding into the dangerous space where curiosity melds with fear and desires turn into dirty messes.

In "How Not to Have an Abortion," the teenaged narrator looks for a ride from the clinic between her AP exams. In "Easy Target," the now-college-grad agrees to go to a swingers party with a handsome stranger. A decade later, in "Glow," she is suddenly confronted by the disturbing and thrilling fact of her lover's secret daughter.

Ultimately, Cake Time grapples with urgent, timeless questions: why intelligent girls make terrible choices, where to negotiate a private self in an increasingly public world, and how to love madly without losing a sense of self.
Get a copy of now, or sign up with your email below to be entered to win a free copy! Already signed up for my newsletter? Then you're already entered!
Enter your email below for a chance to win a free copy of Cake Time. Already signed up for my newsletter? Then you're already entered! US addresses only; giveaway ends April 30 at 11:59 pm.

____
You can also enter to win one of 15 copies on Goodreads — so technically, you have 16 chances to win this book!
And I hope you'll join me at my book launch, happening at Skylight Books in Los Angeles on April 5 at 7:30. If you can't make it there, catch me on book tour —