*** Winners selected! Congratulations to Evann in Lake Tapps, Wash., and Simone in Bloomfield, N.J.! ***
"My father proposed to my mother at gunpoint when she was nineteen, and knowing that she was already pregnant with a dead man's child, she accepted."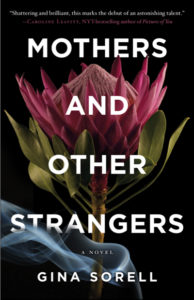 How can you read that first sentence and not read on? This tiny tidbit of Gina Sorell's debut novel Mothers and Other Strangers gripped me when I first read it nine months ago and kept me in anticipation until the book finally came out in May — after which I devoured it in two days!
The story follows Elsie, a thirty-something woman in Los Angeles who learns her estranged mother — a beautiful, self-absorbed, and secretive parent — has died. So Elsie goes on a journey to discover the true story of her mother — a story that takes her all over the world, from Los Angeles to Toronto to Paris to Cape Town.
This novel was especially poignant for me because I grew up in three different continents too — and am estranged from my mother. The similarities between my life and Elsie's end there though. What I found most compelling in Mothers and Other Strangers is the complex tension of emotions Elsie has about her mother: A mother who tells fabulous stories of her past, not a word of which may be true. A mother whose glamour and beauty Elsie craves, but hates constantly competing against. A mother whose approval Elsie desperately seeks, yet whose cold narcissism Elsie finds repellent.
But Mothers and Other Strangers covers much more ground than just the mother-daughter relationship, touching on everything from the financially predatory nature of spiritual cults (the mother belonged to one) to the punishing demands of creative ambition (Elsie is a dancer). Part psychological thriller, part coming-of-age story, and part redemption narrative, the book does sometimes feel like it's trying to do too many things as it meanders into a whole range of varied hot topics — eating disorders, fertility treatments, rape, mental illness, Jewish identity, you name it — before suddenly coming to the end with a hurried wrapup. Still, the energy of the plot and the ambitious scope of the story made this novel a real page-turner.
I'm excited to be partnering with Prospect Park Books to give away TWO copies of Mothers and Other Strangers to my readers! All current email subscribers will be automatically entered to win one copy. Subscribe now if you're not yet getting my occasional newsletters.
For a second chance to win, comment on this post below with your mother's name. The giveaway closes August 31, 2017 at 11:59 pm PST.
Come back mid-month to read a Five Firsts interview with Gina Sorell.