Picky writers can't just go to any coffee shop. We need good working spaces with comfy chairs and tables. We need decent wifi and electric outlets for our laptops. We (or at least I) need good reading light. And we like to be able to hang for a few hours without feeling like we're overstaying our welcome.
Which is to say — I'm really putting together this best coffee shops list for me.
I often find myself stuck in a part of town I don't know very well — usually before or after some event — because I don't want to drive home until after rush hour ends. Now (or more accurately, soon, when I finish this 5-part guide covering most L.A. neighborhoods), whatever area of Los Angeles I happen to be in, I know where I can stop to read or get some writing done while I wait for traffic to clear.
More:
* Best coffee shops for writers in Los Angeles: Central LA
* Best coffee shops for writers in Los Angeles: The Valley
* Best coffee shops for writers in Los Angeles: Northeast LA
___
Santa Monica: Funnel Mill. 930 Broadway, Ste A., Santa Monica.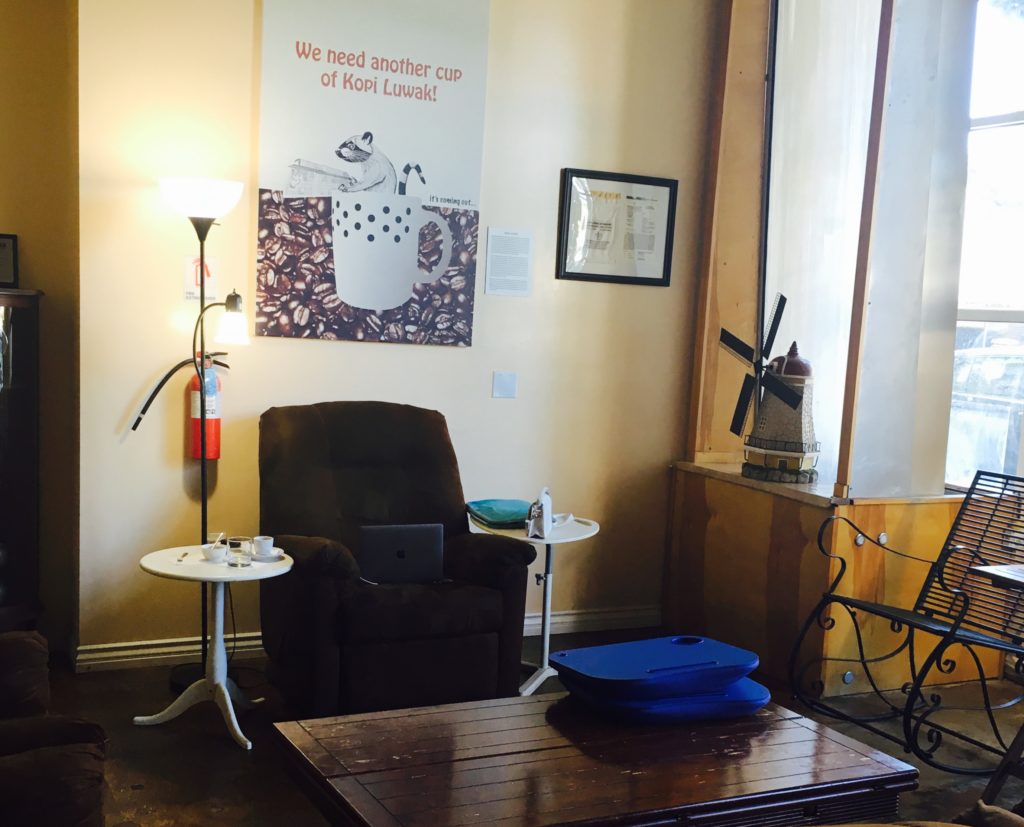 If you're into rare, exotic coffees — like the kind made from beans pooped out by little animals — you'll find what you're looking for here. I'm more of a plain soy latte type — so I go here for the comfy couches and relaxed atmosphere. Sadly this places closes at six on weekdays and opens not at all on Sundays. Still, during business hours, it's a great place to get a lot of work done.
Sawtelle: Balconi Coffee. 11301 W. Olympic Blvd., #124 Los Angeles.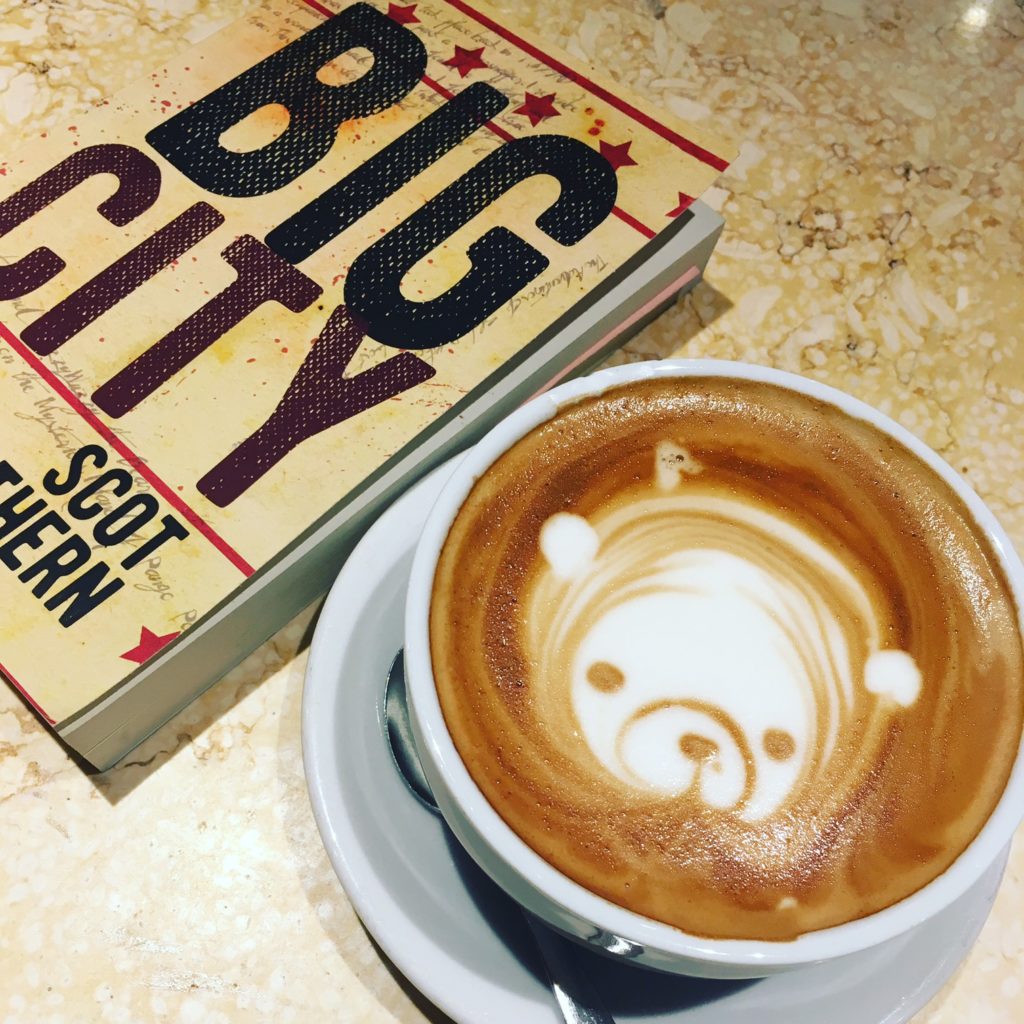 I probably spend more time here than any other coffee shop, because it's my favorite spot I can walk to. Plus they make great espresso drinks with cute latte art. Their almond essence latte is a favorite with the regulars. Coffee snobs can try out unique beans brewed via that bubbly siphon method. Some caveats: The wifi is spotty, and the bathroom is like a block away and literally requires a map to find.
Brentwood: Coral Tree Cafe. 11645 San Vicente Blvd., Los Angeles.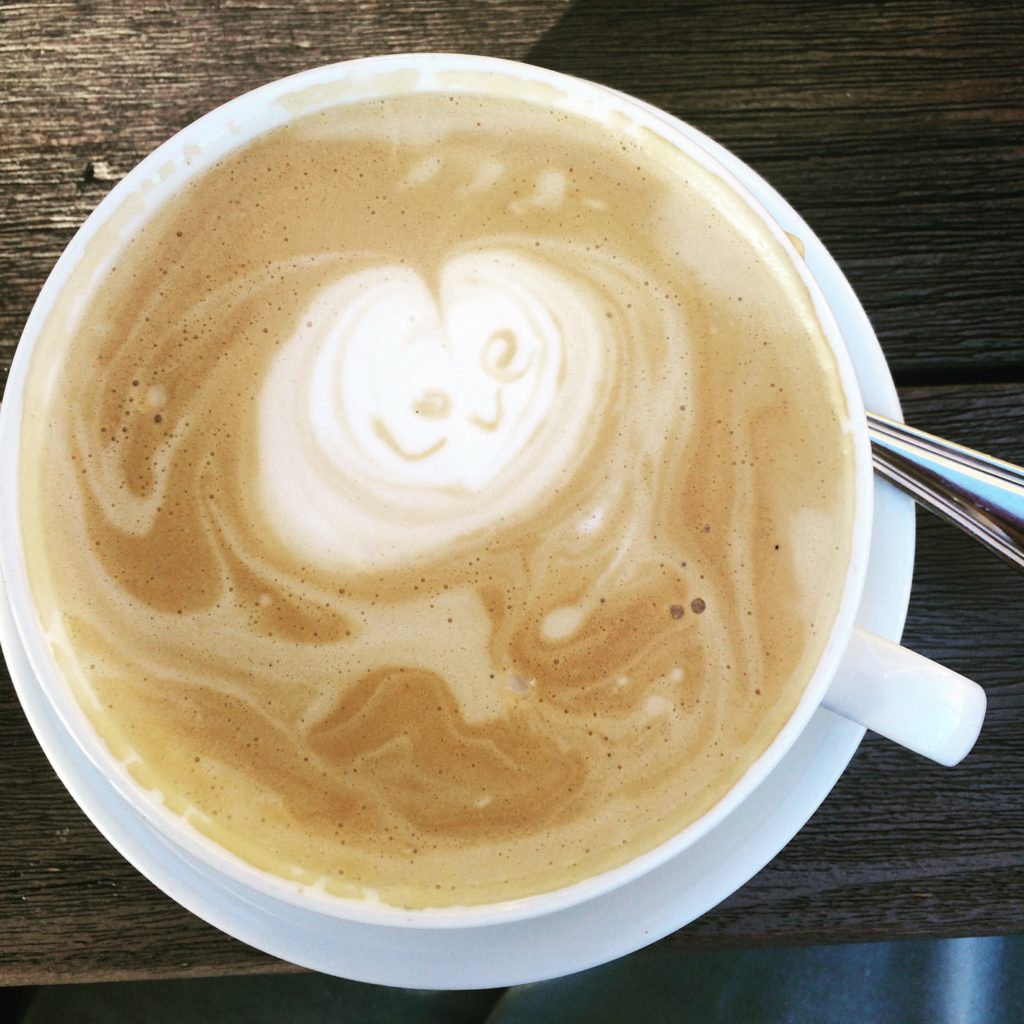 This coffee shop has a full, mostly organic menu along with coffee drinks, juices, and wine, so if you like to eat while you work, try it out. Another bonus: The place is open until 10 pm! The downside: Parking is a bitch in this area. The cafe a small valet lot in the back for $3.50, but I don't recommend it. These days, I just take a long walk to get there —
Venice: Intelligentsia. 1331 Abbot Kinney Blvd., Los Angeles.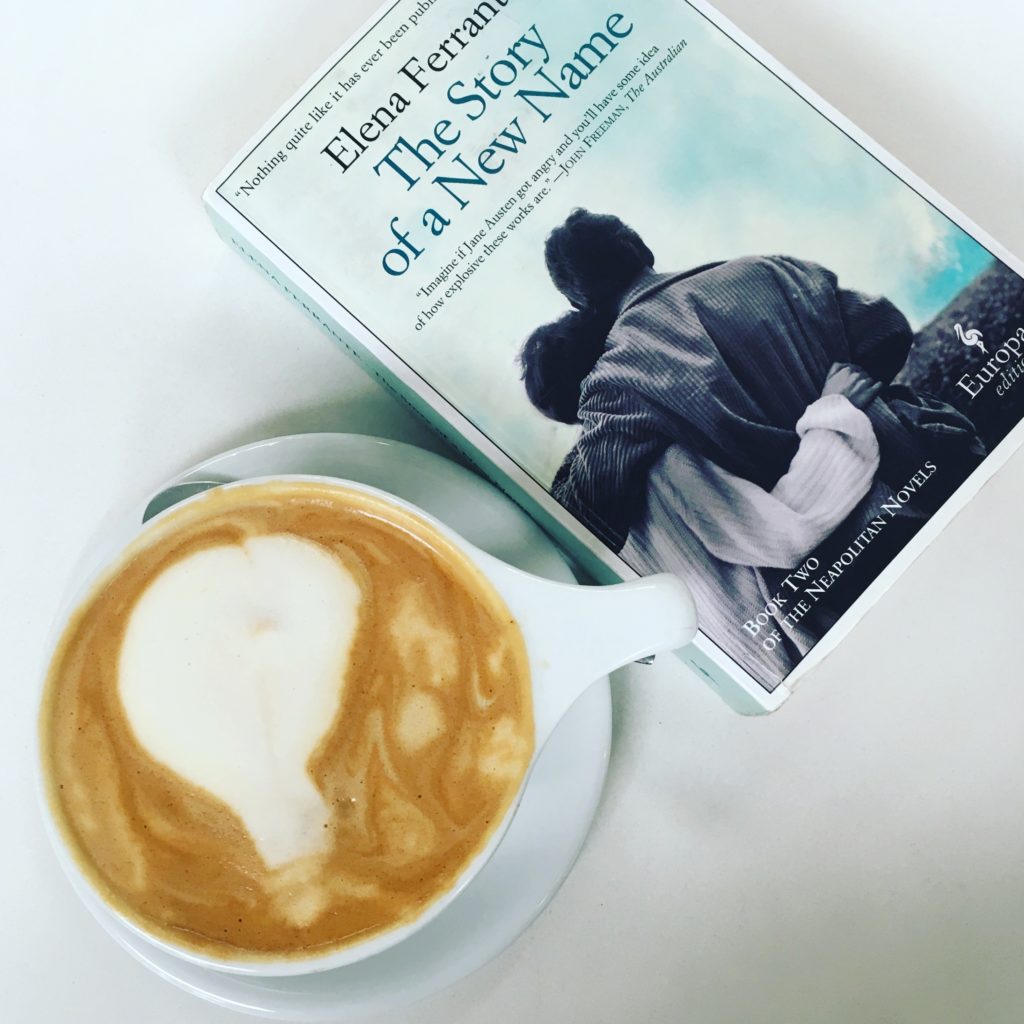 This place makes hands down the best soy latte in L.A., IMHO, the deformed heart latte art on the one above not withstanding. I don't know how they make them so creamy, but they do. The clean, industrial warehouse styled place always has a line out the door and lines of Macbooks on its rows of seats.
Venice: Deus Cafe. 1001 Venice Blvd. Venice.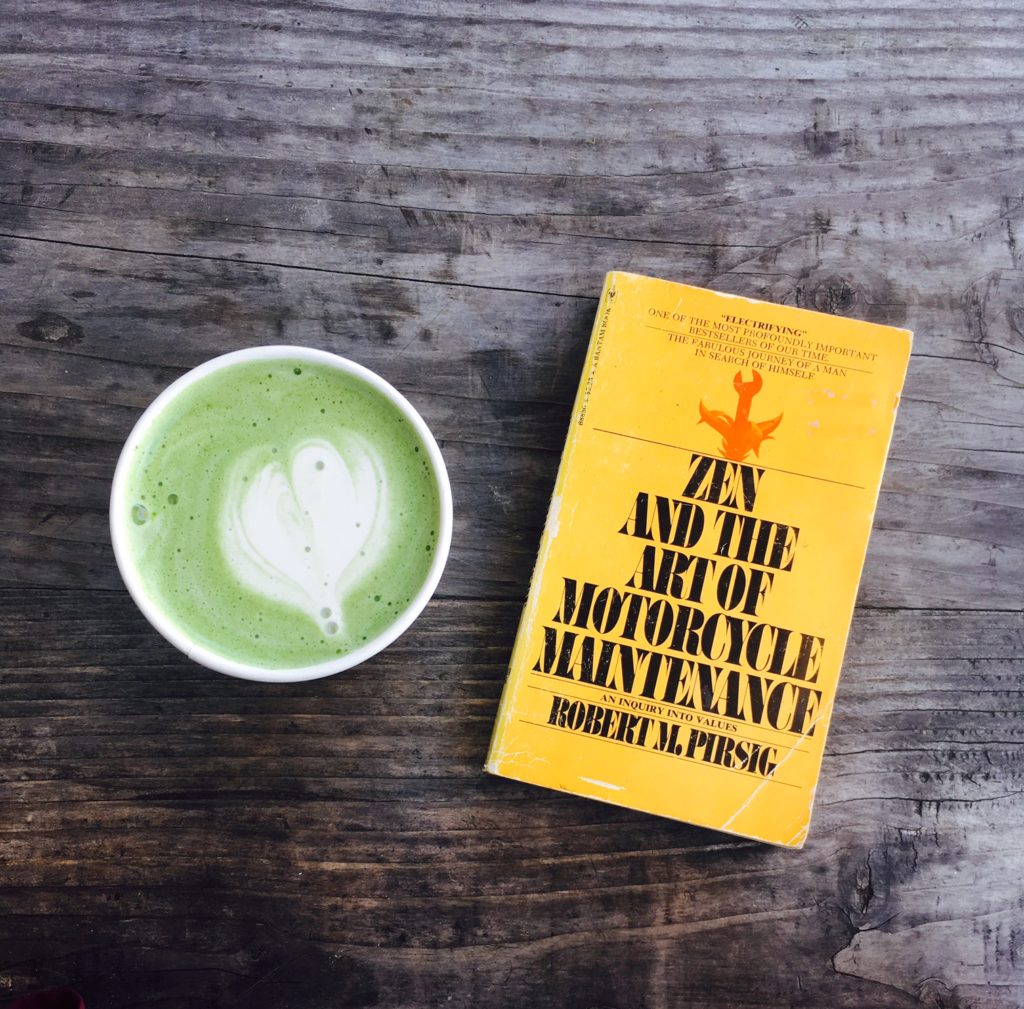 I've already written about how this motorcycle-coffee-shop is the best place to read Zen and the Art of Motorcycle Maintenance! Caffeinate, read, and chat with friends and strangers at the cafe's communal tables. It's a lovely spot with both a sunny courtyard and an airy indoor space, decorated with flowers and succulents. FYI: This place does not offer decaf.
West LA: Literati Cafe. 12081 Wilshire Blvd., Los Angeles.
The coffee and food is just okay here — but this place is open until 9 pm, offers good wifi, and has a full menu including coffee, juice, and wine — making it a great place to meet up with friends for a writing date or book club. My friends Beth and Nitika and I used to meet here weekly to write until Beth moved to Brooklyn — We miss you Beth!
Culver City: Bar Nine. 3515 Helms Ave, Culver City.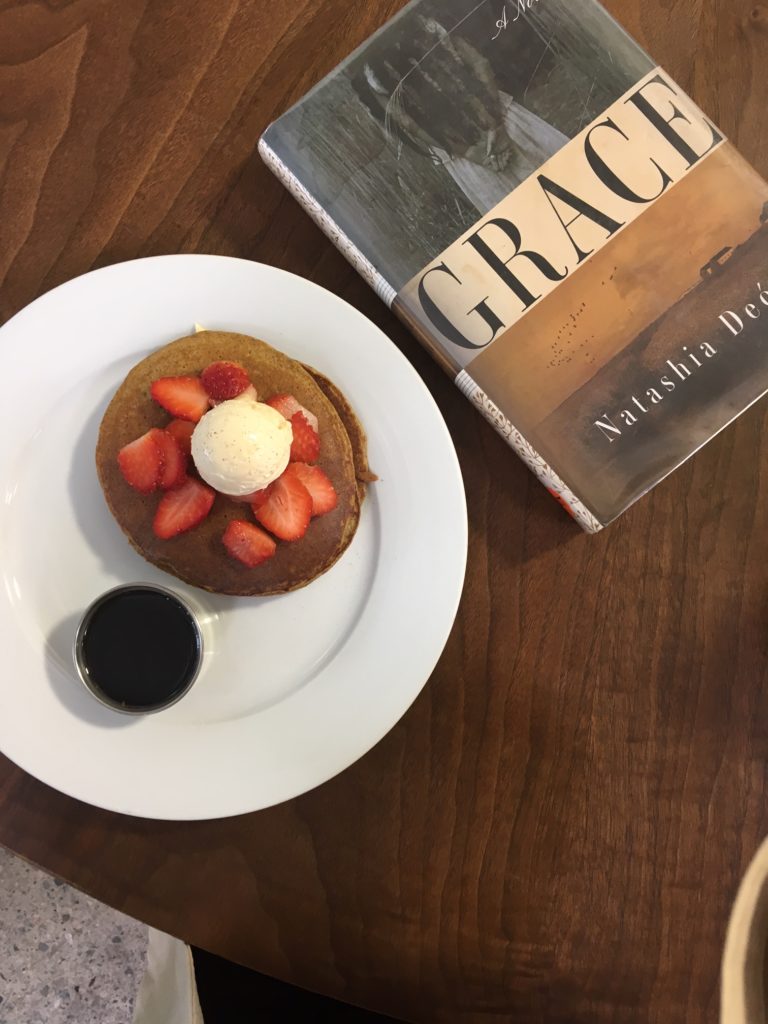 This big spare space serves good coffee with paleo pancakes and other good eats. There's wifi and communal tables and friendly people. You might end up getting into conversations with strangers instead of getting work done — but that's the fun part of going to a coffee shop —
Mar Vista: Coffee Connection. 3838 S Centinela Ave.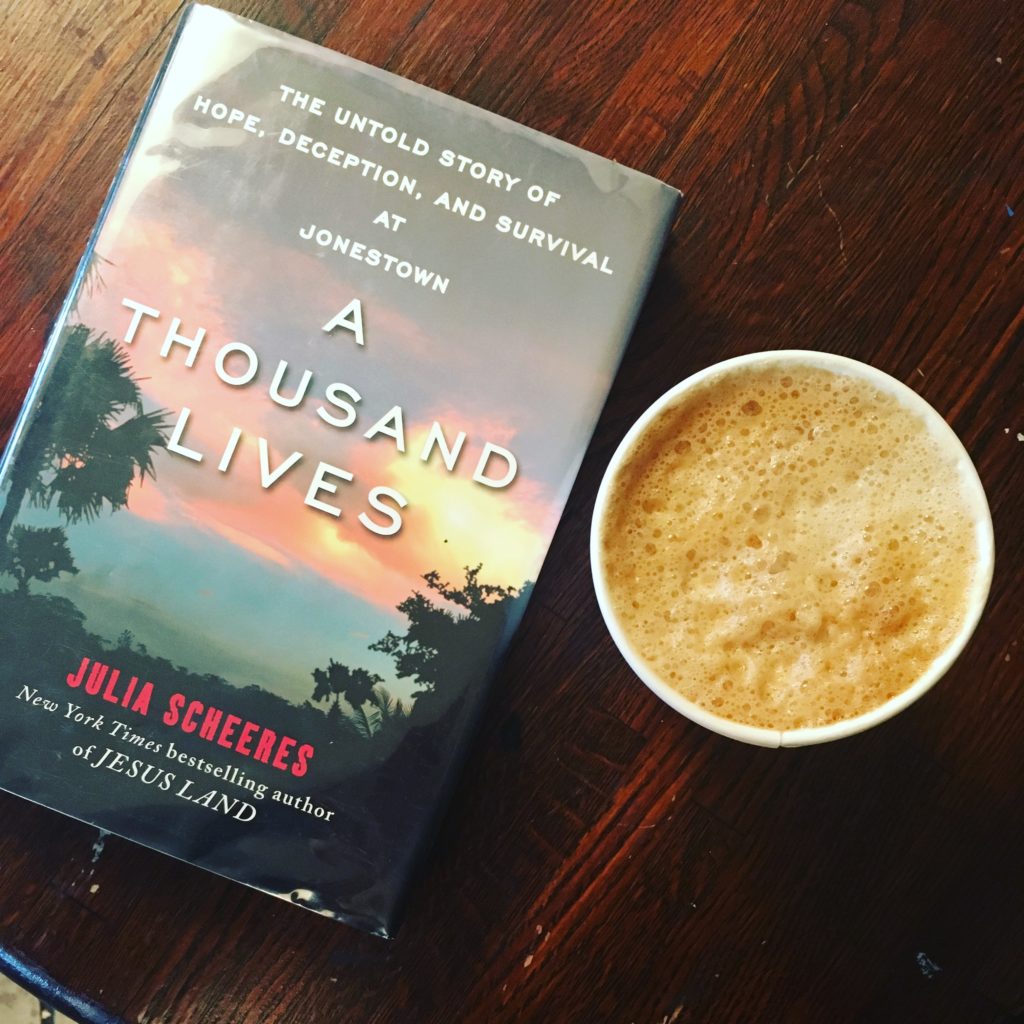 This gigantic coffee shop is, I think, part of a church — judging by the fact that patrons are allowed to use the church parking lot and that the spot is closed on Sundays — but I like this place despite my devout atheism! They have fair trade coffee, gluten free snacks, and tons of inside and outside seating of all varieties. The people who work here are really nice — though their latte art game is not strong.
Earlier:
* Bulletproof Coffee: Best coffee shop in Los Angeles for writers who love butter
* 7 Best public libraries in Los Angeles for writers
* 3 Los Angeles writing meetups where you can write in company