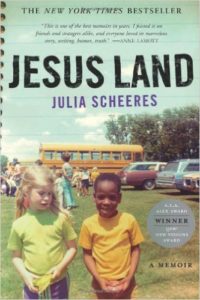 *** Winner selected! Congratulations to Daniel in Murray, KY ***
What's it like growing up white — with an adopted black brother — in 1980s rural Indiana? Tough — and much, much tougher if the two of you are not only taunted by racist peers at school but abused and neglected by your religious, punitive parents at home.
In her searing memoir Jesus Land, Julia Sheeres tells the story of her and her brother David in painful and riveting detail. The kids try to fend for themselves while caring for each other in an increasingly turbulent environment — enduring physical and sexual abuse — until they're sent to a religious reform school in the Dominican Republic. There, the siblings are disciplined with draconian rules that shame and isolate and silence students, subjugating them into obedience.
Raised by religious parents myself, reading Jesus Land was a cathartic experience for me. It's a fascinating and disturbingly close look at key social issues that still plague us today: racism, sexual assault, and child abuse carried out in the name of god, both in the quiet secrecy of family homes and the formalized settings of religious institutions.
Get a copy of Jesus Land now, or sign up with your email below to be entered to win a free copy! Already signed up for my newsletter? Then you're already entered!
*** This giveaway is now closed, but join my email list to be entered into future giveaways! ***
Come back mid-month to read a Five Firsts interview with Julia Scheeres.