Every month, I interview an author I admire on his literary firsts.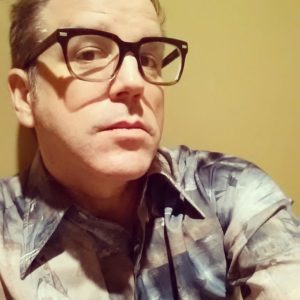 July's featured author is Kevin Sampsell, author of This Is Between Us, his first novel, as well as the memoir A Common Pornography and the short story collection Creamy Bullets. He's also the man behind the indie press Future Tense Books and bookseller at Powell's Books.
In this interview Kevin talks about his varied publishing experiences (from self-publishing to tiny indie presses to a big five publisher), his favorite cover art, and his long path to feeling legitimized as a writer.
Sign up with your email in the right sidebar to get notified of future interviews — and to be entered to win a copy of Kevin's novel!
____
Siel: Both your memoir A Common Pornography and your first novel This is Between Us are written in snippet form, giving us little snapshots that collage together to form a bigger, fractured narrative. What draws you to this form?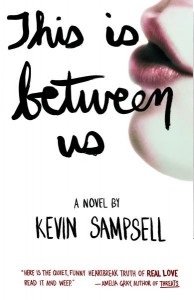 I think it comes from my early days of writing poetry and then moving on to flash fiction and short stories. I'm a self-taught writer and I think I have a short attention span, so that probably factors in too.
When I wrote the first parts of A Common Pornography, it was basically an experiment in remembering things and when you're dealing with memories, there's only so much you can remember before it becomes blurry and mysterious. I figured out–probably accidentally–that the mysterious stuff can work in a way that invites the reader to engage in the story and relate to it in a new way.
With the novel, I was basically shaping these short chapters–or scenes–in a similar way. The brevity hopefully adds a mystery and power to the book as a whole. No one thinks short poems are less powerful than long ones. I took comfort in thinking that the way I write short prose wasn't too far off from how I'd write a poem. And poems can really resonate. I read a book of linked poems, like Sharon Olds' Stag's Leap, and it's like reading a really complete memoir overflowing with emotions, scenes, and disturbances. A story about a life or a story about a relationship is made up of small details and scenes. It's hardly ever just one big plot.
Though you're better known for these two latest books, I think you mentioned (when we met in Portland in January) that early on in your career, you first self-published books of poetry. What advice do you have for young writers considering going this route?
Half the time, I didn't really know what I was doing with my early stuff (both writing it and publishing it). My naivety was probably one of my best qualities. It allowed me to learn how to write and what to write. But one of the main things I did was I went out and read everywhere–open mics, poetry slams, cafes, bars, house shows. I became part of a community, even before the Internet was a thing. I think I'm lucky that I did a lot of crazy stuff with my writing and publishing experiments in the 90s, because people were so excited about it and no one was jaded or overwhelmed yet.
So I guess that would be my advice. Don't be jaded, don't be judgmental, read a lot, let yourself be influenced and blend stuff together if you want. Don't compare yourself to other writers. Talk about your life. Make your life interesting.
Oh, and make your cover art nice.
On top of your early self-published works, you have three books out with three very different publishers (Harper Perennial, Tin House, Chiasmus). I realize this is a big question, but could you talk a bit about your varied experiences with your book launches, ranging from working with a big five publisher to a tiny indie press to just yourself? What was great about each, and what was challenging?
The degrees of visibility are the main difference. When you're coming from small presses like Word Riot, Chiasmus, and doing the self-publishing thing, you really have to work and self-promote more, which is uncomfortable for some people.
You may notice that a lot of writers who come from the small press world and move onto bigger presses are people who are good at connecting to readers and know how to talk about their writing in a way that promotes their work to a larger group of readers. A lot of bigger presses these days appreciate that and look for authors who already have a growing following or "platform" or whatever buzzword they're using now.
In some ways, bigger presses have learned from small presses and even self-published authors and they're figuring out ways to sell their books that they haven't done before. I feel like it was only ten years ago when a friend told me she had to really urge her major press to use social media more to promote her books. It seems obvious to do that now but that's a good example of traditional publishers maybe being too stuck in tradition.
My experience with bigger presses has been good though too. It's just a bigger stage and a different level of respect. It's a little silly but being published by HarperCollins made people take me more seriously and that made me feel more legitimized–when that book (A Common Pornography) came out I felt like I was a real author finally, twenty years after I started publishing.
Sorry if this answer is a bit rambling, but another thing I want to say is that working with small presses has so many benefits too, even if you only get paid in copies of your book. For one thing there is a sense of family when you work with a small press. I'm friends with so many Tin House authors and editors and that's been such an enriching part of my life. And running Future Tense is like that too–a big, extended family.
In addition to being a writer, you're also well-known in the literary community as an editor, publisher, and bookseller at Powell's. What advice would you give newbie writers in search of their own literary communities?
I touched on this in my other answers, I think. Go out to readings. Talk to the writers you like. Support others. Read a lot. Surround yourself with books and literary culture! Maybe start a blog or something where you talk about reading and writing. Self-publish something if you have to. Don't be afraid to experiment. DIY and don't die! Find people who believe in you.
Of all your books, which has your favorite cover, and why?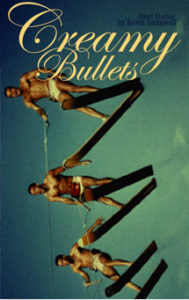 This is a fun question. For my own books, I actually really like the cover for Creamy Bullets. It just seems very funny and odd and mildly homo-erotic. Those skiing guys flying through the air are a nice image for that goofy book title. My friend, Pete McCracken, designed it.
For the Future Tense books, I love all the covers that my designer Bryan Coffelt does, but I think the most effective one has been Wendy C. Ortiz's Excavation. It's so spare, yet direct. It captures the mood and the turmoil of the book. The look on Wendy's face with that vast blue-green sky behind her. It's amazing.
____
Purchase a copy of This Is Between Us now, or enter to win one by signing up for my newsletter to the right. Already signed up? Then you're already entered!