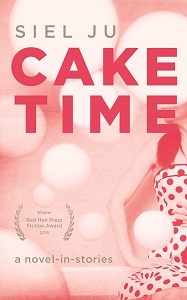 So usually I post a monthly interview with an author I admire whose book I'm giving away.
But since I'm giving away my own Cake Time this month to celebrate its publication, I'll take this opportunity to link to interviews with me in other places and hope that you won't think that's too narcissistic!
These are both amazing lit zines that deserve your time and attention. Thank you to the interviewers for featuring me and my work —
__
Michelle Ross at Fiction Writers Review: This sensation of watching one's life from outside the self, like it's a theatrical performance, is a running theme in your book. And I think it's a sensation to which we can all relate to some extent or another. Would you talk a little bit about this in terms of your novel as a whole? Why does this topic interest you?
Me: …. I think it's because this sense of watching one's life from outside the self seems very self-effacing — in a I-cannot-bear-to-be-truly-present-for-this-experience-type manner–yet simultaneously, very self-indulgent — in a I-like-to-spend-my-time-watching-film-clips-of-myself kind of way. It's both an erasure of the self and an obsession with the self.
More at Fiction Writers Review.
__
Shilpa Argawal at Angels Flight • literary west: The book has a voyeuristic feel; you invite us into very intimate moments, and you don't sugarcoat them. You write, "I started really watching him, hard. And as I bore my eyes into him, I could sense a shift in him, too … I was frightening him." Sexual encounters fade into a parody of themselves. Characters shift under the unflinching gaze of the protagonist, who misses nothing. Would you say this is the point of view of the book?
Me: I love this question — it really points to the voyeuristic experience of reading for me, this desire as a reader to watch the characters go through the experiences of a story and feel a part of that experience by proxy. It makes me wonder if living is all that different from reading, especially when both modes can evoke the exact same thoughts and emotions.
More at AFLW, where you can also read "The Robertson Case," a story from Cake Time.
___
I'm currently in Portland on book tour — and will be at Powell's on Hawthorne tonight, chatting with Kevin Sampsell! Then it's off to Belligham, Seattle, after which I return to LA for more events. I hope to see you at one of them — Please come say hello!