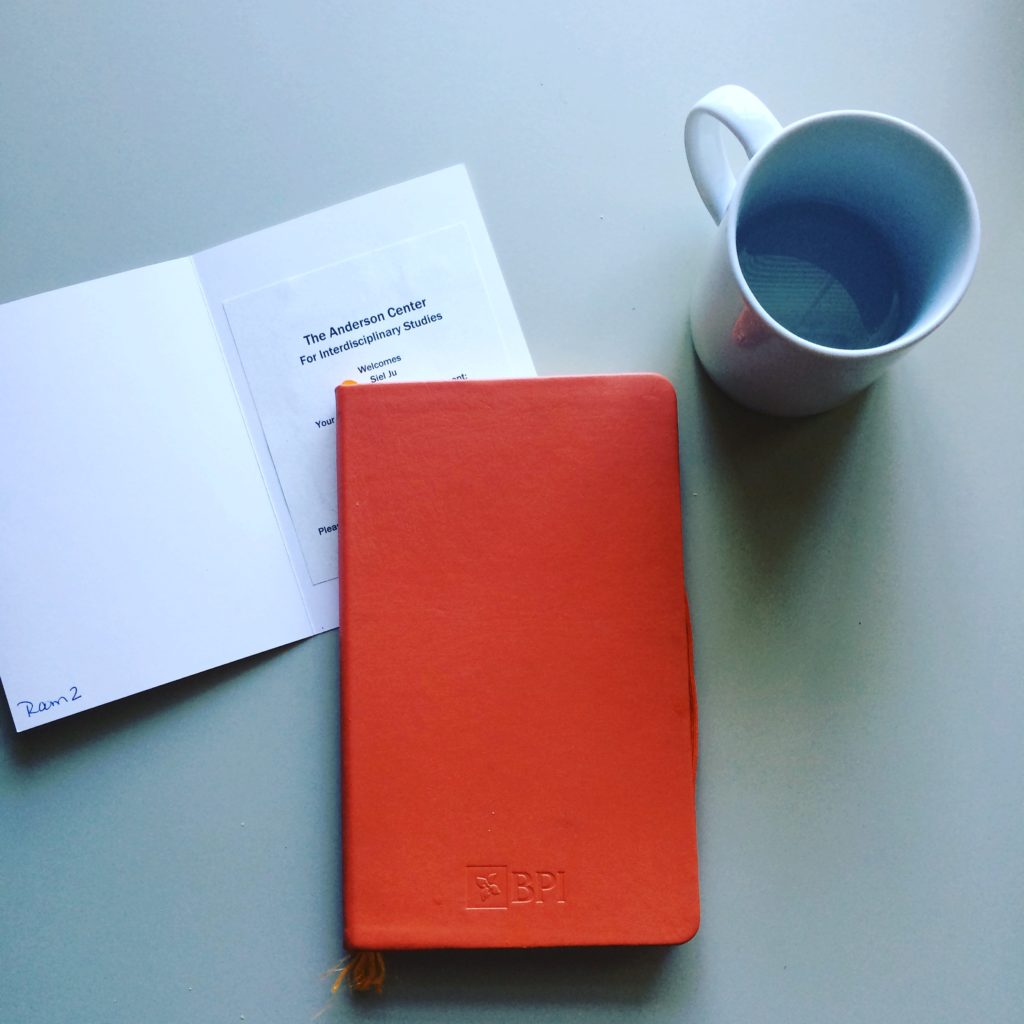 Why voluntarily spend a month of her summer in a tiny town in the midwest? To write, is the short answer. My month-long writing residency at the Anderson Center at Tower View is coming to a close — so here's a post about what I did, what I loved, and what I got out of the whole experience.
First, the basics: The Anderson Center hosts five artists and writers at a time in a big, historic house in Red Wing, Minn. I flew in to Minneapolis on July 1, where a nice driver rounded up me and two other residents and whisked us off to the Center. There, I was introduced to my cute little bedroom —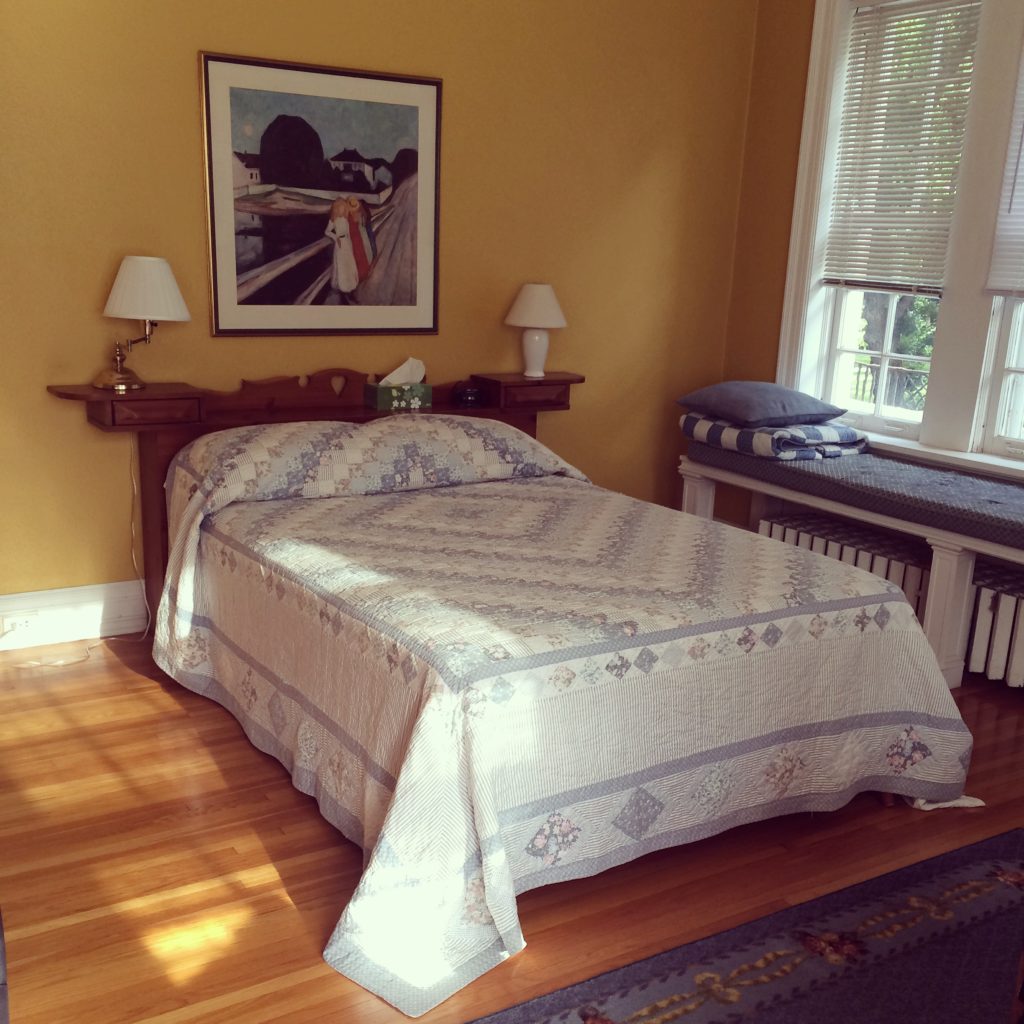 — then invited down to a dinner made by Chef Britton of Le Chien Bleu! He made us nice dinners each weeknight, modifying the menu to accommodate everyone's diets (There was a vegetarian, a pescatarian, and the lactose-intolerant me). Below's a sample evening menu: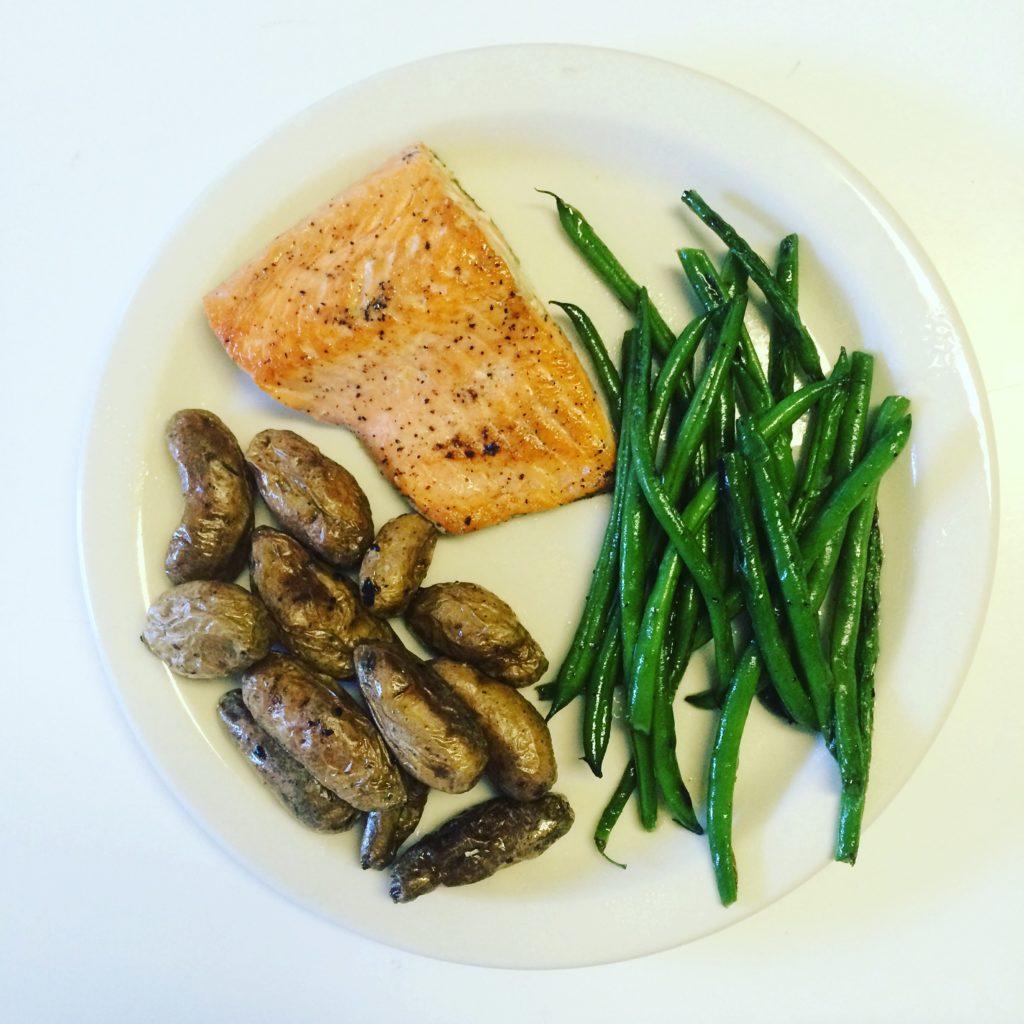 He also brought us groceries we requested to make our own breakfasts and lunches and weekend dinners. I got really into chia bowls and started obsessively instagramming them: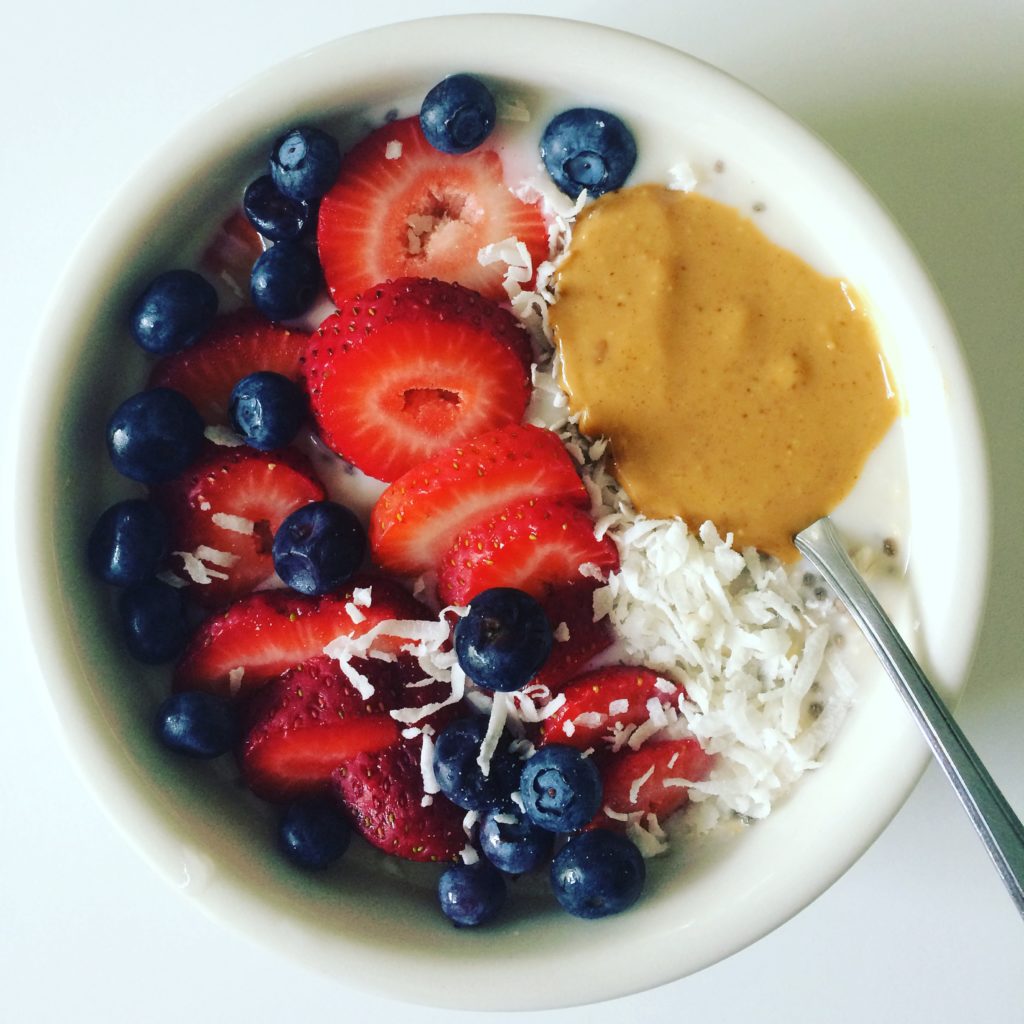 There are a lot of little amenities here. A housekeeper cleans the bedrooms — and the whole three-story historic house, really — every Friday. Visual artists get studios to work in; writers can pick from any of the three libraries in the house, like this one: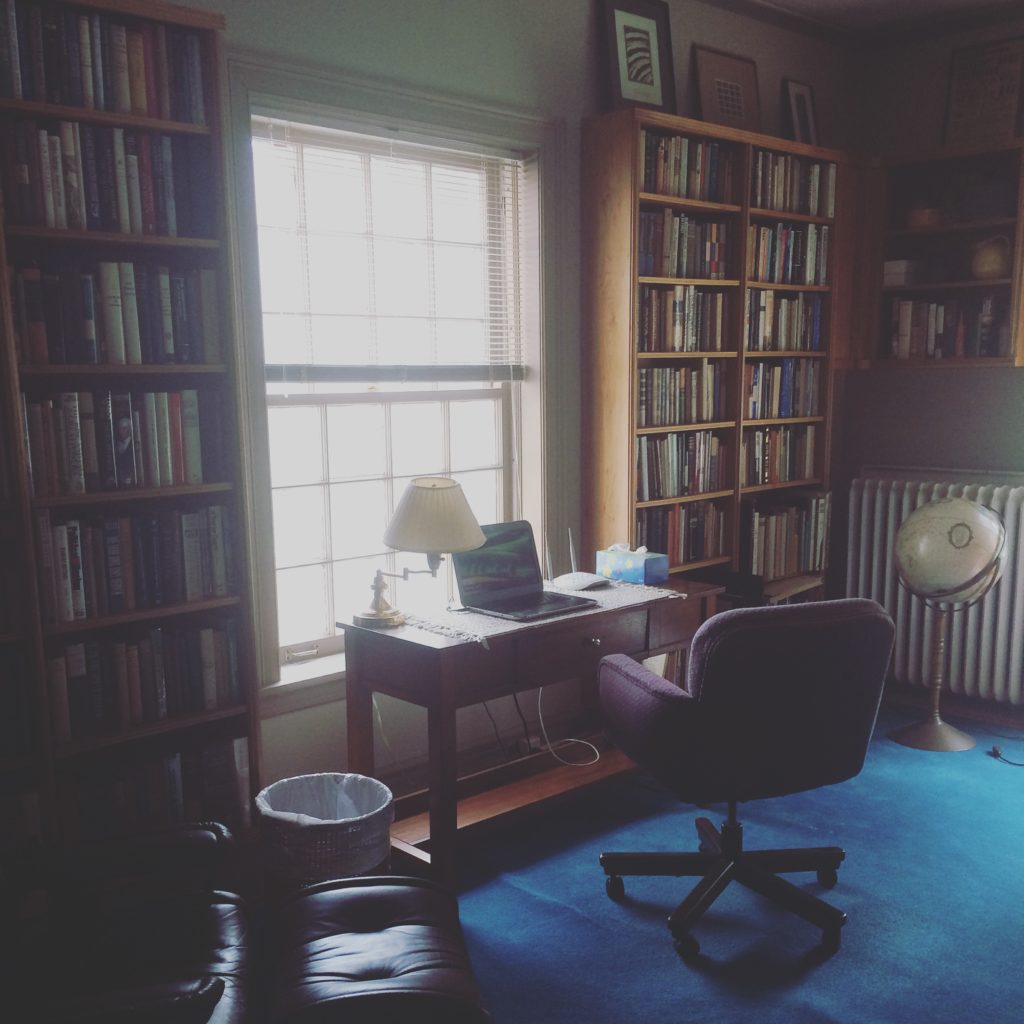 The libraries, of course, have books. I ended up reading a bunch of them: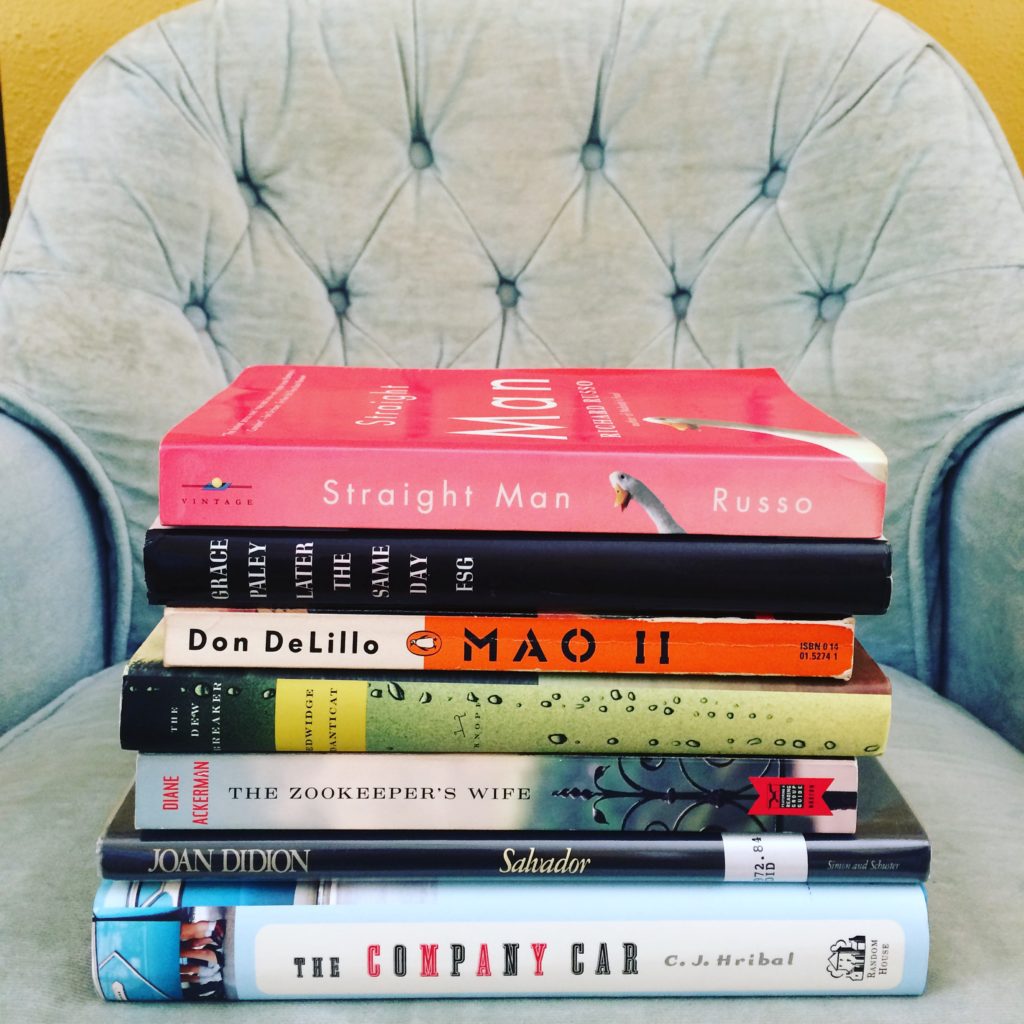 You can also write in the historic water tower; there's a little room with a writing desk if you climb the 76 steps.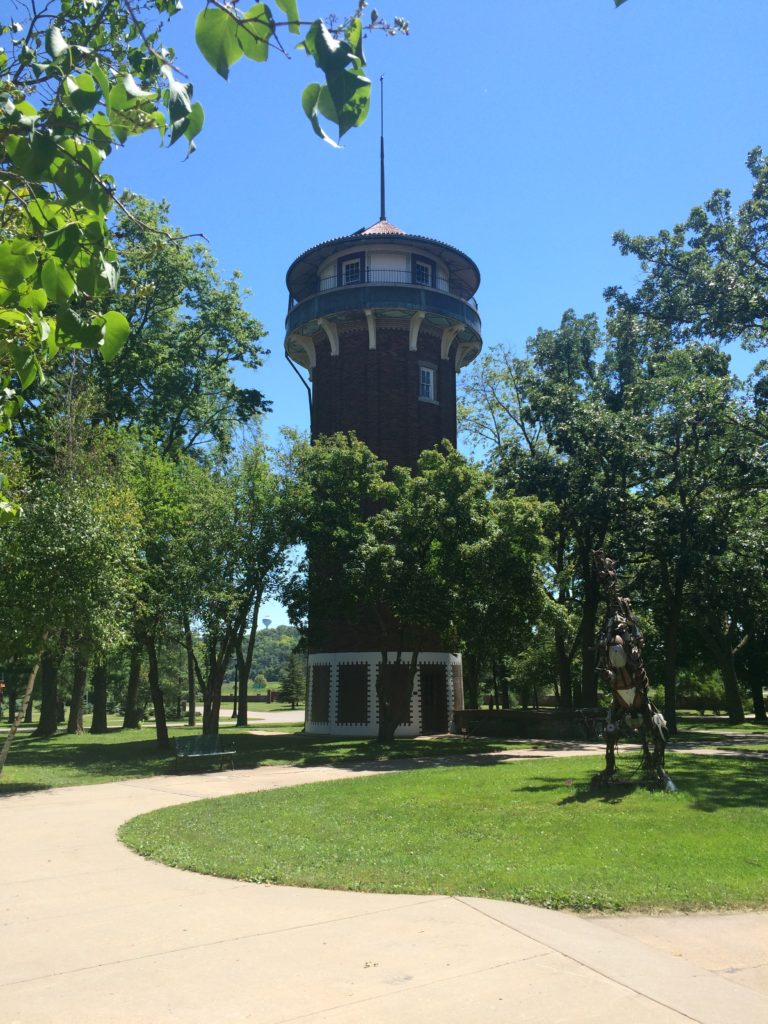 For writing breaks, you can wander around the art gallery or outdoor sculpture garden: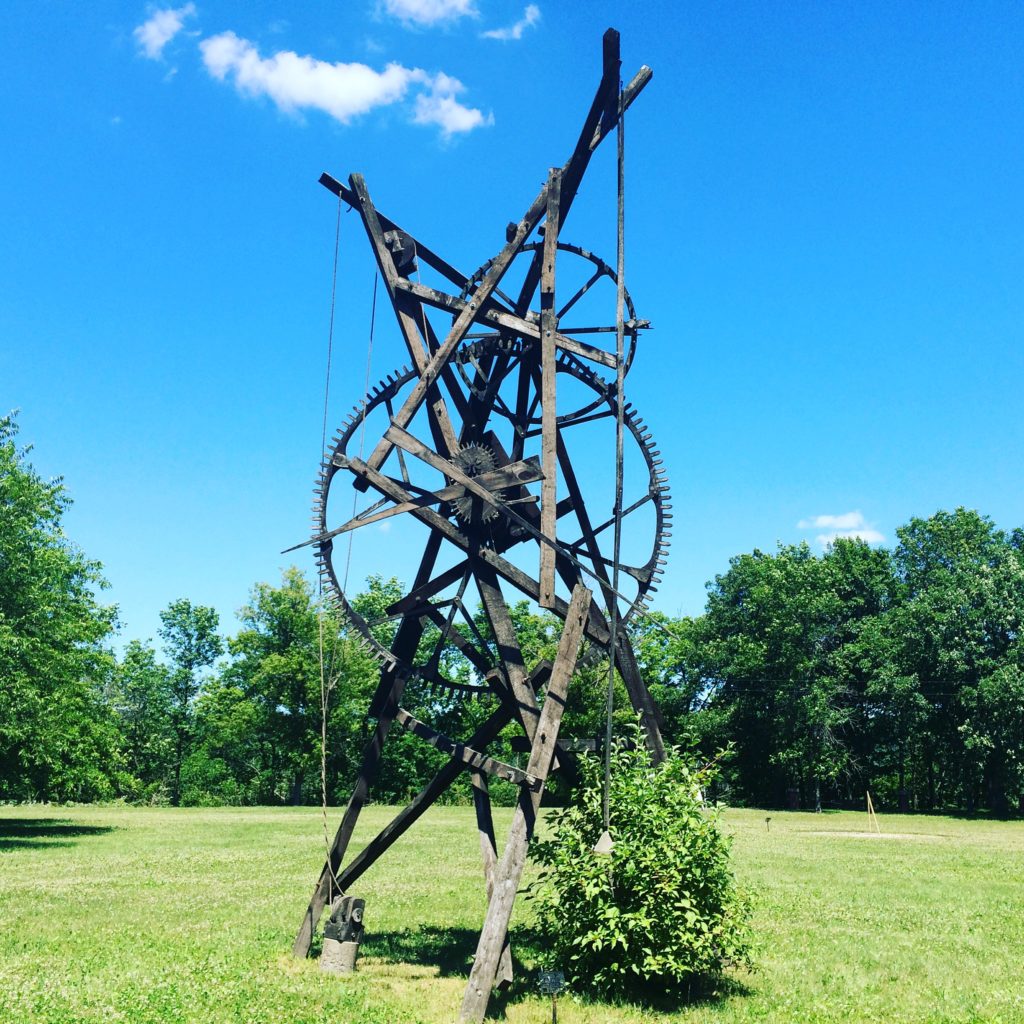 Bicycles are provided — but locks are not, because strangely, bikes don't get stolen around here. A nice 20-mile bike path runs behind the center grounds. Little bunnies hang out there!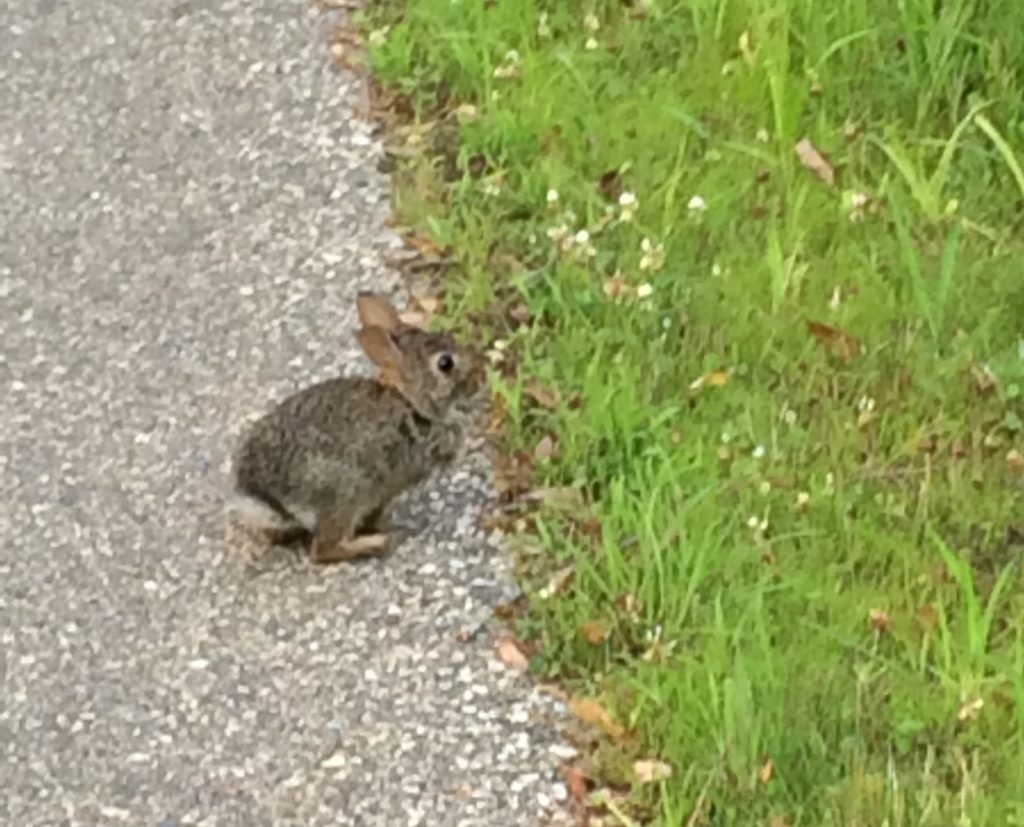 Twice over the course of the month, we the residents were given picnic stuff and money to go have dinner at Pizza Farm, a farm that makes organic pizzas topped with very locally grown veggies on Tuesday nights. We stopped at Lake Pepin on the way back for a group selfie: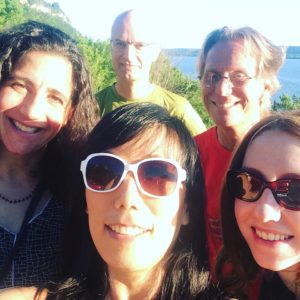 Every resident's asked to do some sort of one-time community service project during her stay. I was paired with the Hope Coalition, and gave a poetry writing workshop there! One woman cried. Poetry's cathartic.
I was also interviewed by the Red Wing Republican Eagle: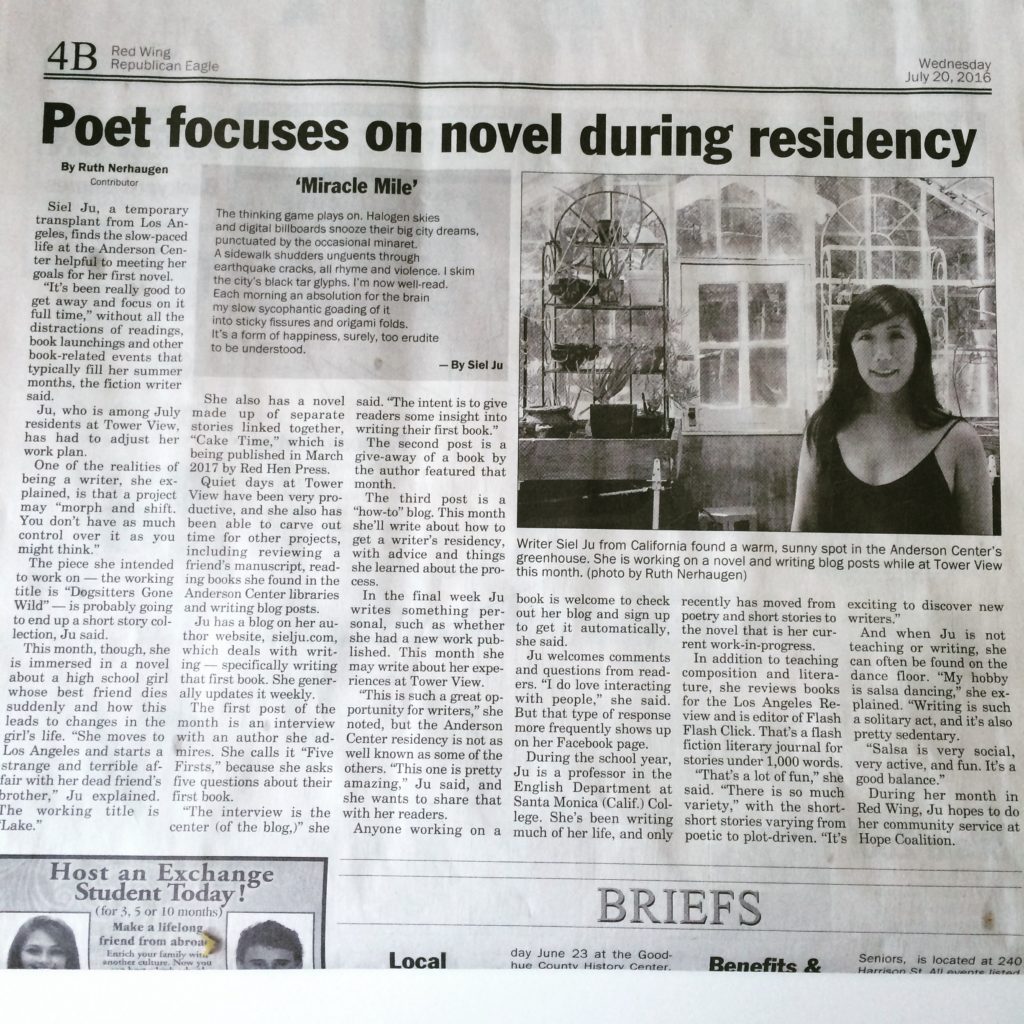 For the most part though, the days were very quiet, nondescript, and filled with writing. My schedule usually went like this: wake up, journal while drinking coffee, meditate, do my Tracy Anderson DVD, shower, drink a green smoothie (this is actually what I do with the first two hours of my day in LA too), then alternate writing 45 minutes with wasting time on Instagram or eating things for 15 minutes until dinner time at 6:30, when all the residents congregate to dine on whatever Chef Britton whipped up. After that, I mostly read.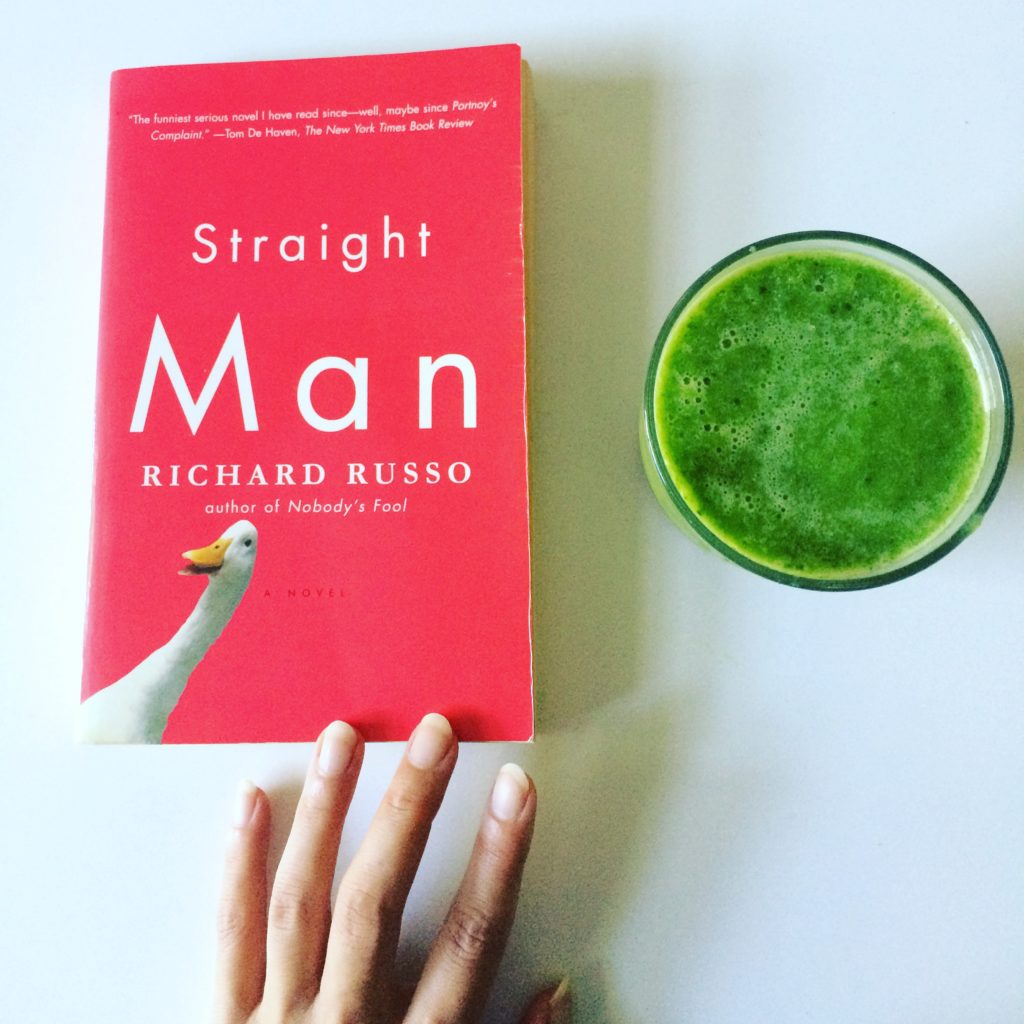 My one warning for would-be residents here: Beware the mosquitoes!! They can't get in the house because of the screens, but should you dare to go outside before 8 am or after 5 pm, you'll get bitten up pretty badly, even if you douse yourself with the bug repellents the Center provides for you. I discovered the hard way that mosquitoes can and will bite you through workout tights!
I also do recommend bringing ear plugs, if you're sensitive to noise like I am. Though Red Wing is a small town, the Anderson Center sits right by a major freeway on which loud trucks and motorcycles zoom by 24-7.
If you come here, you may find yourself bored at times. But that's a good thing, if your aim is to write. There's no TV here. There's wifi, but it doesn't reach all the bedrooms. Basically, unless you really enjoy shopping at Target (3 miles away and accessible by bike), there isn't a whole lot to do here besides write! I saved so much time and money by not eating out and not shopping and not caring what I looked like!
Thanks to the calm space and time the Anderson Center provided, I've finished the first draft of my novel — and for that I'm very, very grateful. Chris Burawa, the Executive Director, and Jackie Anderson, the Office Relations Manager, are such kind and encouraging people.
Think you might want to do a residency here? The next application deadline is Feb. 1. In the meantime, let me know if you have any other questions about The Anderson Center residency experience —