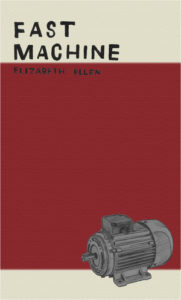 *** Winner selected! Congratulations to Celeste in Mission, Kansas! ***
Love gritty, vulnerable, unapologetic stories about womanhood? If you haven't read Elizabeth Ellen's Fast Machine yet, you're missing out. This visceral collection of short stories will take you to heady, dangerous places —
Erotic asphyxiation, schizophrenia, internet stalking, motherhood — The stories tackle a whole range of scary topics, all with an intense energy that makes you feel you're right in the middle of it all. Elizabeth's emotional prose recalls Lydia Davis and Doris Lessing — with a contemporary, digital age twist.
Roxane Gay says " The best thing about Ellen's writing is that it has big brass balls." Vol. 1 Brooklyn says Fast Machine is "a book that leaves you reeling again and again." The Stranger says "What Ellen is doing here is going deep inside herself and coming back with something small and glistening and vulnerable cradled in her hands."
Get a copy of Fast Machine now, or sign up with your email below to be entered to win a free copy! Already signed up for my newsletter? Then you're already entered!
*** This giveaway is now closed, but join my email list to be entered into future giveaways! ***
Come back mid-month to read a Five Firsts interview with Elizabeth Ellen!