If you're like me, you love reading shelf talkers at independent bookstores — You know, those handwritten notes from the booksellers recommending books they love. These shelf talkers often pique my interest enough to pick up books I've never heard of before — and more often than not, I end up loving those books too.
Now, you can get those little notes — along with the recommended books — delivered to your doorstep, thanks to The Book Drop.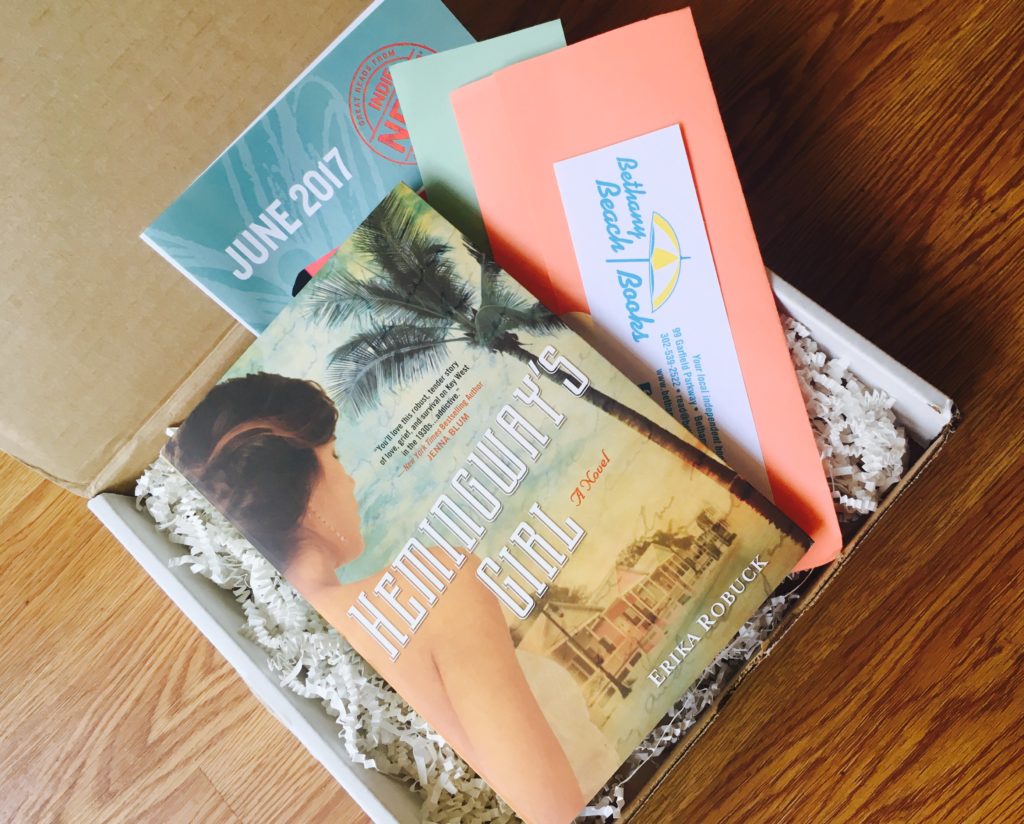 The Book Drop's a monthly book subscription box program run by Bethany Beach Books, a little independent bookstore that's been in business for over 25 years in Bethany Beach, Delaware. Each month, bookseller Amanda Zirn curates a new set of boxes, sending out books she loves to readers all over the world along with a little shelf talker-like note.
I got the June box earlier this month — and I have to say there's something thrilling about getting mystery bookmail, where you don't know what novel's in the box. I ripped it open to find Hemingway's Girl by Erika Robuck!
Hemingway's Girl follows Mariella, a young maid hired to work for the Hemingways when Ernest and Pauline lived with their sons in the Key West. I'd never heard of this book before, which was perfect; I wanted the subscription box to introduce me to books I didn't even know I longed to read. I've always liked Hemingway's work but knew only tidbits about his real life, so I liked getting this window into Hemingway's time in the Key West — via a fictionalized but mostly historically accurate tale.
The box also came with a couple letters: A personal note from bookseller Amanda Zirn about why she picked the book, and a letter from the author Erika Robuck in which she talks about her first trip to the Hemingway House in Key West. Plus there were a few fun extras: a signed book plate, a Bethany Beach Books bookmark, and an Indie Next List brochure with more book recommendations from indie booksellers.
These cute book boxes clearly have a lot of fans, because The Book Drop's July boxes are already sold out! August boxes will be available starting tomorrow though — so you can sign up then. There are actually four different boxes to pick from. The box I got was the Jane Box, described as "Historical & Contemporary Fiction with a little sprinkling of literary fiction," for $16 a month. But you can also pick from the Ernest ("thrillers, mysteries, and a little bit of non-fiction"), YA, or Children boxes.
I still love going to my L.A. independent bookstores, but I really liked being surprised by The Book Drop's pick! Now, I hope to visit Bethany Beach Books in person one day. What does one do in Delaware though, besides shop for books?