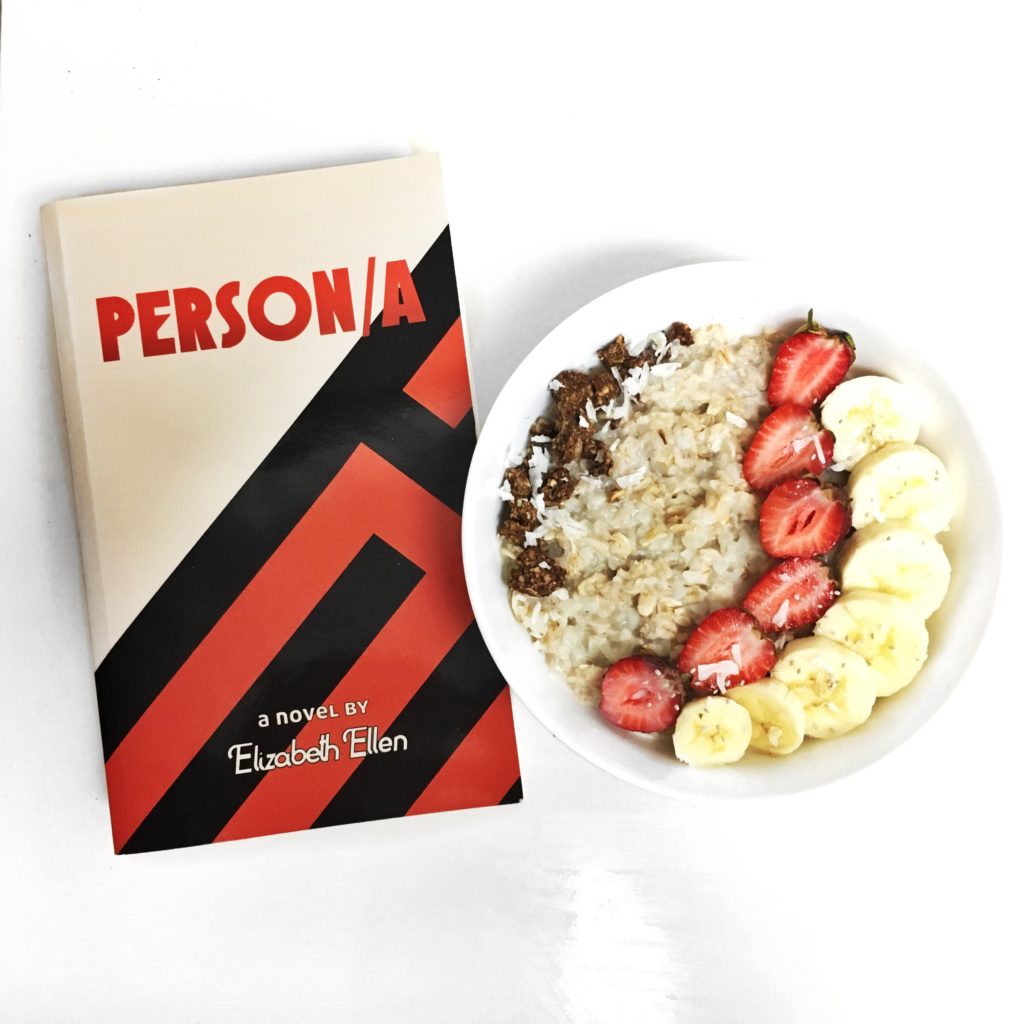 It's a strange and thrilling experience, reading as a finished book what you once read in rough manuscript form. Last summer, I read a draft of Elizabeth Ellen's novel-in-progress while at a residency at The Anderson Center. At that time, the manuscript — a highly autobiographical work about a short-lived affair that turns into a years-long obsession — was less than 300 pages long. I devoured the whole thing in a night and sent her some comments.
This summer, I finally read the completed novel, Person/a — a 600+ page tome published in February by Elizabeth's own press, Short Flight/Long Drive Books. And reading the book this time, I was so conscious of the act of reading that I'm not sure I ever gave myself over to the experience of the book itself.
They say, after all, you can never read the same book twice — since you are inevitably a different person by the time of the rereading. This is doubly true if the book too has changed — significantly. I couldn't help but be hyperaware of what Elizabeth chose to keep or change, judging the merits of her decisions, evaluating her choices. Add to this the fact that Person/a is an extremely self-conscious text — one that explicitly grapples with issues of autobiography, authorship, truth-telling, and fictionalizing — and the act of reading began to feel like a surreal, multilayered experience with no solid center —
I mean, the book begins, first of all, with rejection letters from agents to whom Elizabeth submitted the Person/a manuscript ("The inventiveness of the prose, which you have in spades, needs to be hinged on something, even if the form is played with"). Then comes an eviscerating email from Elizabeth's own mother ("My personal opinion though is that it was so self-absorbed and so self-serving that frankly it was boring…. I feel sorry that at 40 you seem to be stuck.") — the sort of cruel note that makes me glad I'm estranged from my own mother.
Then the novel proper begins. On the surface, the plot is fairly simple. The character Elizabeth, who like the real life Elizabeth is 40-ish with a teenage child, has a brief fling with a 20-something guy called Ian, whose real life identity, if you can call it that, can be figured out fairly easily since he too is a writer with a public profile. And on the surface, the fling seems inconsequential, since the two really see each other in person only a few times and never have sex.
Yet somehow Elizabeth the character becomes obsessed with Ian, stalking him online, sending him nude photos, and even driving hours to his town unannounced in an effort to see him — all while Ian keeps pushing her away, first by refusing to talk on the phone, then rarely returning her texts, keeping his address a secret and outright refusing to see her. This sends Elizabeth into a years-long spiral in which she nurses a highly romanticized form of anguish: "I was constantly torn then between feelings of extreme melancholia and feelings of heightened eroticism. I cried and masturbated and drank with increased frequency."
Person/a recalls, in many ways, Lydia Davis's The End of The Story — one of my favorite novels of all time — which is also about obsession and memory and the aftermath of a relationship. Lydia's female protagonist also debases herself in many ways in her efforts to try to get her lover back. Elizabeth makes the influence explicit, often quoting Lydia's books and even including an email exchange between the two of them.
But Elizabeth's novel is also at once more explicitly autobiographical and more explicitly about the fictionalizing process. The book is divided into volumes, but there are three Volume Is, each dissecting the relationship from slightly different perspectives. In the first Volume I, for example, Ian is an unnamed writer, Elizabeth has a daughter, and the relationship between the two begins its denouement when Elizabeth takes a trip to Jamaica. In the second Volume I, Ian has become a musician, Elizabeth's daughter a son, and the trip is to Mexico. Later the novel melds the perspectives: "Ian was a writer a musician." And Elizabeth the character muses often about the fictionalizing choices she's made:
I realize now I seem to have left out the majority of ways in which he contacted me or said things to me each time I tried to stop talking to him so that I have presented myself as the woman in the movie who has an unfounded obsession when in reality it was more a mutual obsession, a mutual inability to cease communication.
The result is, at its best moments, riveting — at its weakest, highly repetitive. There's the endless dissection of why Ian might have distanced himself — to what extent it might have to do with her age, her money, her motherhood or a whole host of other factors. Often, I wanted to shake the protagonist and say, "Let it go! He's just not that into you!"
Yet so much of the book fascinates. Person/a is especially telling about the strange, distanced ways we communicate with each other in the internet age. In one scene, Elizabeth the character — now married to another man — realizes that Ian can see by looking at his web stats how often she visits his website, and through what path. So she decides to send him a message:
I search "Ian Kaye ily" and "Ian Kaye faggit" and "Ian Kaye murder you" and click on the link to his blog when it appears. I click on the link as a way of saying hi. I click on the link as a way of saying I hate you and I love you and I wish we'd never met and I wish you were dead and I am sick and I wish I didn't love you. Every time I click on the link to his blog now I am saying each of these things. And I am still holding true to my marital vow not to talk to Ian."
After I finished reading Person/a, I felt that intense mix of sadness and pleasure and longing that I get whenever I come to the end of a book I love. And I simultaneously wondered if the book might have been better had Elizabeth the writer persisted in her agent search, and through him or her, landed a firm editor to invest in and refine the work, like Malcolm Cowley did for Kerouac's On the Road.
Yet would that have killed the raw beauty of this book?
I can't wait to read what Elizabeth writes next.
Earlier: Five Firsts: Elizabeth Ellen on writing from life, creative freedom, and other gray areas